Mary Cain is Becoming a Triathlete: "Don't Be Afraid to be a Beginner at Something"
360 YOU mentor Mary Cain is stepping out of her comfort zone by racing a triathlon. Here's how she's embracing starting something brand new.
Heading out the door? Read this article on the new Outside+ app available now on iOS devices for members! Download the app.
As a runner, Mary Cain has raced across the globe and shined on the world's stage starting when she was just a teen. But this weekend, the 25-year-old will enter a competition that's totally new to her: A draft-legal triathlon.
In the 360 YOU program, we often discuss comfort zones and pushing beyond them. As athletes, part of our journey is to learn that the more we step outside of our comfort zones, the easier it becomes to choose a new path. Discovering new adventures and opportunities when we move into the unknown can be at once intimidating and exciting—and it's part of honoring who we are, both as athletes and human beings, to consider these new paths when they present themselves.
Mary Cain is no different.
Back in September 2021, Cain joined forces with friend and fellow pro runner Alexi Pappas and podcaster/athlete Rich Roll to compete in a team at the Malibu triathlon. That was the start of a journey she has chosen to embrace full force.
"A few months ago, I found myself at a point where I was figuring out where I was going as a runner, and I was open to trying something new," she says. "Triathlon gave me an opportunity to be a beginner again."
RELATED: In Her Power: Mary Cain Focuses on a Healthy Future For Girls and Women in Running
While Cain is dreaming big when it comes to her prospects as a triathlete (she wants to go pro!) the journey has also forced her to step out of her comfort zone as she learns brand-new skills. Here's how Cain is embracing being a beginner—and some of the lessons she's learning along the way.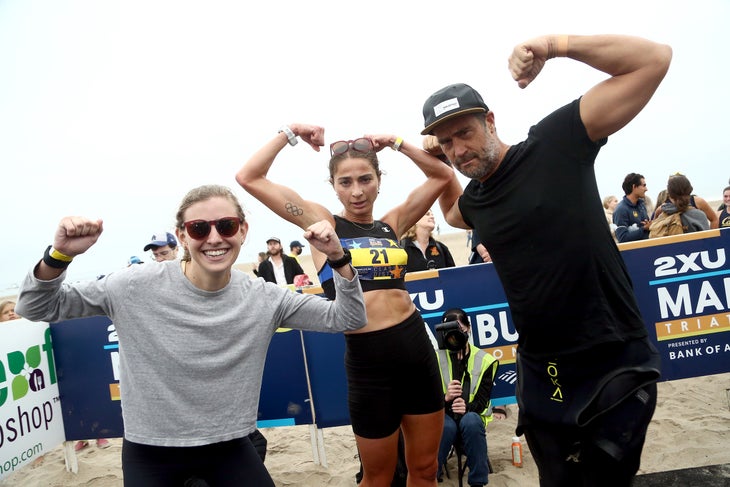 Mary Cain's Beginner Triathlete Lessons
Starting anything as a beginner is scary (but rewarding!). Here's how Cain is making the most of the experience.
Don't focus on the end result
Cain says that dropping any expectations that she–or others–may have of her potential in a new sport has made the process that much more enjoyable. "I'm doing this because I like it and I'm having fun," she says. "Not because I want to win or impress others by doing well." While goals are great motivators, don't focus solely on one big, concrete achievement or having to hit a certain mark, stresses Cain. "If you go into thinking I am only going to be happy or feel like I succeeded at this journey because of an end result, you'll never be satisfied," she says.
Celebrate the small victories
That said, Cain has tried to acknowledge her mini accomplishments throughout her training, whether it is becoming more comfortable on a road bike (where she has to clip into the pedals and ride in a pack with other cyclists) or feeling stronger in the pool. "I am building something new, so I am constantly learning and growing and it's fun to look back and see those tiny improvements."
RELATED: 360 YOU: When You Should Use the Run Walk Method
Quit the comparisons
After a series of ups and downs as a runner, Cain is as aware as anyone how frustrating it can be to compare your workouts or accomplishments to those of others. "The truth is, if you start to look at what other people are doing, you are immediately going to get discouraged," she says. So instead of scrolling Strava or Instagram and getting hung up on someone's highlight reels, turn inward and focus on your own milestones.
It's OK to make mistakes (and laugh at them)
Cain may have lofty goals for the future, but she's not taking herself too seriously right now. "I make mistakes and really don't know what I'm doing half the time," she says with a laugh. "Part of the fun is figuring it all out and yeah, doing those things that are super beginner-y and novice, which I'll continue to do until I learn otherwise. And that's fine. I don't have to be perfect off the bat. I'll get it, eventually."
---
Mary Cain is the pro mentor for the first three-month 360 YOU program, available in its entirety to Women's Running members. Find out what the program is all about here or head to the collection page to dive into the available training and inspirational content. Read more about Mary Cain's triathlon ambitions here.