Meet The Rising Ultrarunner You Need To Know About
Laura Perry is quickly making a name for herself in the sport. Find out what a typical day looks like for the ultrarunner.
Heading out the door? Read this article on the new Outside+ app available now on iOS devices for members! Download the app.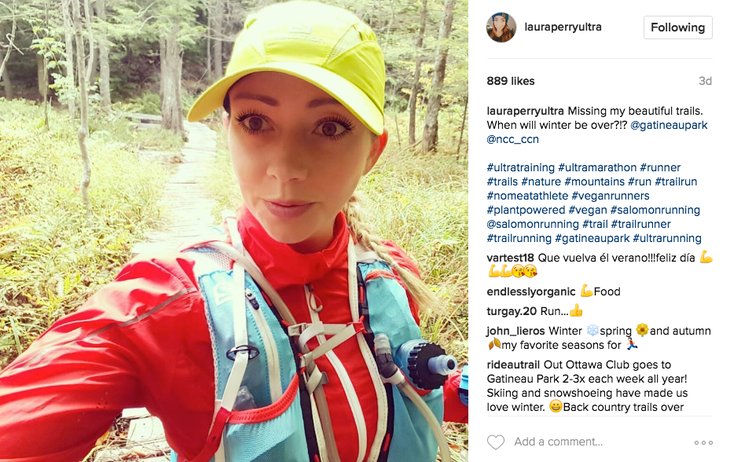 You are standing at the back of a crowd of seasoned ultrarunners, an unproven, an unknown. Waiting calmly for the race director to give the start signal to this, your first ultramarathon, your first 50K race, The Chilly Dog in Ottawa, Canada.
Just a few months prior to this day, your dad suggested that you might want to try an ultramarathon because you seem to do well and flourish at distance. You thought, Why don't I? You signed up.
Now you find yourself at the start-line, energized, ready, game face on and focused on the task ahead. You win.
This time, it's the Haliburton Forest Trail Ultra 100 Miler, your second ever ultramarathon. You win. People and shoe companies begin to notice.
Next, you beast and bushwhack your way through another ultra the next year, the only woman to finish 140 miles on the Peak Ultra 200 Mile run course cut short by a hurricane. And then, because now you've figured out that hundred milers are your "thing," you set a course record on the Sulphur Springs 100 Mile Race—with the voice of the doctor who told you that you would never be able to run distance again in the back of your head, challenging you to go even further.
This is what your ultrarunning story looks like when you are Laura Perry, ultramarathoner extraordinaire and Salomon-sponsored athlete. Who is she? Who is this force of nature who continues to defy the odds of her humble beginnings in running?
Laura Perry is a petite, artfully tatted and chiseled phenom who takes your breath away with her energy and determination to crush anything that she does, from her grueling daily training regimen to her races. She is smart and tough, funny and nature-loving.
When I chatted with Perry, she had just finished one of her legendary back-to-back long training runs in Ottawa, Canada in preparation for that storied race, the Boston Marathon. She is a woman whose grit and determination has taken to her to unknown heights and continues to bring her to new and exciting levels of elite athleticism.
About Laura Perry
Perry has always been an athlete. She ran in grade school and high school. In addition, for twenty years prior to starting her storybook ultramarathon career, she was an accomplished figure skater with a knack for coaching and a deep interest in helping people to succeed in their own personal athletic endeavors. She became certified in a variety of training areas, continuing to run casually (marathons and half-marathons) while she coached both track and figure skating. Perry's running suffered because of an ongoing health issue, but she was determined to get stronger and faster, so she did exactly that. Her father recognized in her a natural penchant towards distance and spoke the words that would change the trajectory of Perry's running.
Nowadays, you'll find her waking, "no later than 4 a.m." to get her 7-13 mile run in, pre-dawn and pre-work. After breakfast, she heads to her full-time government job. During breaks and lunch, she'll work on her athlete coaching business (which is thriving and full). After work, Perry heads to Movati, her local gym, to work on strength with her personal trainer, Dan Backs.
She's not done, either. Next, Perry gets in her second run of the day, either speed-work or hill-training, then eats a large, plant-based meal (recipes to be found in her blog), walks her dog and finally gets to bed…at around 7:30 p.m.
On weekends, back-to-back training runs of 30 miles (meaning long runs on both Saturdays and Sundays) are the norm. "Thirty miles," says Perry, "is, a nice, good distance." Now that's she's training for Boston, she has dialed back her weekend runs to 20 miles.
Her Accomplishments
Her taxing daily regimen and huge successes have won her sponsorships from the likes of Salomon Running, Julbo, Bearded Brothers and Dry Max. Perry is a runner whose accomplishments have come only with a tremendous amount of grit, focus and a method to the madness. She sets her sights on a difficult race and trains for it with an eye on the prize, even if that prize isn't necessarily the win.
Perry's most notable (and favorite) event is the Leadville Trail 100 Run. One of her most difficult races to date, she remembers the 2016 Leadville fondly as the race that challenged her in ways she had never been challenged. At mile 40 she began to suffer from altitude sickness and started vomiting—it lasted until mile 100. But throughout the extreme difficulty of the course, all of it above 10,000 feet, she managed to push through her discomfort and finish the race, coming in at 9th female. Indeed, a veritable feat for someone who was once concerned that she was too slow.
"I was never the best. I was never that good of a runner. To know that with sacrifice and hard work…[you can accomplish great things]..I wish that more people would realize that. I was sick for so long. I was told I would never run distance again. To be where I am today is incredible. I wake up everyday and say, I'm so lucky. I'm living my dream."