Kellyn Taylor And Sara Vaughn On Balancing Busy Schedules
These two professional athletes also have jobs and are mothers—and they somehow still find time to lace up for their workouts and race.
Heading out the door? Read this article on the new Outside+ app available now on iOS devices for members! Download the app.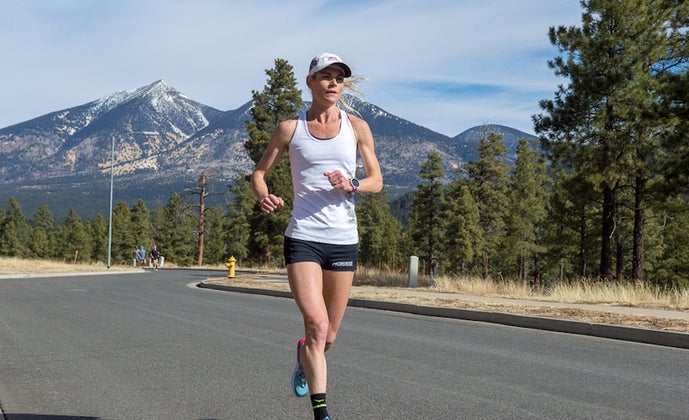 Professional Mothers
Being a mom is a full-time job. Aside from all else, it's a beautiful and hard job. The same is true of preparing for a marathon or being a full-time real estate agent. From firefighting to caring for their families to juggling track workouts and long runs, professional runners who are also dedicated mothers inspire and show us it's possible. How do moms and women with full-time professions prepare for a marathon or track season? We spoke with Kellyn Taylor and Sara Vaughn, two professional runners who are also mothers with full-time careers, to discuss how they go about balancing all of their responsibilities.
Please share with our readers who you are in a few sentences.
Kellyn Taylor: My name is Kellyn Taylor. I am a wife, mother to an amazing 8-year-old old, professional runner and aspiring (certified) firefighter. I ran in three Olympic Trials races in 2016: the marathon (6th), 10,000-meter (4th) and 5000m. I recently just ran the seventh fastest all-weather marathon by an American woman in 2:24:28 to win first place at the Grandma's Marathon 2018.
Sara Vaughn: I'm a mom of three, a full-time realtor in Boulder, Colo., and I run middle distance on the track! Last year I made Team USA and went to the IAAF World Championships in London [for the] 1500m!
What fuels your running and career?
KT: I have an internal drive to be great at the things that I do. Growth is necessary in order to see success. With running, I want to constantly push my body to its limits and beyond. With firefighting, I want to not only physically challenge myself, but also pursue educational avenues that will enhance my experiences.
SV: Literally, a lot of sweet potatoes, salmon, cheese and wine. Figuratively, I always want to get the best out of myself in each area of life. I'm competitive to my core, and I love challenging myself on the track to get faster every year. My competitiveness transfers over to my job—I want to do the best I can for my clients.
How do you balance having multiple priorities on your plate?
KT: I have all of these fantastic things in my life that I am passionate about. I could look at it as being stressful or a burden, but I choose to do all of these things. No one is making me throw on my running shoes every day; I choose to do that. No one is making me take firefighting classes or do the physical challenges I'm presented with. My family always comes first because they mean more to me than any job ever could.
SV: Mom-ing is always my number one priority. Everything else has a time and place when that thing is the focus. That focus shifts daily, even hourly. I really try to be present in everything I do, so when I'm at the track or in the gym, I'm focused on being an athlete only. When I'm at work, I'm focused on working for my clients only. I've gotten really good at switching hats.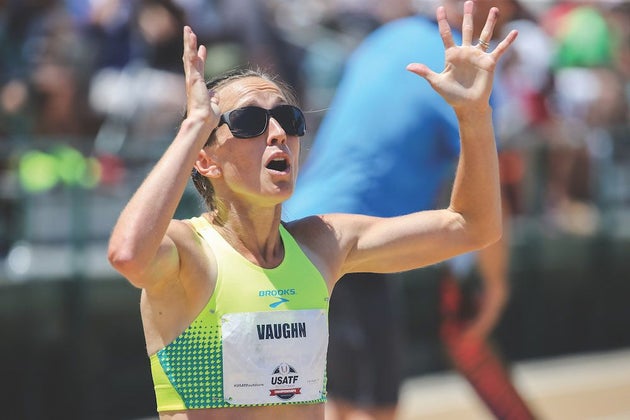 How do you accomplish big workouts with other life stresses?
KT: Life stresses can easily work their way into your workout. Be 'all in' with whatever you are doing. You may find that your body isn't as tired as your mind is telling you it is.
SV: Flexibility is key. Sometimes we have a big workout planned, and then I'm up all night with a puking kid or I end up having to schedule six hours of showing houses that day, and we simply switch the schedule. We build in enough time between workouts that we can shift a day in either direction. It's also helpful that my husband coaches me and we don't necessarily have a set practice time. We're able to play it by ear.
What do you look forward to most on race day?
KT: I look forward to proving my fitness and testing my limits. All of that and then relaxing with some good food and drink—a post-race must.
SV: I actually really enjoy the whole race day. Most of my races are in the late afternoon or evening, so I have all day to sort of "check out" and focus on myself. I sleep in as late as possible, go for an easy morning jog, eat a good brunch, rest some more, binge-watch trashy TV—none of which I get to do on a normal day! But the thing I look forward to the most is the moment the gun goes off, when I switch from my thinking brain to instincts and just race.
How do you stay healthy and rested? 
KT: I make sure to make time for myself. Every day I wake up early in hopes that I'll be up at least 20 minutes before my daughter. This usually backfires, but the hope is that I can get the dogs fed, my breakfast made and coffee brewed, all before she wakes up. I like to have a few minutes to sit and relax before the chaos of the day ensues. I also do this at night. I like to stay up once my daughter goes to bed so that I can decompress with a show, book, glass of wine, etcetera. We are all busy, but not everyone takes the time they need to reset. I also just think enjoying what you do is helpful.
SV: I make rest a priority when it's needed. After a big workout, I'm a huge fan of Epsom salt baths and good, nourishing food. I also prioritize running slow on easy days. My sleep is constantly compromised, so that's something that could still use improvement. I need to get better about prioritizing that!
Lauren Totten is a professional runner for Rabbit and Altra, a two-time Olympic Marathon qualifier, wife, coach and freelance writer. Totten and her husband Seth enjoy running their home trails in Santa Barbara and shopping at the local farmer's market.
Related:
Becoming A Mother Runner Gave Me My "Super Power"
Mother Runners On "Mom Guilt" And Finding Time To Run