It's Official: Nikki Hiltz Has Partnered with Lululemon
The 1500-meter specialist will wear Lululemon gear at the USATF Outdoor Championships in their new role as brand ambassador.
Heading out the door? Read this article on the new Outside+ app available now on iOS devices for members! Download the app.
As a nonbinary runner, clothing can make a big impact on Nikki Hiltz, especially when it comes to feeling comfortable.
In previous brand partnerships, Hiltz, who uses they/them pronouns, was accustomed to receiving a box of apparel that would be clearly designated as the "girl" clothing. In a new partnership with Lululemon, announced today and active since early June, Hiltz's experience has been much more open, and they get to choose what apparel they'll receive. "It just feels so gender affirming," they say.
Admittedly, they were hesitant at first. At the time, it felt like Lululemon, who also sponsors Colleen Quigley, skewed more feminine. "I was just so pleasantly surprised with their gender fluidity and the amount of options that they have," Hiltz says.
Ultimately, they feel that Lululemon's clothes will suit them better on the track. That includes bike short–length shorts and shirts that aren't too tight. (While Lululemon has begun to manufacture running shoes, it does not yet have a track shoe option, leaving Hiltz open on shoe choice.) And Hiltz is optimistic they'll be able to have an authentic relationship with the clothing as an ambassador of the brand. In the past they've been asked to post endorsements about sports bras—something they're not comfortable doing. Now, they specifically signed with a brand that won't put them into the "girl box."
RELATED: A Look Back at LGBTQ Athletes' Fight For Protections Under Title IX
"To be in product that you feel really comfortable in, you're going to perform your best," they say.
While they were between sponsors, from when their Adidas contract ended in December to when Lululemon picked them up in June, Hiltz sold unisex t-shirts with a vintage style Track Club logo, to keep afloat financially. They ended up enjoying that interim time more than anticipated.
"I think it was actually really good for my perspective," they say. Knowing they didn't have to train and race because they didn't have a brand expecting them to perform, Hiltz realized they love competing for their own sake. "I'm not contracted to be out here racing, but I want to be. I wanted to have that whole indoor season."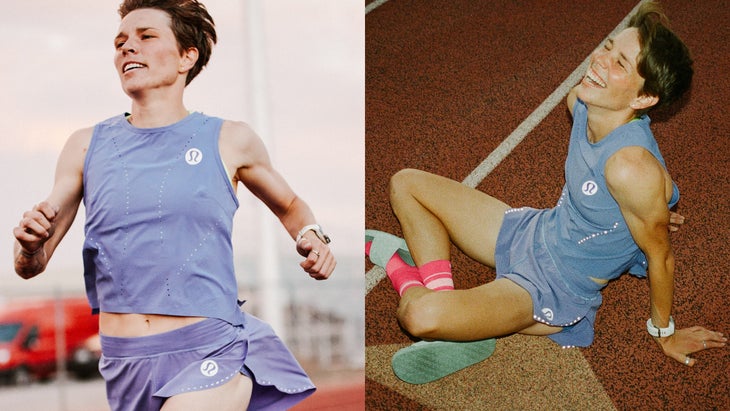 Hiltz also took advantage of that time away from apparel sponsorship to use their clothing as a form of self-expression and advocacy. For much of the indoor season, Hiltz could be seen running in a shirt that said "Protect Trans Kids."
With a sponsor, Hiltz feels confident that they can continue to advocate for safe spaces for LGBTQ people. "I think that's what [Lululemon and I] connected on right away and we were really in sync about. How can we make LGBTQ people feel safe? And how can we do that through running?"
Strength in Partnerships
Hiltz will race tonight at the U.S. outdoor championships in the first round of the 1500 meters. They are hoping to put their strength to the test, something they've really focused on building since moving from California to Flagstaff, Arizona, in March of this year.
As Hiltz notes, the 1500 meter distance is a test of speed and strength. "If the race was slow, I was always going to do well, because I could have that kick. But just how the [1500] has been run lately, I'm not even there to use my speed. So I'm like, 'OK, I need that strike,'" they say.
RELATED: How to Watch the USATF Outdoor Championships
Their new coach, Mike Smith, emphasizes strength. Hiltz has already seen improvement through the double threshold workouts they run with their teammates.
Hiltz remembers the grind of doing that workout for the first time and wanting to stop after four miles. "Every time since, it's just been easier and easier. And now it's like, I get excited when we have double thresholds on the schedule because I just know I'm getting so strong from it. And it's also two workouts in a day, so double the fun."
Though they've been working hard, when it comes to the U.S. or even potentially the World Champs, Hiltz says they're just looking to have fun. "USA's is the most fun race of the year," they say.
Racing, after all, is where they draw their confidence. It's what they love most about the sport. For tonight: "I'm definitely ready to go have some fun," they say.
RELATED: Date Set for Nikki Hiltz's First In-Person Pride 5K