HGTV Star Nicole Curtis is a Running Addict
Genuine passion for what she does made her a home-improvement television favorite. Amid the boom of her high-profile career, one thing that's helped keep her grounded—and sane—is running.
Heading out the door? Read this article on the new Outside+ app available now on iOS devices for members! Download the app.
"I'm just going for a run—I'll be free at like 12:30 EST???" said Nicole Curtis' email to me from her iPhone. When I called her, she had just gotten back from a midday run. "It ended up being a lot longer than I had thought I was going to do," she said in her Midwestern accent.
But that's how she's always approached running (and life)—by feel. No gadgets, no time or distance goals—she runs until she feels her head clear. And a long beach run in Florida was what she needed on that day.
If you're familiar with Curtis' career, you might be surprised that she's in Florida—the HGTV star's show "Rehab Addict," which has run for nine seasons so far, is based primarily in the Detroit and Minneapolis areas, where she and her team purchase and restore old homes "back to their former glory," as the show's tagline says. She lives a rather nomadic lifestyle, bouncing among Florida, Michigan, Minnesota and L.A. And she's not typically alone when she travels—she brings her crew of contractors (and many times her two sons) with her. "We're really kind of this little anomaly in the world of TV shows because we're all actually joined at the hip nonstop," she says. "It's the same group of guys I have wherever I work, so they go with me everywhere. And they're all parents, so it's like a big, weird family reunion all the time because we're like a traveling caravan of people."
Though she's still busy with her construction business, the show is currently on hiatus—after shooting almost nonstop for the better part of a decade, in the midst of dealing with some heavy personal stuff (including losing both her grandparents and her business partner losing his daughter to a neuroblastoma), the team decided to take a break to regroup.
When she talks, I can tell she's genuine and raw—and it's not just the self-deprecating humor and F-bombs that give me that impression. She is willing to share every part of her story—the challenges, the successes, the failures—because she wants other women to, like her, get exactly what they want out of their lives, whether that's being a mom, taking control of their health or running their own business.
"My girlfriends joke that I have the 'do whatever the f*** I want schedule,' and I really do," she says. At 42, she's worked hard to get her priorities straight, which includes answering to no one except her kids, ages 21 and 3. "I remember those days when I didn't—when I was at somebody's beck and call, and I had to make a decision between my job and being there for my child."
Her road to success—starring in a prime-time HGTV show (for which she's now executive producer), running her own construction business, being a mom of two, writing a bestselling book—has had plenty of speedbumps. But one constant grounding her over the past rollercoaster of a decade has been running.
***
Curtis grew up in Lake Orion, Michigan, just on the outskirts of Detroit, but she left there as soon as she could—at 17, right after graduating high school, she moved to Atlanta and then Tampa, Florida, with her boyfriend. In her memoir, Better Than New, she chronicles her career, starting from those years in Florida, which included being a waitress at Hooters, starting her own business cleaning houses, selling cell phones (before she even owned one herself) and getting into real estate. Being around people in Tampa who had what she called "real money" sparked an entrepreneurial spirit in her, driving her to find financial success, no matter what her resume looked like.
"I just didn't look right on paper—I still don't. I had someone tell me just the other day I look like a challenging mess on paper because I'm 42, two kids, two different dads, the whole nine yards!" she says, laughing. "There's a group of people that focus on what's on paper, and there are people that focus on what's going to get the job done. And that's what I've always told myself. I've said I've done every job in the world—was I qualified to do every job? No, nuh uh. But I went in there and I gave the same speech to anyone who was going to employ me: 'You can get someone who's trained in this and went to school for whatever, but the difference is I have the enthusiasm and the passion to like go in here and learn and grow and get it.' And that's one thing you cannot teach—passion and enthusiasm is just something innate."
She moved back to Michigan to attend college (studying elementary education) and became a mom at 21 to her first son, Ethan. She went back to her house-cleaning business while in Detroit, which gave her an interest in interior design. She relocated to Minneapolis and earned her real-estate license, and it was her business card photo that eventually landed her a TV show (a production assistant happened upon her photo and thought she looked photogenic enough for TV).
Curtis knew she had to seize the opportunity. The production company planned to have her audition to appear on one episode of an established show ("Sweat Equity"), but she went into the meeting with that same fire that landed her all of those other jobs before. She pitched them on her idea of restoring old houses—and doing much of the physical labor herself—and ended up walking away with her own show to be aired on HGTV's sister channel DIY Network.
The show was almost instantly a success, and Curtis chalks that up to its authenticity—she doesn't hide a home's quirks or what goes wrong on the job site. "I do the show my way—I didn't want to be some cookie-cutter TV personality," she says. "To this day, my best friends who have known me since fifth grade, will say, 'The person that you see on TV—that's her in real life. If you meet her in the bathroom in an airport, she's going to talk the same exact way as when you see her on TV.' And I think that that comes through, and I think that is something that has been so successful with the show."
Since her show debuted, Curtis has had her name and personal matters, including custody battles and relationship struggles, splashed across the tabloids. She credits her sanity to running.
***
About a decade ago, some friends introduced Curtis to running HOW, something she didn't realize would help her to tackle her stress. "I was like, 'Well, I've always been very active and I work out and I can do this,'" she recalls.
She made it halfway around a high school track before she had to stop. "It's a mental thing, which I did not know, more than a physical thing, and it took me a long, long time to get into my groove. And once I did that, it was just about really focusing on how I felt versus my distance and time."
Her first 5K felt like a major accomplishment to her, even though she had to stop five or six times. She made a huge deal out of completing the race (as a seasoned runner now, she calls herself "a tool" looking back), but what really lit the running fire in her was witnessing Ironman Wisconsin, and one particular 87-year-old man who finished the race under the 17-hour cutoff with an injured leg.
She still reflects back on that experience and finds motivation in it. "Like today, I ended up doing a couple extra miles because I'm like, 'Why not? What's my excuse today?'" she says. "I've never finished a run and thought, 'Oh that was not worth it.'"
In "fair-weather states," she says, she runs daily, but if weather in, say, Detroit is not cooperating, she'll find other ways to stay active outside—like running full speed up a hill pulling her child in a sled. She isn't consistent with the time of day she works out—she lets her body dictate when she needs it, and sometimes that means in the late morning, in 90-degree weather at 1 p.m. or even after dinner. "It frees my brain—it really does. I know I'll feel better," she says.
Sometimes, though, she found that she was making too many excuses to not work out, so several years ago, she started putting her run gear on every morning "because if I have it on, I'm going to go running today." (That's why you'll see her in run apparel on her show.)
When she speaks of freeing her mind, she's mostly referring to dealing with anxiety (something she mentions in her book) and stress in a healthful way. "I think our society is so quick to depend on a pill to make us better, and I'm called this hippie, crunchy mom, but really, why wouldn't you want to self-heal?" she says. "The past couple of years of my life, I had a lot of sad stuff going on, and you know, I could have easily written that off as depression, but it's not depression—that's a natural reaction to something going on in your life," something that running has helped her work through.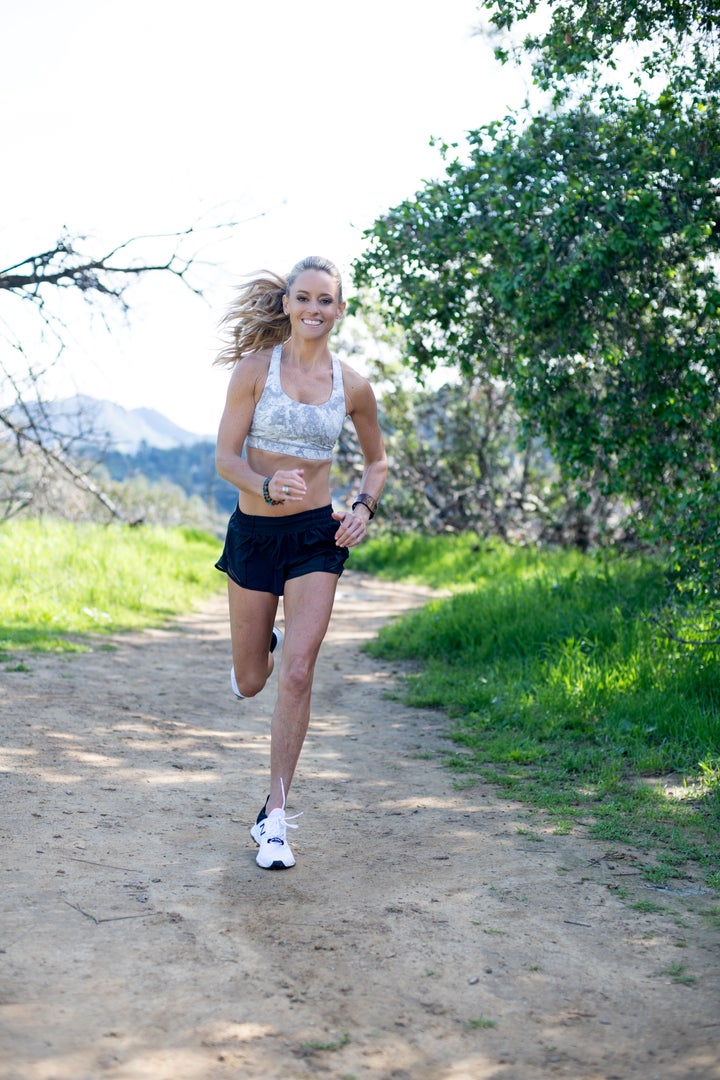 "I'm not this crazy person that thinks my life is perfect and everything's okay and I'm not aware of what's going on in my life—I just know there's nothing I can do about it," she says. "When you come to the realization—'There's nothing I can do about it. F*** it.'—you just have a different outlook on life. … We all have to focus on the joy we do find in life, and as soon as I switch gears and start going that way, it's just a much better day. And where I find that is I have to release that negative energy, and for me, that's running. This morning I got up and was like, 'Yeah, I'm not feeling it today. What am I doing? What do I want to focus on?' So I was like I'm going to go run my ass off until I don't feel this anymore.'"
Those who know Curtis well have seen the role running has played in helping her find the joy in life. "Some people deal with job stress either through medication of whatever it might be; she basically just straps on a pair of shoes and runs," says Kris Swarthout, a running buddy, friend and Minneapolis-based triathlon coach. "And in all the time I've known her, she's never quoted a pace or a time. … Really, it's just about the experience, and there's something pure about that."
***
Curtis will readily admit she's made mistakes, but she's also a testament to what can happen when you believe in yourself and face obstacles head on. "I think in life, you have crossroads at every situation, and you can be like, 'This is the worst thing that has ever f***ing happened to me,' and you can lie down and get run over," she says. "I don't have that in my brain—I imagine it to be like this shutter that people have, and they either shut down, or they snap that thing back open and push through it."
She's also learned along the way that the people around her can either lift her up or drag her down. "That has gotten me through these lean years—I have put the right people in my life. For the first time, I've realized that if somebody isn't there and it's a benefit, they've got to go."
Over the years, she's built up her own network of women to be her support. "My best friends are real women—they're not Instagram-perfect, and those are the women that I turn to," she says. "I think that's what we all need. … You are never not going to need your girlfriends. And you need the real ones—you need the ones that are there to celebrate you and comfort you."
That group of women helps her deal with the naysayers in her life. "The most challenging thing for me in the work field is the judgment from other women," she says. "Women who are pissed off because of this or that or whatever, and they haven't taken that jump, that leap to fight back, so they think that their life is restricted or they're making these decisions that it's okay to pummel on other women. And I hate that."
Curtis chooses to combat trolls online, and when her friends question why she even gives them an answer, "My reply is always because, 'I'm a very strong woman with a fabulous support network where when s*** goes down, I'm safe. But there is some woman out there where these people who are picking on me will pick on that woman who is in a vulnerable state, who just needs one thing to send her over the edge."
Michele Miller, a mom of four, 20-year veteran police officer and personal trainer who's known Curtis since high school, can attest to her heart for helping other women. "She is probably one of the rarest humans that I've ever been able to connect with just because she's so genuine," Miller says. "She's so wholeheartedly such a truly good person—she wants to do good and be good and help everybody she can. … But man, if you make her mad, she can turn the switch pretty quickly. She'll defend herself, and she's not afraid to. She's all of five foot and 100 pounds, but man, that's dynamite. It comes in small packages, and she'll light it up."
Minneapolis friend Swarthout has witnessed that toughness as well. "She comes off as a very petite, pretty face, but she is as tough as anybody I've ever known. She will tell you what she thinks, she will do what she wants, and nobody really makes her do anything that she doesn't [want to do]."
Curtis knows that mental health is critical to staying sane, so she isn't afraid to reveal she sees a therapist. "What I've chosen to do with a career could be a really high-stress situation, and I decided to take the stress out of that," she says. "That's really where our show and our business have evolved over the years, where I finally just said, 'If we're not having fun doing this, I'm not doing this anymore.' … There were some lean years where I was burning the candle at both ends, and then I needed to go for a run or I needed to go work out, and I just didn't make time for it. And those were the years that probably are the worst of my life."
And her life, which has become much more mentally and physically healthy, hasn't slowed down. She's running her business while taking on new projects, including filming an episode of the "While You Were Out" reboot with Vanilla Ice (which started airing on HGTV and TLC in March), working on a fitness book with high school friend and personal trainer Miller, and she'll be ramping up filming for her show soon, too.
It's not lost on Curtis how far she's come, and she remains grateful for her journey. "If somebody looked at my life that's on paper, I was basically a teen mom with a 75 percent college degree with no trust fund, no direction—just an idea that I could be anything I wanted to be, and I did," she says. "If everything were to go away right now, I would sit back proudly and say, 'Yeah, I've exceeded my expectations for my life already.' And that doesn't mean that I'm going to stop doing what I'm doing, but that just means that everything now is just gravy. And I find the joy in that."
And running, more than any other outdoor activity, helps Curtis maintain that source of joy. "I'm more of an introvert, and running to me is just somewhere where no one's in my face. There are a lot of moments where I have to be 'on.' … Running is the one spot where no one can touch me—not that I'm fast. I'm the slowest person in the world. But these moments of running are mine."