Five Things We Learned from Alexi Pappas' Memoir, Bravey
Pappas crafts a tradition of mentorship by passing along the lessons she's learned.
Heading out the door? Read this article on the new Outside+ app available now on iOS devices for members! Download the app.
After surviving a gritty, jaw-clenching 2020, Bravey feels like a giant exhale. In her memoir, Alexi Pappas, the 2016 Olympic 10,000-meter runner representing Greece, explores the corners of her mind to acknowledge what and who have made her who she is. In the writing you see her background as an improvisational actor take the reins as she learns and grows, adding on a piece of herself to every bit of advice she receives in a "yes, and" fashion.
"Like a buffet. I want all the shrimp, all the pasta, and all the chocolate fondue. I don't have the one person; I have every person," she writes. "My selections might not all make sense on a plate together, but I crafted this meal; it is mine, and I love it."
And in turn, we the readers get to learn about creativity, achieving, grieving, and womanhood as we meander Pappas' wise and beautiful writing. Here are five things we learned from reading Bravey by Alexi Pappas: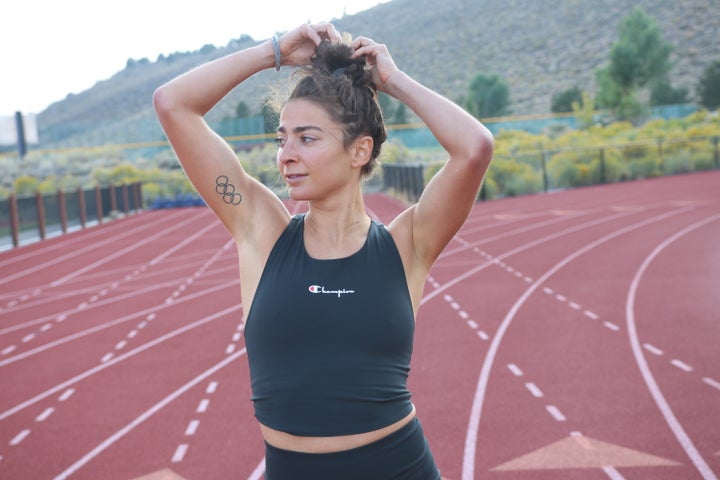 Don't wait for your defining moment.
It won't come.
In between every chapter of the book, Pappas inserts a poem that adds a splash of color to the point she is making. This poem says it all: "I admire pickles because there is no one moment / that makes a pickle / a pickle, it is a thing that happens over time. / pickles are patient." There won't be one moment where you are transformed into who you are meant to be. You are already that person and every step you've taken has brought you here.
Welcome your nervous energy.
"I realized that it was OK to be nervous about the Olympics ending," writes Pappas in reflection of a deep depression she went into after the 2016 Rio Olympics concluded. "Nerves are cousin to excitement, and excitement is cousin to gratitude. Pay attention to your nerves: If you feel nervous, it's a sign that a Very Big Thing is unfolding. Be nervous for how good that thing can be." Don't shove those nerves aside and pretend they aren't there. Embrace and learn from them.
The best way to achieve your goals is to say them out loud.
"Sharing your goal in this way puts you in the brave but vulnerable position of admitting that you want something. The goal is now out in the world, breathing open air and growing into something real. Once the goal is real, you will undoubtedly become more accountable to it," writes Pappas.
Pay attention to what motivates your ambition.
After working hard on her mental well-being, Pappas realized she had been "motivated by running away from failure instead of running toward opportunity." She adds that "being motivated by fear of failure is the surest way to fail, especially in the athletic and creative worlds." Are you running toward your next PR or away from a bad finishing time? Next time you're setting goals, try exploring why you want them.
But be mindful about how you talk about your experiences.
"How you talk about your experiences will dictate how you feel about them," writes Pappas. "Reframing our goals and rewriting our stories are powerful tools. Nobody can tell us how to feel about something. We can make our shortcomings into something beautiful if we want to. How we label an experience can completely change how we perceive it." Pappas gives the personal example of when she ran her first marathon after the Rio Olympics. At about mile 10 a previous injury began to flare up and she began to realize that she was not going to keep up her target pace. But in her own mind she was able to reframe her goal to just reaching the finish line. And while afterward the press prodded to get her to admit disappointment in her finishing time, she could only be genuinely happy that she reached her goal of finishing.
Want to read this book together and talk about it? Join our book club.