Deena Kastor Opens Up About Her Own Adoption
In an exclusive essay, the Olympic medalist and American record holder in the marathon reflects on the meaning of family, motherhood, and the role adoption has played in her life.
Heading out the door? Read this article on the new Outside+ app available now on iOS devices for members! Download the app.
When I saw the photo of Shalane Flanagan's new son through adoption, my heart leapt the way a mother's heart does at the sight of a newborn. But I also felt a special connection to little Jack himself. Like him, I was adopted at birth.
Growing up, being adopted was the most extraordinary thing. For as far back as I can remember, my mom and dad told me I was chosen, special. Most nights, they read me a book called Why Was I Adopted? We'd sit on my bed and inside the pages was a beautiful world of moms and dads and kids with different colored eyes and skin, height and body size. The book explained that as an adopted child, you became part of a family in a different way. Instead of being born into it, you were chosen. 
I imagined my parents getting on a plane in California and flying all over the world in search of me. They landed in various countries, meeting babies and shaking their heads until they landed in Boston. "This one," my mom said, pointing at me in a bassinet. 
The real story is that after my mom and dad spent 10 years trying to conceive, a 14-year-old girl decided to place her child up for adoption. When my biological mom went into labor—she'd turned 15 by then—my mom flew to Boston to gather me and bring me home to the golden state.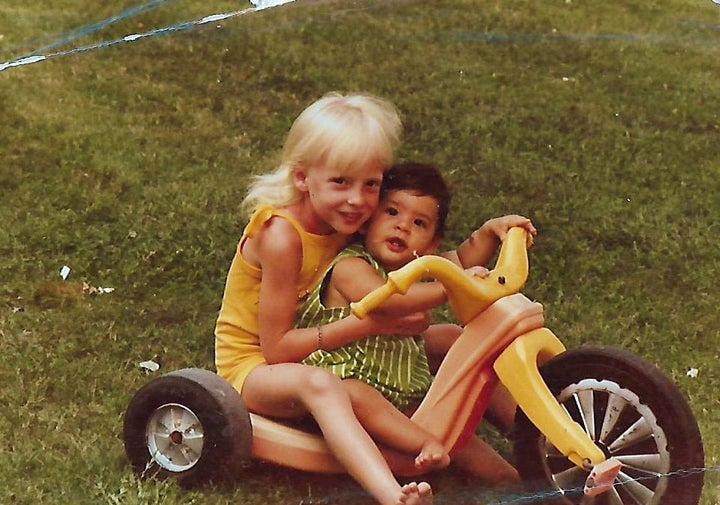 My parents reinforced the notion that I was special so much that when my sister, biological to my parents, arrived when I was four years old, I thought of me as "chosen" and her as "an accident." It made no difference. She was as spoiled, adored, supported, and praised as much as I was. 
As we grew up, being adopted became a fact of my family like any other—that we were Jewish and my dad was in insurance, for example. It only became something different, meaning less positive, when strangers or friends of friends noticed that my sister Lesley and I did not look like siblings. Lesley was olive skinned, with arching eyebrows, and dainty hands. I was pale and freckly, with a boxy, boyish figure. When someone commented, we simply told them I was adopted. "Oh, I'm sorry," was a common reply. Once someone said, "Oh, so you're not really blood related," implying that we were not really sisters. After that, we started telling people that our mom had an affair with the mailman.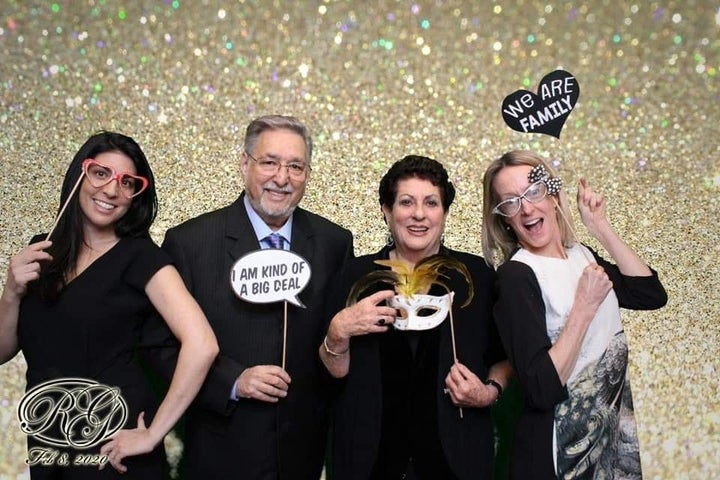 I remember on a number of occasions people implying that adoption means you were given away, unwanted. The negative perspective didn't reflect my positive experience, so I stuck with words like chosen, found, and special. I believe that my ability to choose that positive outlook came from the book my parents read and re-read to me. That book was my first lesson in optimism and it propelled me down a positive path. 
Adoption opened my life up in unexpected ways. I wasn't half my mom and half of my dad. I was not tethered to a family business or profession. I got to define myself. When I started running and winning at age 11, we had no road map for my potential, no athletic parent, grandparent or aunt suggesting how far I might go. The sky was available to me. Adoption put no cap on my ability, allowing me to take my talent and hard work as far as I could.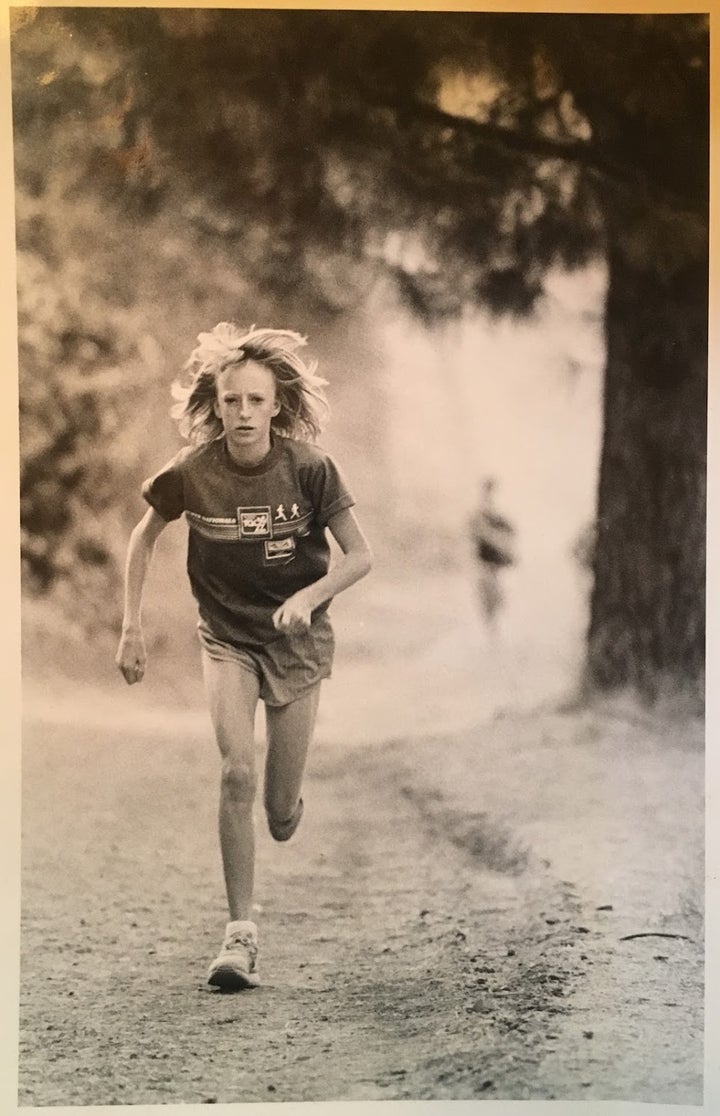 A few years ago when I wrote my memoir, I started thinking about my biological mom really for the first time. All my life, I had never felt a desire to search, meet, or know of her. I always say it's because my family is enough, with all their smothering love and unwavering support; I never felt like anything was missing.
But while writing, I realized there was a specific moment that led to her absence in my mind. As a child, my mom and I would frequently arm wrestle on her bed, a game that always ended with my arm pinned to the comforter and us laughing. But on one particular day when I was about 13, I was holding my breath, straining so hard to get an inch or two on her, when the next thing I knew my arm was pinned to the bed and I was laughing, but my mom's face was sober. "Do you ever want to find your biological parents? We can help you look for them," she said. I didn't understand why my mom was asking, but the relief on her face when I said no was clear. I internalized the moment, believing that curiosity about my biological mom would hurt my mom, so I put any thought of her deep into a tiny corner in my mind. 
While running around my neighborhood, I pondered my adoption and birthmother. I saw a young girl, pregnant, and thought about how frightened she must've been, how brave she was in birthing me. As I ran, I acknowledged the strength of that young girl who brought me into the world, and the courage she had in letting me go. I saw in that moment that her release was as important as my parent's first holding of me. Being adopted you are both given away and chosen. One is not negative or positive. Both come down to the same act: love.