Amy Cragg's Next Step
She was one of the most successful American marathon runners ever. Now Amy Cragg is bringing the next generation along.
Heading out the door? Read this article on the new Outside+ app available now on iOS devices for members! Download the app.
Amy Cragg remembers the precise moment that would come to define her career. In fourth place, she had two miles to go at the 2017 world championships marathon in London—and she had a choice to make.
"There's always this moment where you have to make the decision of whether or not you're going to give into the pain or you're going to just go for it no matter what," Cragg says.
The lead pack had broken the race open with five miles remaining and four competitors in the hunt for the podium. Ahead, Rose Chelimo of Bahrain and Edna Kiplagat of Kenya seemed assured gold and silver medals. They were trailed by Flomena Cheyeck Daniel, also of Kenya, who had put a gap on Cragg.
"She got way ahead of me and all of a sudden it was this voice in my head," Cragg recalls. "I was like, 'Fourth? Not fourth. Are you kidding me? You made it this far…and fourth?'"
Just then she spotted her coach, Jerry Schumacher, on the side of the course.
"All he said was, 'If you can get one spurt you can get a little bit closer. You'll catch her with 800 to go.'"
The suggestion flipped a switch in Cragg's head. One step closer. Then another step closer. Her husband, Alistair Cragg, yelled to her as she made her way up a final incline.
"'You'll remember this forever!"
Cragg overtook Daniel. Then she spotted Kiplagat ahead and nearly caught her, too. In fact, Cragg's and Kiplagat's times are identical in the results: 2:27:18, though Cragg took bronze.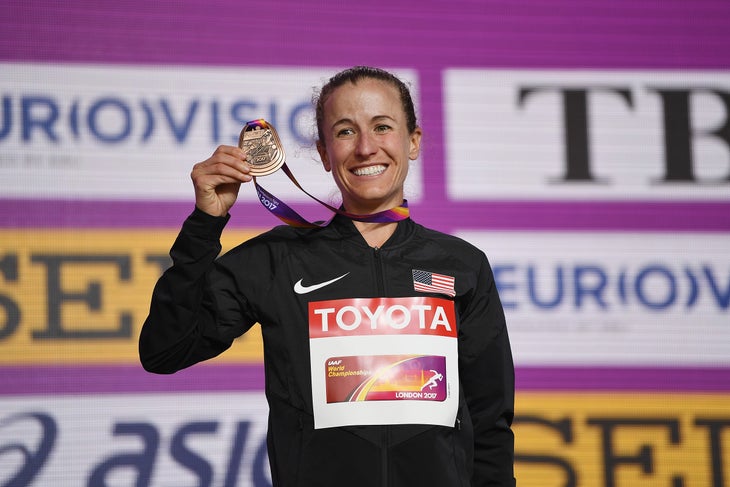 "It was one of the most painful things I've ever done," Cragg says. "But I will always remember that moment when I ended up changing my mind and making the decision that I was going to be up there instead of giving into what felt like disappointment."
The result was historic not just in terms of Cragg's career, but because it was another contribution to the significant gains U.S. women's distance running made on the international stage during her tenure. Her medal was the first an American woman had won in the world championships marathon in 34 years. Thanks to the performances by Cragg and her peers like Shalane Flanagan, who won the 2017 New York City Marathon, and Desiree Linden, the 2018 Boston Marathon champion, it's no longer enough just to earn a spot on the starting line—the expectation has been raised to contend for the podiums.
"When it's just one person, you see it as, 'Oh, they're just really special; they're different,'" Cragg says. "But when you see it as the whole sport rising, then the individuals start believing they can do it too. I think we're finally starting to see the women who grew up with that."
At age 37, Cragg announced in June that she has retired from competition and has turned to coaching the next generation of pros, alongside Alistair, a two-time Olympic 5,000-meter runner who represented Ireland. The couple moved this year from Portland, Oregon, where Cragg trained with the Bowerman Track Club, to start a new Puma-sponsored group of young elite runners in Chapel Hill, North Carolina.
RELATED: Amy Cragg Withdraws from the 2020 Olympic Trials, But Says She'll Be Back
Female rookies like Fiona O'Keeffe, 23, now hold those great expectations because she spent her formative years watching her new coach raise the bar.
"She's been so open and honest about challenges early in her career and how that first year out of college can be really tough," says O'Keeffe, who was a seven-time All-American for Stanford University with a 32:12 best in the 10,000 meters. "If Amy had a hard time and ended up where she was, we'll be OK too."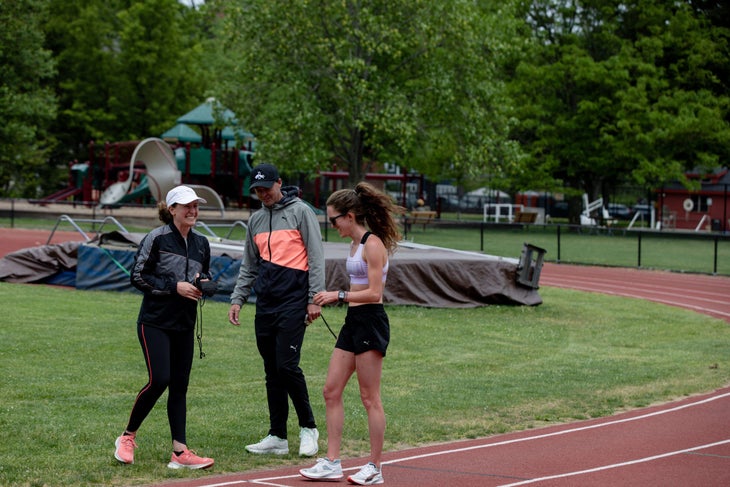 A fearless racer
Originally from Leavenworth, Kansas, Cragg was always the girl on the volleyball or softball team leading cheers and encouraging her teammates. She received the "spark plug" award for her team spirit, but didn't discover her athletic talent until she entered a local 5K with her dad in fifth grade. She beat most of the adults.
"I really was terrible at most sports I tried. I loved, loved being part of a team," Cragg says. "But then the first time I went running it was like, 'Wait, I can actually contribute to the team in ways other than leading the 'We Will Rock You' cheer.' As soon as I realized that, I had this drive to compete. That was it."
She joined the high school cross-country and track teams and was recruited to Arizona State University. Her hostess on that recruiting visit? Desiree Linden.
"She was super passionate about running, but also just an upbeat person to be around," Linden says. "She was also just an incredibly fearless athlete even in her freshman year at ASU. She was like 'I'm going to the front of every race; I don't care if anybody thinks I don't belong there.' That was entertaining for a lot of us who were afraid to race that aggressively."
Eventually Cragg's fitness caught up with her race tactics. She was the NCAA indoor 5,000-meter champion in 2006 and a member of the ASU team that won the 2007 indoor and outdoor NCAA titles. After graduation, she trained for a while in Mammoth Lakes, California, in a group that included Deena Kastor and Meb Keflezighi, who had both medaled in the marathon at the 2004 Olympics.
Although Cragg was grateful for the opportunity to run professionally, she found herself struggling those first few years to make the necessary performance jumps that qualified her for U.S. teams. In 2011 she made an important move to debut at the 26.2-mile distance at the Los Angeles Marathon, finishing second in 2:27.
Soon after, she lined up at the 2012 Olympic Marathon Trials in Houston, where she finished in the agonizing fourth place, one spot shy of the making team. Ahead of her: Flanagan, Linden, and Kara Goucher.
"That was her second marathon and I know in her mind, she was making the Olympic team," Linden says. "I don't think she probably let go of that idea until she saw three people cross the finish line ahead of her. Knowing that mentality, I ran those last miles in fear knowing she was tough enough to come back. You never counted her out. We all looked at her as the top contender to make the 10K team."
She pivoted back to the track and won the 2012 Trials in the 10,000 meters. At the London Olympics, Cragg took 11th in a new personal best, 31:10. But when she returned to the U.S., she searched for the next step and ended up in Providence, Rhode Island, to train with coach Ray Treacy, alongside a tight-knit team of Molly Huddle, Kim Smith, and Roisin McGettigan.
"That group really made me fall in love with running again," Cragg says. "They made it really fun again. Ray taught me that good, solid work gets it done. You can do all this other fancy stuff and crazy stuff, but when it comes down to it, it's just what you put in on a daily basis."
Although she made the 2013 world championships in the 10,000 meters, Cragg was stalled in the marathon, where she had consistently run 2:27. She thought she could do better, and by 2016, she knew it was the event she wanted to try again for her second Olympics. Flanagan was looking for a training partner, so the Craggs moved to Portland to give the Bowerman Track Club and 26.2 miles one more shot under Schumacher.
"Jerry just releases you from your own limitations," Cragg says. "Before I joined Jerry I think I had probably two of the worst races in my career on the roads. And I was like, 'What am I doing?' But they created this environment where I could be the best version of myself."
Amy Cragg's final push
The 2016 Olympic Marathon Trials may go down as Cragg's most memorable, at least to those who witnessed it. She won—a fitting redemption from that heartbreaking 2012 race—and in dramatic fashion. On a sweltering day in Los Angeles, she and Flanagan took off at the halfway point, leaving the rest of the field in their wake. But Flanagan started struggling in the heat in the last five miles. Cragg didn't want to leave her training partner behind, sticking with her until Linden started gaining on them, only taking off when she had no other choice.
Taylor Werner, now a member of the Puma team and the 2019 NCAA runner-up in the 5,000 meters, was a teenager at the time, watching Cragg's every move.
"I just admired her so much, not just because she came back and won the Trials four years later, but because I was one of her biggest fans after watching her help Shalane," Werner says. "It was a true testament to who Amy is and what she cares about."
Linden came in second that day and Flanagan held on for third to make the Rio Games, too, falling into Cragg's arms at the finish line. The trio became the first U.S. team to place in the top 10 at the Olympics—a full-circle moment for Linden and Cragg (Flanagan was sixth, Linden seventh, and Cragg ninth).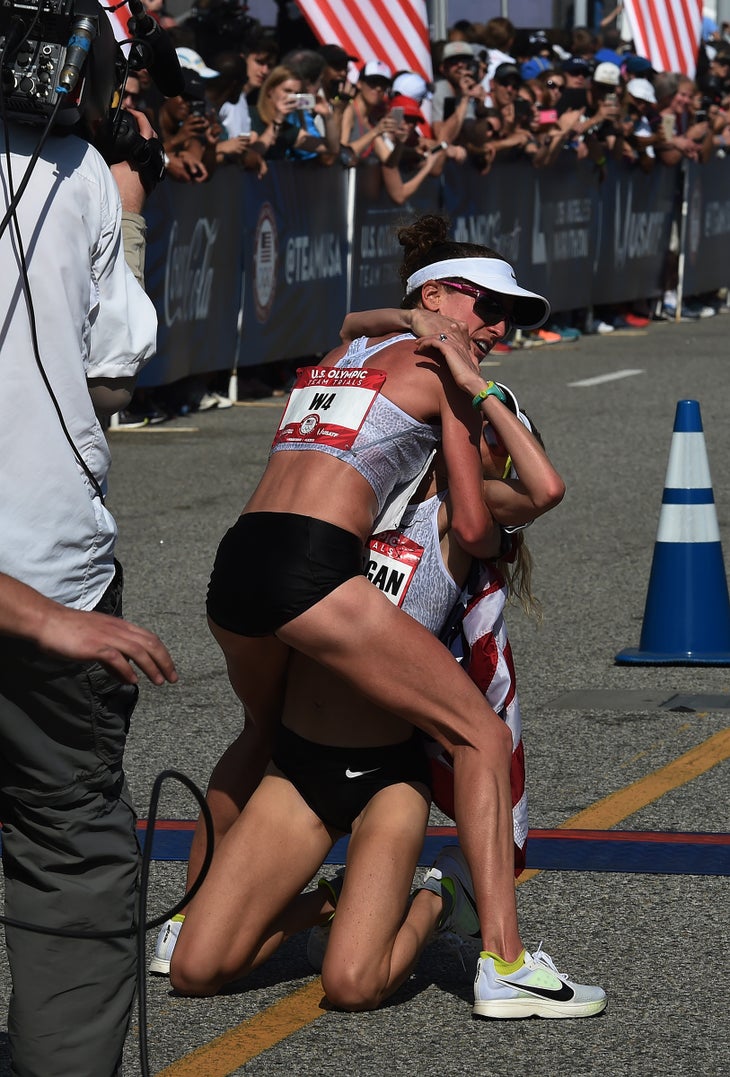 "That was fun to be on that start line together, both of us healthy and both of us feeling like we were competing to do something special," Linden says. "It was something we talked about and it sounded silly at the time—we were collegians thinking about the marathon and making the Olympics when I wasn't even in the ballpark and she still had some work to do. For most people that's not something they ever get to realize."
But Cragg's best was yet to come. Not only that 2017 world championships performance, but also taking third at the 2018 Tokyo Marathon in 2:21:42, then the fifth-fastest American woman ever at the distance.
She had dreams of making it back to Tokyo for the 2020 (or 2021) Olympics, but health problems got in the way. Before the marathon Trials in February 2020, Cragg struggled with extreme fatigue and illness. Doctors concluded she had a recurrence of Epstein-Barr, the virus that causes mono. Her blood tests showed that she wasn't producing enough cortisol throughout the day, an indication of overtraining syndrome.
"If you have a recurrence of Epstein-Barr, it can affect your cortisol levels and then also your cortisol levels lower your immune system, which could cause Epstein-Barr to come back," Cragg says. "So chicken or egg? We don't know which came first."
She had contemplated making another attempt at the 10,000 meters on the track, but that didn't materialize.
"I just realized that my big dream, the whole reason I stayed in it this long was to go compete in Tokyo and that wasn't going to happen," Cragg says. "So I wanted to take time after I was officially healthy and running on my own to see if I still had that fire. I started helping coach with Alistair a little bit and I really enjoyed that. I made the decision that it was what I wanted more. When it comes down to it, it was time. It was time."
Applying the lessons learned
After nearly a lifetime of intense training, Cragg is slowly coming to the realization that she can run for running's sake now. She and Alistair are longtime birders ("We've spotted 283 birds in North America, not to brag or anything," she laughs) and she uses her two- or four-mile runs a few times per week to explore the area around Chapel Hill or just enjoy some fresh air.
"For a while it was like, 'Well, if I don't get out for at least seven miles, it's not even worth it,'" Cragg says. "And then I just wouldn't run…but I'm starting to get the itch a little bit more again. I think 45 minutes a day is what I will shoot for."
It's the team aspect that is drawing her to coaching the new group. She hopes to help cultivate a similar environment that helped her thrive in her own career—one that honors individualism so long as you're also supporting and respecting your teammates.
"I think there's this perception that everybody's best friends all the time and you have to be that way if you're teammates, but the reality is it's a bunch of really strong individuals with different perceptions of the world and different opinions," Cragg says. "But the standard at the BTC was that no matter who you are and no matter where you came from, if you're going to be on the team you need to be there for your teammates. You don't have to be carbon copies of one another, but you do have to do this one thing."
Werner and O'Keeffe value Cragg's positivity above all else. She's the one who encourages them to find the good in the sub-par workouts and races. Her enthusiasm is as reliable as her sprints across the field to yell interval splits. She still gets the spark plug award.
"She always comes to practice with a smile on her face and if something goes wrong, she's the first one to spin it in a positive way," Werner says.
Little has changed that way for Cragg, Linden says.
"She's just optimistic—I don't want to say naive, but just believes there's good in every situation. Sometimes you have to be like, 'Maybe we don't do that today,'" Linden says, laughing. "I don't know if that's a Midwest thing, because I see that in people here in Michigan and in [my husband] Ryan. Optimistic, upbeat, she can go and have fun and suffer through a run the next day if she needs to, but have a good time and balance her life really well."
One thing Cragg is looking forward to is a reprieve from the intensity of a 24-hour-a-day job. The ability to relax a little is welcomed, even if she confesses that watching her athletes compete is more nerve-wracking than actually racing herself. Nonetheless, it's their time, and she's ready to impart all the lessons she's collected in her storied career, acknowledging that the post-collegiate grace period she enjoyed is no longer much of an option for today's competitive U.S. women.
"The toughest thing they're going to deal with is that if you're not 100 percent on your game, someone else will be," she says. "There's no room anymore for you to take a year to figure out you need to start getting massages."
That, of course, is largely because of what Cragg and her generation have accomplished—because of that decision she made in London four years ago that fourth place wasn't good enough.
"I just want to do whatever we can to make this a wonderful part of their lives and help them accomplish their dreams," she says. "They have this belief. They fully believe that they can go after medals on the biggest stage now and they are willing to do the work to get there. And that is really, really exciting to see."