Amelia Boone is Doing It for Herself
What the ultrarunner has learned about health, happiness, and love from one of the toughest years of her life.
Heading out the door? Read this article on the new Outside+ app available now on iOS devices for members! Download the app.
Ultrarunner Amelia Boone, 36, has won the World's Toughest Mudder obstacle course race three times. She was at the top of the podium at the 2013 Spartan Race World Championships. And she's finished three Death Races, diabolical multi-day events that she once described as "a game of Russian roulette," because participants have no prior knowledge of the course, the distance, or the disciplines involved. The woman's ability to endure suffering is so legendary she was dubbed the Queen of Pain.
So when Boone describes 2019, the year she announced to the world that she had gone through treatment for a 20-year eating disorder, as "terrifying, extremely hard, and humbling as shit," you know it had to be bad. "It's the most challenging thing I've ever done," she says. "Going through treatment made me question everything—why I was running and racing, whether I could do it in a healthy way, what was important to me, how I wanted my life to look."
As she settles into her new home in Golden, Colorado, she's had to face some old demons—but for the first time, the choices she's making about her health, her training, and her life are finally her own.
New Beginnings, Old Problems
In 2019, Boone was living in San Jose, California, a convenient distance from Apple headquarters, where she's an attorney. (Yes, she has an intense day job, too.) She had lived alone for nearly a decade—by choice. "Eating disorders thrive in secrecy, because you don't want other people seeing how little you eat," she says. But moving in with her sister in Seattle while she went through Opal Food & Body Wisdom's three-month eating disorders program opened her eyes.
"At Opal, we talked a lot about living according to your values, and I realized that, because of my eating disorder, I'd been depriving myself of one of the things I value most: deep personal connection. For years, I'd been filling that void with external validation—winning races, being on magazine covers, seeking fame."
Those accomplishments provided fleeting hits of dopamine, but they were a shabby substitute for true emotional intimacy. As she became healthier, she knew she needed more of the real thing. So when Apple gave her the green light to work remotely in January, she began planning a long-anticipated move to Golden, where she had a built-in community. "This is the first life change I've made based on something that's intrinsically important to me, that's driven by my deepest values and not the desire for praise and recognition," she says.
But the timing was challenging. From the moment she heard the word "coronavirus" in January, an old demon began to stir. She'd struggled with obsessive-compulsive disorder as a child. It vanished in her teens as her eating disorder gained ground. But as news of the deadly virus intensified, so did her obsessive hand-washing, hours of disinfecting, and outsized fears of infection. "If you have [cleanliness] OCD, all the public health messages about how to stay safe just fuel the madness," she says.
What's more, by the time she moved to Golden in mid-April, all the friends she'd hoped to spend time with were sheltering in place. "In January, I felt I was finally on the verge of creating the healthy, connected life that was so important to me. Within a few months, everything crumbled. It was extremely difficult. My OCD was flaring, I was living alone, and many of the coping mechanisms I relied on to keep my eating disorder in check, like eating with other people, keeping my pantry fully stocked with a variety of food, and seeing my therapist in person, were no longer possible. The anxiety was paralyzing. I refused to let the eating disorder return, but I felt like I was thrown back into my early days of recovery, white-knuckling my way through every moment."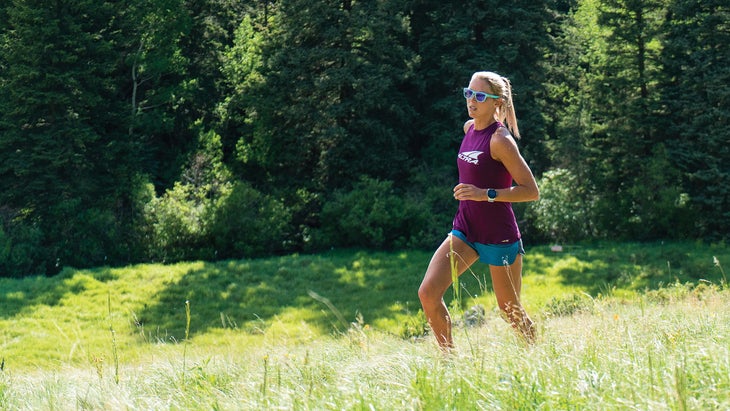 Lessons from Quarantine
The isolation of quarantine had an unexpected upside: It forced Boone to be proactive about reaching out for help. "It's hard for me to be vulnerable, but I started asking friends to have meals with me on FaceTime and called loved ones when I felt like I was losing it," she says. "Their response was so warm and supportive. I learned the value of opening up and relying on others. It's still new territory for me, but it feels good, and it's incredibly beneficial for my emotional health."
She continued sharing her thoughts and experiences on her blog, too, where she gives a courageous accounting of her challenges. "I was wary at first about sharing my private struggles with the world, but it actually helps me stay honest and accountable. And being publicly vulnerable has been rewarding in ways I hadn't expected. So many women have reached out to me and shared their stories. Offering support for women who are struggling with similar issues has given me a deeper sense of purpose."
Amid her soul-searching, she also gave a lot of thought to running and how to maintain a healthy relationship with the sport. In 2016, when she first set her sights on ultrarunning, she increased her distance from 40 to 100 miles per week too quickly and wound up with a stress fracture in her femur—the first of four fractures in three years. "A big part of the reason I went into treatment was to unpack the connection between running and eating," Boone says. "Were they inextricably linked? I've learned they're not. I don't tie what I eat during the day to how much I run. If I work out more, I eat more. And I never go below a certain healthy baseline of food. I run because I love to run and train because I love to train. It's the time I'm most in tune with myself and feel the most free."
Boone has had to accept that, thanks to her weak bones (a consequence of the eating disorder), she can't put in high-mileage training runs. Per week, she's on the trail near her new home four or five mornings, but limits herself to 45 to 50 miles total. And she supplements her training with activities that are gentler on her body. On days she doesn't run, you can find Boone on her Eliptigo (a stand-up bike that mimics the elliptical machine), doing tough cycling routes with lots of climbing. "Like running, it works my glutes and hamstrings, and it actually gets my heart rate higher than running," she says. Most evenings she goes for a hike. "With races off the table, I've been able to train consistently without the usual pressure I put on myself. That's been a blessing. I've been feeling the best I have about running in years."
Looking Ahead
Boone's new outlook has renewed her competitive spirit. "I used to think, 'If I don't win this world championship, no one will love me,'" she says. "Now that idea doesn't even register. I enjoy the process of training and competing. I love the camaraderie of racing and encouraging other people on the course. And I love pushing myself to see what my body is capable of doing and sharing those intense experiences with other people. That's where the joy is for me. That's what drives me to get back out there."
Whenever events begin again, Boone has set her sights on races with notoriously high failure rates—the Spartan Ultra 50K races with 60 obstacles, the Barkley Marathon, a hilly 20-mile loop that finishers need to complete five times (for a total of 60,000 feet of total elevation gain), the 268-mile Montane Spine Race in the United Kingdom, and the Death Race. "If an event sounds gnarly and awful, I want to do it," she says.
Daydreaming about punishing races aside, she's trying her best to stop planning for the future. "The more I try to control the direction of my life, the more I've had to learn I'm not really in control at all. It's hard for me, because I crave certainty. But my goals now are simpler and more short-term: stay connected to family and friends, build out my community in Golden, train smart so I can continue doing the things I love, keep myself emotionally healthy—and stay anchored, as best I can, in the here and now. I figure if I can learn to do that, the future will take care of itself."