Allie Ostrander Returns to Racing with a Win
We caught up with the three-time NCAA champion, who left the Brooks Beasts at the end of last year to focus on her health.
Photo: Erica Miller/ Daily Gazette (Schenectady, NY)
Heading out the door? Read this article on the new Outside+ app available now on iOS devices for members! Download the app.
It's been a long calendar year for Allie Ostrander. The steeplechaser, who won three NCAA titles for Boise State and made the 2019 World Championships team, announced she was entering eating disorder treatment before the Olympic Trials last summer. She left the Brooks Beasts at the end of 2021 to focus on her physical and mental health. But after a successful recovery from a femoral neck stress fracture, the 25-year-old won her first race back since the Trials at the Freihofer's Run for Women on June 4 in Albany, New York with a 15:48 5K effort—a week later, she lowered her season's best to 15:26 at the Portland Track Festival, 13 seconds off of the qualifying mark for the USATF Championships.
Women's Running caught up with Ostrander to chat about her first race back and how her training has been going in Seattle.
Women's Running: How did it feel to race again?
Allie Ostrander: It was really fun. I was so nervous before it, though, it was ridiculous. It was the same level of nervous I've been for any race, no matter how high caliber it was. This was a pretty chill road 5K and I was a nervous wreck, but once we got going, I was good. 
I felt a lot of confidence from my training, but there's always some uncertainty before you actually do it in a race. Like, 'Will I be able to hold this for the full time?,' 'What pace can I run?' Even when you've done stuff in practice, you never quite know until you actually do it in a race. 
WR: Take us through the race.
AO: The first mile was an uphill, so… my race strategy going in was, I was going to take the first mile pretty conservative because I didn't want to completely burn myself out. A first mile uphill meant the last mile was downhill so I was going to try and make my surge on that downhill. There was a pack of three of us and I was right in that. After the first mile, I was feeling pretty relaxed and so I took the lead and surged a little bit to see how people would respond. It seemed like no one really wanted the pace to pick up, and so I took the lead and kind of pushed it a little bit for mile 2 and the last 1.1 I really just put in a surge and ended up gapping the field by a little bit.
WR: Were you paying attention to your splits?
AO: I was trying to go more off of feel, so I wasn't wearing a watch but they did have clocks at the 1 and 2 mile marks. It was a 5:17 first mile and 5:14 second mile and my last mile was like a 4:43. I was certainly increasing the pace, increasing my effort but it was a downhill—4:43 sounds like, you know, 30 seconds faster than the mile before that, but it probably was the same effort as running a little bit under five [minutes]. 
WR: How did it feel to win your first race back?
AO: It was great. I was really excited to win and I had no idea what the competition was going to be, because Freihofer has a history of being super competitive but the past few years, it hasn't been as much—but they're trying to rebuild their elite field. I really didn't know what to expect going in, so I was really happy to pull off the win.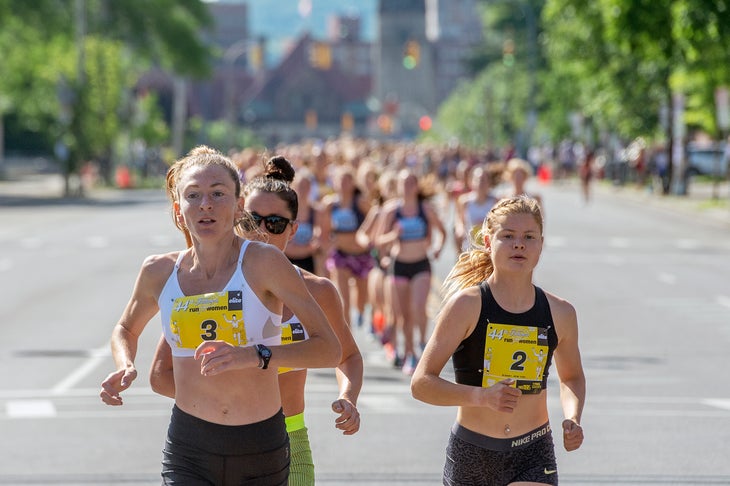 WR: What's next for you?
AO: I haven't planned out the full summer. In my notes app on my phone, I have a list of possible races that I want to do, things that I've always wanted to do for awhile but didn't always fit into the schedule. I'm way less married to track this summer and I'm just looking to do races that sound exciting to me and sound fun and get different racing experiences. 
I was torn between steeple and 5K, but I just don't want to steeple this year because it makes me a little bit nervous with injury risk. I injured my hip last summer and I feel like steeple always throws off my hip. It might just be in my head, but I'm scared of extra injury risk right now.
WR: Are you coached by anyone right now?
AO: I'm self coaching and I get some input from Spencer [Brown, her significant other], but other than that, it's just me coaching myself. But I've been enjoying it. I think I'm doing a good job. I have a lot of experience and I also work as a volunteer coach at a college [Seattle Pacific University], so I have a good idea of how training should be structured and what sort of workouts work for me, and what workouts I need to gain confidence and what sort of workouts I actively want to avoid and need to make myself do. At some point, I do want to get a coach, but for now I really want to do this at my own pace on my own time.
WR: Do you also workout alone?
AO: I work out by myself a lot, but at the same time as Spencer, so we'll be both at the track doing workouts at the same time. I also sometimes recruit guys to pace me, like Spencer's friends. Like who wants to do 8 x 1K today? Sometimes that works, it's not always easy to sell. 60 percent of the time I'm alone, 40 percent I'll have someone to do it with me.
WR: How do you like assistant coaching? Is that a career path you want to pursue?
A lot of the reason that I've been volunteer coaching is I want to get experience so I can decide if that's something that I want to do long term, and also so I have more knowledge and expertise if I want to pursue that. After volunteering for over a year, I'm pretty sure coaching is something I want to do long-term, and I think I'm deciding at what point do I want to pursue that.
I still have a lot of running goals right now but that doesn't mean I don't also want to pursue coaching. One of the things I've realized in the last year is that I do better when I have more on my plate, which I know isn't the case for everyone and I didn't think would be the case for me when I graduated from college. I thought, 'Oh my gosh, my running will be so much better, I'll be so much happier when I don't have to worry about school anymore.' But actually having something other than running to focus on and put time into really helps me, and so even while I'm pursuing running right now, I like to have other stuff going on. 
I definitely put a lot of time into the team and the program and it opened my eyes to how much of a time commitment coaching is, because I think as an athlete, you think [coach] just shows up to practice but it's so much more. You don't realize how much time the coach is dedicating to your success when you're the one competing at the meet, but now I have so much more appreciation for that.
It's also been so rewarding to be directly involved in someone's training and helping people reach their PRs and racing to nationals. It's been really fun to be on the other side of things and to focus on someone else's athletic achievements rather than just my own. I've also enjoyed getting to know the athletes and other coaches, it's been really fun.
RELATED: In a Strange Year, Allie Ostrander Expands Her Reach
WR: Training on your own must have its own challenges and benefits.
AO: The biggest challenge has been feeling like it's valid to be chasing after athletic goals and putting a lot of time into training and making sacrifices for my athletic goals when I'm not a sponsored athlete anymore. I know that's something a lot of people go through, but I fully do at this point believe that it's valid. I'm still so passionate about running that there's no reason I should ever take that away from myself. Whenever I'm choosing to do a workout or a cross-training session, I know 100 percent it's because I love doing it and I'm passionate about it and I want to see how good I can be. It's not at all because it's my job.
I think the biggest positive surprise is how much enjoyment I can get out of training. We have such a fun group of people in Seattle that are going on runs, going to the track for workouts, taking videos for Youtube channels, and it's created such a positive, fun atmosphere around training. Sometimes [on] professional teams, it's a lot more serious. The Beasts, don't get me wrong, it was so fun and I have a lot of friends on the team, but it's been a lot more light-hearted and I've really enjoyed that. 
RELATED: 360 YOU: Saying No to the Comparison Trap
WR: What's a typical week of training like for you?
AO: Right now, I am running four days a week. Mondays and Wednesdays are cross-training days, Tuesdays and Fridays are workout days for running. Thursday is an easy run and cross-training double. Saturdays are easy days, so I'll usually just cross-train for an hour and Sundays are long run days. I got up to 16 [miles] for long runs earlier but now that I've been racing, it's been more like 13–14. [My weekly mileage] ranges like 35–40 most of the time. I'm so scared of getting injured and I want to just maintain consistency over anything else right now. Most of my easy mileage has pretty much all been replaced by cross-training except for one easy run because I was like, 'C'mon, I want to have one relaxed run a week!' I do a lot of biking and elliptical. I think the second half of college and a lot of my time as a pro, I did incorporate a significant amount of cross-training but it's definitely taken more of a front seat the last year, where I'm actually cross-training more than I'm running.
My no. 1 goal is to stay healthy, not get injured, maintain consistency in training. But other than that, I'd really like to run some PRs and compete well in races. I don't have a lot of concrete goals at this point for this year. I think I was giving myself this year to feel it out, race when I want to, race whatever types of races I feel passionate about. The goals are not concrete. I want to compete well and I know what that feels like and looks like, but it's kind of hard to put on paper.
WR: What does your eating disorder recovery look like these days?
AO: It's part of my daily life. I'm still working with a therapist and a dietician. It's a long process and I feel myself making progress, but it's slow. It's something I'm focusing a lot of energy on, and especially now with increasing the amount I'm racing and getting back in that competitive atmosphere, I find that I really need to focus on not falling back into old habits. It's good, it's something that I'm putting energy into and feel good about the awareness and new coping mechanisms that I have. 
WR: Do you get a lot of messages on social media from younger girls asking you for advice? How do you respond to that?
AO: I do and it's really awesome. I'm glad people feel comfortable reaching out. Sometimes someone will send me a DM and say like, 'I've never told anyone about this but I'm really struggling,' so it's cool they feel safe talking to me about that and that's one of the reasons why I've been so open about it, because I want to make it a conversation. I try to be honest and to help them in the best way that I can.
RELATED: What Eating Disorder Recovery For Runners Looks Like Now