The Powerful Inspiration Of Parent-Child Running Teams
Alexi Pappas spoke with mother-son running duo April and Aubrey Cargill to discover how running together motivates and inspires them.
Heading out the door? Read this article on the new Outside+ app available now on iOS devices for members! Download the app.
Meet Mother-Son Running Duo April and Aubrey Cargill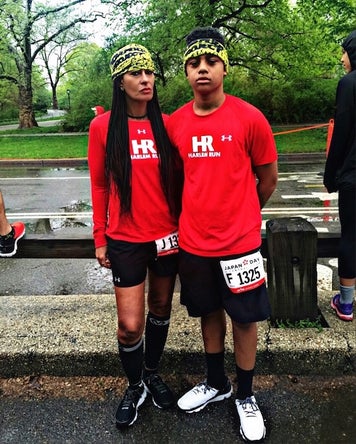 Parent-child running duos are very close to my heart. My earliest running memory is of cheering at the finish line when my dad completed his first marathon and thinking, "I want to do that, too." I recently met an inspiring New York City mother-son duo, April and Aubrey Cargill, who have found joy in running together and will be racing the Run With The Bun TrackTown USA Summer Series 5K Road Race this week.
April and Aubrey have run every single New York Road Runners (NYRR) race together except for the all-women's races and the marathon! Before joining his first team as a freshman at Cardinal Haya High school this past fall, Aubrey started running with his mother, April.
How did you get started in running and when? Why?
April: Around eight years ago I quit smoking and started going to the gym. I was intimidated by all the machines and weights because I did not know how to use them. So I walked on the treadmill for an hour. Each day I ran a small portion and walked the balance. In a couple of weeks I was running a full hour five to six days a week. Eventually a friend convinced me to join NYRR and sign up for the NYC half lottery. I got in and proceeded to do the nine plus one to qualify for the following year's NYC marathon without knowing what it was through the guidance of this crazy friend of mine. I was hooked.
I feel like running is a sport we're sometimes convinced to do, and then become totally committed to. What does it mean to run a race in NYC like the TrackTown Summer Series 5K?
April: Born and raised here, it feels natural.
Aubrey: NYC is the only place I've ever run. For this 5K, I want to break 20 minutes.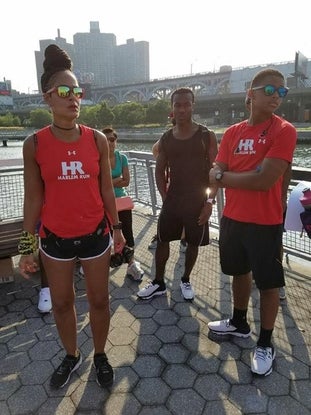 I like that NYC is your real home and your running home. And this isn't your longest race, is it?
Aubrey: No, the longest race I've run was a half marathon. The race I remember most was my first half marathon. The reason why is because it was one of the toughest races I've experienced. That race taught the importance of pacing yourself and respecting the distance. I've run six halfs since I started running.
That's way more than me! I totally agree about the pacing and respecting the distance. The closest thing I can relate to that is when I ran my longest long run, 20 miles. It felt like such a lesson in discipline, but also an accomplishment! And you, April? What is a race you remember most and why? What sort of impact did it have on you?
April: My first was the NYC Half in March 2015. Because it was my first, my legs were fresh. It was so exciting. I did not know what to expect. And I felt amazing the entire race. I felt like such a badass after I finished.
Do you get nervous before your races? Or do you have a mantra that helps you?
April: I used to get nervous and move around a lot in the corals, waiting to start. Now I usually have a friend or two with me and we are chatting, taking selfies and enjoying the moment. Do your best and have fun. PR if possible.
Do you get nervous, Aubrey? I know I do.
Aubrey: I only get nervous before races on the track. Running road races is always fun and exciting, especially compared to my school races, which are more serious and competitive.
April, is there a specific memory with your son that you have, running or otherwise, that makes you excited to toe the line together?
April: When I ran my first marathon [in NYC] he was there and talked and coached me through severe cramping and anxiety about the pain and finishing time. It was pure role reversal. He was so calm and helpful. He taught me how to stretch while walking and to control my breathing. I recovered and continued and murdered that marathon. We were so proud of each other. I realized that not to many single moms get to share a hobby and lifestyle with their puberty-aged child such as this.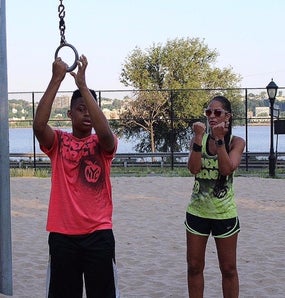 That is the coolest. It seems like you have learned from each other.
April: Yes, he taught me that practice makes you better.
Aubrey, did you learn that in high school? How is it being a high school runner?
Aubrey: I love the competition and I've made many friends over the season. My teammates are very encouraging and the upperclassmen always give good advice. I'm hoping that next year everyone's times will improve. Some things that I've learned this year are how to pace myself during tough races, proper ways to train, proper nutrition and sportsmanship. When I first started all I wanted to do was to catch up to her, speed-wise and distance-wise, and now I can say that I'm finally at her level.
What does it mean to run together in this race?
April: I love to run races with my son. We are not the same pace—he is way faster than when he started. But starting with him and taking pics with him after is priceless. At this race, I will finally get to meet some of his running peers from school—he already knows and runs with most of mine.
Why do you run?
April: I am 53 years young and I want to enjoy running for most of the rest of my life. I also want to continue to do races overseas once a year.
Aubrey: I run because it's fun and it's a big stress reliever. I love the feeling when I PR or complete a tough race. My mom motivates me because she pushes herself to be the best runner she can be.
What do you hope Aubrey will get out of this road race?
April: To enjoy the journey. And watch out for your old mom, she'll be right behind you and gaining on you!
Amazing. I can't wait to see you both!!
As a reminder, you can still sign up for the road race and join Alexi, April, and Aubrey!! Click here to sign up. Hope to see you there!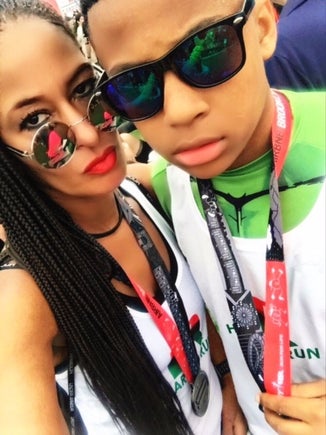 Related:
Races That Can Turn Into A Family Affair
5 Great Tips For Parents Who Both Run