The Story Of The Tremendous Olympic Refugee Team
Here's the story from the Games you didn't hear: Four women who fled war-torn countries in hope of a better life and made it to the Games.
Heading out the door? Read this article on the new Outside+ app available now on iOS devices for members! Download the app.
This August, for the first time ever, a team comprising only refugees competed in the Summer Olympics. The Refugee Olympic Team was made up of 10 athletes: four women and six men. They competed at Rio de Janeiro under the Olympic flag, next to every other athlete, representing the 65 million forcibly displaced people worldwide. And while the athletes did not win any medals, they won the respect of the world.
The team included runners from South Sudan and Ethiopia, swimmers from Syria and judo competitors from the Democratic Republic of the Congo. Swimmer Yusra Mardini called upon her athletic skills to escape the Syrian civil war last year, jumping into the Mediterranean Sea with her sister to push a boat of refugees to safety.
From South Sudan
Two female runners on the team, Rose Nathike Lokonyen and Anjelina Nadai Lohalith, were both from South Sudan and grew up in a Kenyan refugee camp after fleeing a war that started in 2002.
"The war was very violent, we could not sleep during the day and during the night we used to move inside the bush and come out the following day," Lohalith told the International Olympic Committee. Lohalith added that her village was burnt down and she had to leave her parents and siblings, none of whom she has seen since.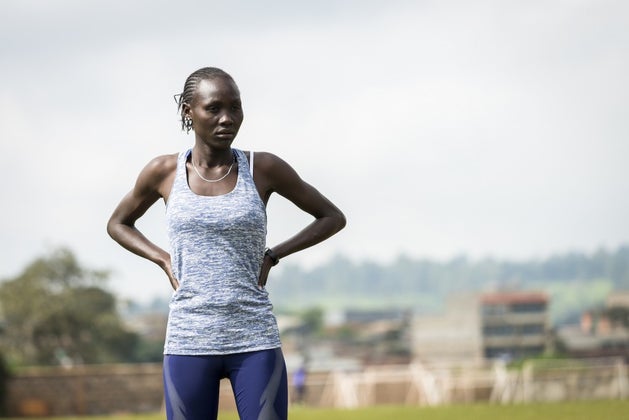 Lokonyen began running competitively in high school, finishing second in a 10K while running barefoot against fellow refugees. Lokonyen fled South Sudan with her parents when the war began. "But we didn't just run from our country because of war," Lokonyen told the IOC. "If my parents could not have even brought us to Kenya, I could have even died and so could my siblings and parents." About five to six years later, her parents returned—she has not seen them since.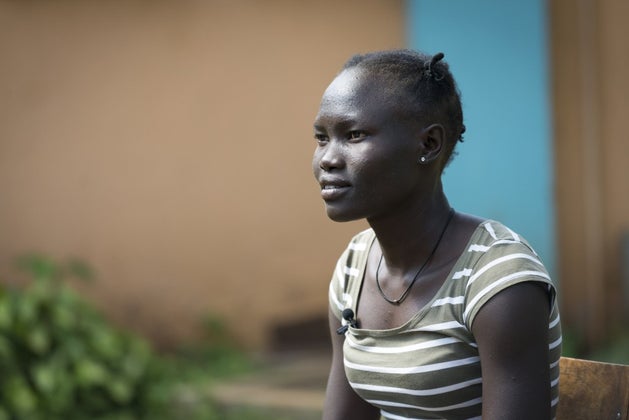 Lokonyen and Lohalith received help from the Tegla Loroupe Peace Foundation, an organization directed by Tegla Loroupe, a former world marathon record holder and Olympian. Born in Kenya's Rift Valley, Loroupe is the first African woman to win the New York City Marathon, both in 1994 and 1995. Coming from humble beginnings herself–Loroupe grew up as one of 24 children and discovered her talent for running by jogging 10K to school each day–helping others through sport is now a central mission in her life. In 2006, the marathoner was named a United Nations Ambassador of Sport. Today, she runs her own nonprofit.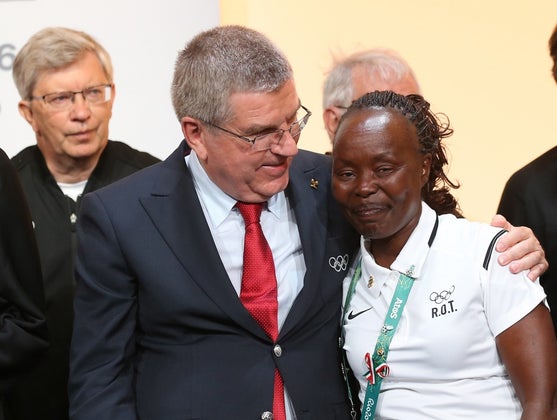 Heading into Rio, the IOC sought to create a Refugee Olympic Team and asked national Olympic committees to identify candidates. Runners Lohalith and Lokonyen caught Loroupe's attention through athletic events and tryouts, as did the three male South Sudanese runners who joined the team: Yiech Pur Biel, James Nyang Chiengjiek and Paulo Amotun Lokoro. A team was formally named in June 2016, with Loroupe as its coach and the IOC providing the funding.
Lokonyen carried the team flag during the opening ceremonies and competed in the 800 meters, finishing 61st overall in the heats, in 2:16.64. Lohalith competed in the 1,500 meters, finishing her heat in 4:47.38.
From Syria
Eighteen-year-old swimmer Mardini, the youngest team member, won her heat in the 100-meter butterfly but did not advance. She also swam the 100-meter freestyle. In escaping from Syria, however, Mardini already demonstrated tremendous strength, both internal and external, in the water.
"I am thankful and proud at the same time," Mardini said about joining the team. "I hope to improve personally but the most important issue is that we as a team show that refugees can achieve something, that we are not helpless but strong individuals."
"It was difficult to convince our parents that my sister Sarah and I would leave, and the flight [a boat ride] itself was long [and] dangerous, but we also met wonderful people who helped us," she said. "In Damascus we lost our apartment through air raids, I could not train regularly because of road-blocks and we had a grenade hit the roof of our training hall."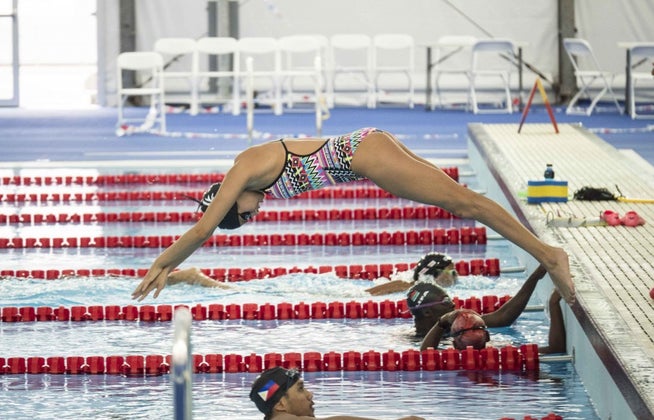 Mardini's fellow Syrian swimmer, Rami Anis, competed but did not advance in the men's 100-meter butterfly and 100-meter freestyle.
From Democratic Republic Of The Congo
Yolande Bukasa Mabika and Popole Misenga both fled childhood homes in the Democratic Republic of the Congo during civil wars. Later, each learned judo at a refugee camp and competed for the Congolese national team. However, they said their coach would lock them up and starved them if they lost. They escaped to Brazil during the 2013 World Championships in Rio.
Misenga became the first Refugee Olympic Team member to advance, winning his first match. He ultimately lost to a former world champion–and eventual bronze medalist–from South Korea.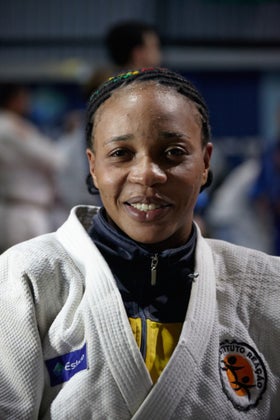 The final team member to compete was Ethiopian refugee Yonas Kinde in the men's marathon. Kinde finished 90th, in 2:24.
Although the Olympics have ended, the world will not forget the Refugee Olympic Team and the refugee crisis.
"The refugee athletes will continue [to] build on their wonderful experience in Rio, pursuing their athletic careers and improve their performances," said Nora Sturm of the UNHCR office. "Being refugees, they are eager to find a long-term solution and will hopefully run under a national flag soon."