Why I'm Okay Being Disappointed With My PR
I live inside my head, so I might as well clean up the mess in there.
Heading out the door? Read this article on the new Outside+ app available now on iOS devices for members! Download the app.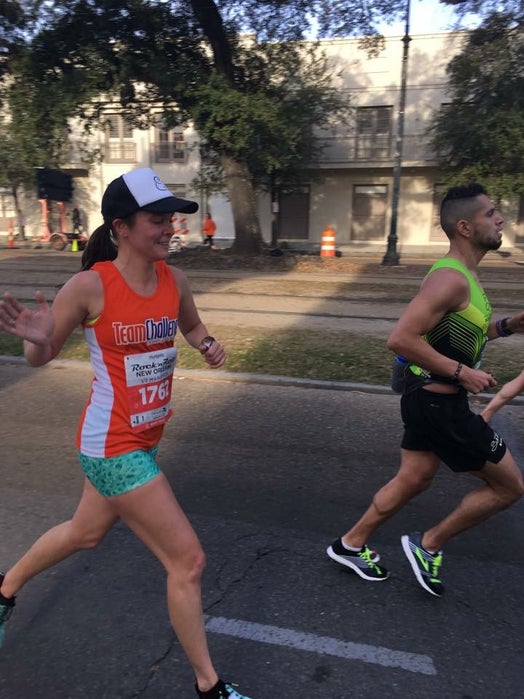 This wouldn't be a true race recap written by Yours Truly if it didn't talk about being okay with being let down. A large chunk of people roll their eyes at me when I never seem satisfied with my race efforts. I could've gone faster, I could've gone farther, I could've placed, I could've eaten more almond butter. (There's always room for my almond butter.)
Pause—I am actually very excited about what happened in New Orleans. I'm not sulking over it too hard, so don't worry.
But the truth is, I don't think I've ever 100 percent, full-on, totally, for sure, definitely been satisfied with any race effort. Well, maybe the time I qualified for Boston, which ironically was the least anti-climatic finish of my life. I stepped over the line, kind of looked around, felt surprised I wasn't collapsing on the ground in a puddle of my own tears, walked through the chute and sat down for a little bit talking to people. I accomplished the one and only goal I set for that race: to get to Boston.
Is this a bad line of thinking, to not be surprised by disappointment? Depends on whom you ask. Without disappointment, I wouldn't feel this pull to keep racing. Not running races; racing. I train and race to get faster, or match a time, or do something again to do something else better the next time. So maybe it's not "disappointment," but rather "motivation." Or maybe it is disappointment, but I use that perceived negative as motivational fuel—therefore it's actually a good thing? Or…maybe I'm just way too competitive for my own good and just need to "enjoy the experience"…
…nah. I'm disappointed, but I'm okay with that—perhaps the only thing that makes that a dirty word is when you're not okay with it. Disappointment is part of the running game. I don't care if you're the most annoyingly optimistic human—when you miss a big, hairy goal, you are at least a little let down. But you fail so you can pick yourself up and do it again better the next time. Or better the time after that. Or maybe you never do it better, but you'll be damned if you don't try.
This was main thought following my 3-minute half marathon PR at Humana Rock 'n' Roll New Orleans in February, a race where I threw all my training legs into one basket and aimed for a 1:31.
I hit 1:33. My previous PR was 1:36.
Cue every excuse in the book: I wore the wrong shoes (ROOKIE MISTAKE). I was anxious about my speech the night before (EMOTIONAL DISTRACTION). I didn't eat enough dinner (NOT ENOUGH PROTEIN). It was a long weekend (NOT ENOUGH REST). The list goes on, and all of these I'm sure played some sort of role in my performance, good or bad, when I really need an excuse to soothe my battered runner soul (SO DRAMATIC).
However, the one thing that's been haunting me since that finish line—and ironically the one thing I thought I was had in the bag—was that I wasn't mentally strong out there. I wasn't at all. I had a goal to enjoy the entire race, which I did. I slowed down when I felt too tired to have fun, and I still hit a pretty impressive PR. But my mind shut down. By mile 6, I was already slipping behind my race plan. By mile 8, I convinced myself I was okay with waiting another mile to go. By mile 10, I was fine waiting until 11. By 12, the race was over, and I had already spent 7 minutes and 17 seconds running the previous mile. Ah well, you'll get them next time.
In training, I could see that finish line coming at me at a 7-minute pace, easily. I would lie in bed thinking about how attainable 13 miles in 1:30 was so much, I could taste it. It seemed so close, something I could almost touch and keep in my pocket until actually race day. Then, when I got out there, my brain forgot all of that. It ignored the "whys" I had given myself, the "whys" I wore on my jersey and my hat. It forgot all the mantras. It focused on the pain. It focused on how discomfort was coming. It focused on how I had never been here before. I held back for too long, and before I knew, 1:31 was long gone.
In my normal quest to regain my focus, my competitive nature and my runner pride, I watched this random movie, "4 Minute Mile," on Netflix as I recovered from my post-race cold. There was a good moment between runner and coach that hit me hard and made me realize what my troubles were out there. I was holding back, and the worst part was, I didn't know what I was holding back from. You always visualize those perfectly choreographed scenes where the runner breaks through her demons and has the race of her life, and it's magical and perfect and of course that's going to be you on race day.
But the fantasy stops there; I realized I had never felt that moment in action; rather, I've forced myself to feel it. As I sat on the couch, still deep in thought about that WTF mile 10, it dawned on me: I had absolutely no idea what it felt like to completely let go and come out the other side of pain, knowing that you just left every doubt, every fear, every scary thing in your rearview mirror. Not part, not most—all of it.
Scary, isn't it? I've been running for more than half my life, and I'm just realizing that in the moment I thought I was ready to run outside of myself, I was the farthest from it. People have definitely witnessed my dramatics on the track, sometimes for real and other times for show (to be honest, sorry mom and dad) but deep inside, I've never truly witnessed that miraculous, triumphant ability to find comfort in the pain and just grind it out. I've done it in training, but never on the big day for the entire race. And that ability doesn't come from the legs or the lungs—that's all the mind, something I have never taken true time to train.
So why does this mean I'm okay with being disappointed in a PR? Because I'm fascinated by my disappointment in such a great time, and that fascination has led me to ponder, WTF are you afraid of, Caitlyn? I've zoned out in a room full of people, visualizing those last miles and the lies my mind tricked me into believing. It's forced me to take a step back and wonder, What could possibly be so powerful in my life that it's restraining me from really hitting my stride? What haven't I addressed, and more importantly, what am I running away from every time I lace up my shoes?
The last time I went down an emo mental stroll this deep, trying to address the big scaries, I was trying to get to Boston…and what do you know? The qualifying race was the most satisfying of my life. Coincidence?