4 Magic Numbers (Not Your Weight) That Matter For Running
Newsflash: Weight and pace not included.
Heading out the door? Read this article on the new Outside+ app available now on iOS devices for members! Download the app.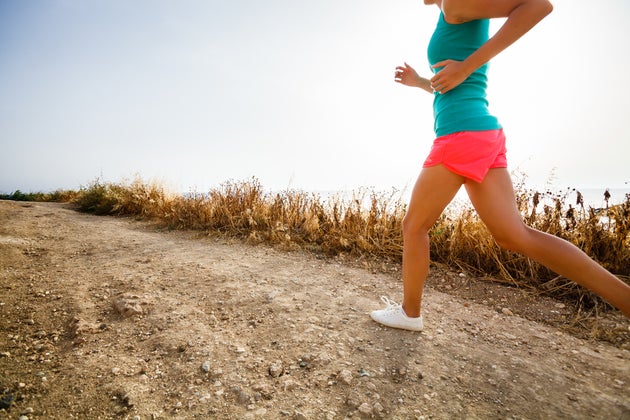 It seems that every week, or more like every day, there is a social media firestorm over some picture or post that goes viral and incites a fierce debate among opposing sides. But sometimes those viral posts are overwhelmingly positive and send a much-needed message of encouragement. Recently, fitness blogger Kelsey Wells gave us a welcome breath of fresh air when she posted photos of herself at three different weights since having a baby. She wrote about the fact that after starting Kayla Itsines's Beach Body Guide program and reaching her self-imposed postpartum goal weight, she went on to gain back 18 pounds as she continued her workouts and increased her muscle mass, ending up only five pounds lighter than she was when she started the program. Wells spoke candidly about how she once would have considered that "failing miserably," but has since learned to measure herself not by the number on the scale but by "the things that matter—strength, ability, endurance, health, and happiness."
Wells could not have said it better. And while her words apply to everyone, they seem to ring particularly true for runners. Most of us first take up the sport for the same reasons—to get healthier, to challenge ourselves, or just for the simple enjoyment of running. And while those reasons stay with us as we progress, a new factor often seeps into our running—numbers. Whether it's maintaining a faster pace, achieving a new PR, or reaching a goal weight, it's very easy to not only play the numbers game but let it take over your workouts—and your mindset. When you've got a big race coming up, it's totally normal to be focused on your goal numbers, but if you notice that you're constantly checking your watch and judging yourself for your stats after every run—or worse, beating yourself up for your weight—it's time to reevaluate what really matters when it comes to your running.
Ideally, this would be a lightbulb moment for you and you'd throw out your watch, stop weighing yourself, and never check your time after a race again. But…this is the real world, and those things are probably not going to happen. So if you must focus on some magic numbers, try these on for size instead:
The number of days you run every week
In our insanely busy lives, fitting in regular workouts is sometimes a Herculean feat. So you should be majorly proud of yourself for each day you make the effort to make running a part of your routine. The same goes for the number of races you've finished—it's a huge commitment to train for something that's months away and each one should be celebrated for the accomplishment that it is. How much effort you put into your miles is a hell of a lot more important than how long it takes you to run them.
RELATED: If You Run Slow, Who Cares?
The number of healthy choices you've made
No matter how dedicated you are to a healthy lifestyle, everyone faces temptations. Greasy takeout over fish and veggies? Netflix binge-watching over a good night's sleep? That's nothing to beat yourself up over—you are human, after all. But every time you do make the smart decision, you become a better runner and that deserves recognition, because that can feel a hundred times harder than giving in to those temptations. The number you see on the scale doesn't matter, but the number of times you honor your body with a healthy choice definitely does.
The number of PRs you've smashed
Whether you've run a hundred races and set a bunch of PRs or never run a single race but are constantly improving your pace, every little victory is a huge deal. It is damn hard work to improve your numbers and it's important to pat yourself on the back when it happens. This is the exception to the "don't focus on your stats" rule, but what's key here is to get excited about what numbers mean in terms of your progress, not what the actual numbers are or what you think they should be. Because pace is always going to be relative, and someone will always be faster than you, so anytime you set your own personal record is pretty freaking great.
RELATED: 40 Thoughts Every Runner Has When Chasing A PR
The number of times you look forward to your run
Above all, the greatest thing you should get out of running is happiness. We all dread the occasional long run or bad weather treadmill jog, but the majority of the time running should be a source of satisfaction, meditation and joy. So if you pack your gym bag in the morning with a smile on your face, you're doing something right.