When You're Not A 20-Something Runner Anymore
You're not 20 anymore (and it kind of sucks).
Heading out the door? Read this article on the new Outside+ app available now on iOS devices for members! Download the app.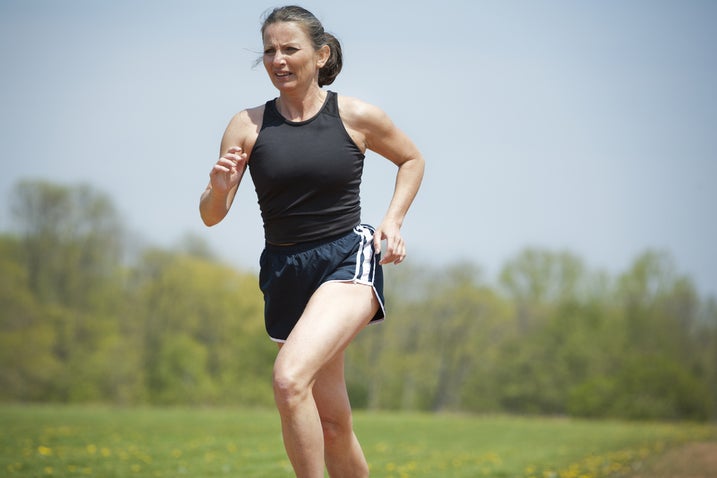 *Courtesy of Competitor.com
You're not 20 anymore (and it kind of sucks).
Getting older sucks sometimes. Your back aches, all of your mail goes from amusing things you ordered on Amazon to not-so-amusing things from your mortgage company, and eventually you concede that convenience store burritos (though delicious) are probably not such a great breakfast after all.
If we could go back to being 20, I think most of us would probably do it for a couple of weeks. Let's face it—our early 20s come with a complimentary pair of rose-colored glasses. Our bodies are resilient enough and our brains are stupid enough. It's a fun combination, really.
And then things change. Even though it's happened 100 billion times to other people, growing up is still a big surprise when it happens to you. It's a deceptive transformation—one day, you're streaking through campus and the next you're yelling at those damn college kids to put on some clothes.
And that's when it hits you: you're one of them. You're <shudder> a grown-up.
Suddenly, your grown-up-ness pervades everything. You become aware of it in all aspects of your life, from the responsible car you drive (a Subaru? really?) to the fact that you take a daily multivitamin. As a grown-up runner, the realizations continue to pile on: no longer do you grab a piece of cold pizza from the fridge on the way out the door to your local half marathon—no, you have a race-morning routine. You fuel. You partake in nutrition. It's so sensible, it gives 20-year-old you a permanent case of the eye rolls. Other realizations you have as a grown-up runner:
You become a snob about your running shoes. The discount pile at the sporting goods store may have been a godsend to your college budget, but today just looking at it makes your knees give out. The only time cheap shoes are allowed now is if you're mowing the lawn. You don't contribute bi-weekly to a savings account to subject your feet to subpar cushioning.
You see strangers at a party wearing stilettos and must resist the urge to warn them about how they are ruining their feet. Plantar fasciitis is no joke.
Related: One Running Thing That Gets Better With Age
Young runners look really young. Don't marathons have an 18-and-up rule? Have his growth plates even closed yet? Do her parents know she's here? When did they start letting babies run marathons?
Your hangovers are trying to kill you. Once upon a time, you could drink an entire bottle of Jagermeister on an empty stomach, go to bed at 3 a.m., and still turn in a 5K PR. Now? You're still feeling that second glass of wine from happy hour. That was three days ago.
You realize your metabolism is not what it used to be. I'll just have the salad, thanks.
You've discussed this with your friends. Probably over salad.
No alarm clock is needed to wake up in time for your 6 a.m. run. Who are you, and why are you so damn chipper?
You start writing strongly worded letters. Races that give away cotton T-shirts instead of tech tees, neighbors who don't shovel their sidewalks, equestrians with the audacity to allow their horses to poop on your favorite running trail—everyone gets an extremely sassy piece of your mind.
You stop obsessing over ridiculous standards for your body. I've finally accepted that the only six-pack I will ever have is the one currently sitting in my fridge.
You start obsessing over other parts of your body instead. When did my hands become so wrinkly?
Race fees have their own budget category. Because you actually have a budget now, like a grown-ass individual who learned the hard way how credit card interest works.
You become a germaphobe. You used to make fun of those "mom types" for carrying Purell everywhere, until one day you finally saw the pre-race port-o-john for the seething den of E. coli that it is. Now you carry a Costco-sized jug in a holster on your race belt.
You skip the post-race beer tent. The idea of drinking cheap beer out of plastic cups in a tent crowded with half marathon finishers sounds like an actual circle of hell. I can barely handle my own body odor, much less that of 300 strangers. Also, did anyone card those kids over there? There is no way they're 21.
Related: Trail Running For The Older Athlete
Sometimes, you just need to sit down. I'm tired, y'all.
It was just yesterday that you were a young, fresh-faced runner. Where did the time go?
You ask yourself "Where did the time go?" a lot.
* * *
About The Author:
Susan Lacke does 5Ks, Ironman triathlons and everything in between to justify her love for cupcakes (yes, she eats that many). Susan lives and trains in Salt Lake City, Utah, with three animals: A labrador, a cattle dog, and a freakishly tall triathlete husband. She claims to be of sound mind, though this has yet to be substantiated by a medical expert. Follow her on Twitter: @SusanLacke.