What My Non-Runner Dad Taught Me About Running
This runner's dad doesn't run, but he still manages to teach her lessons that make her stronger every day.
Heading out the door? Read this article on the new Outside+ app available now on iOS devices for members! Download the app.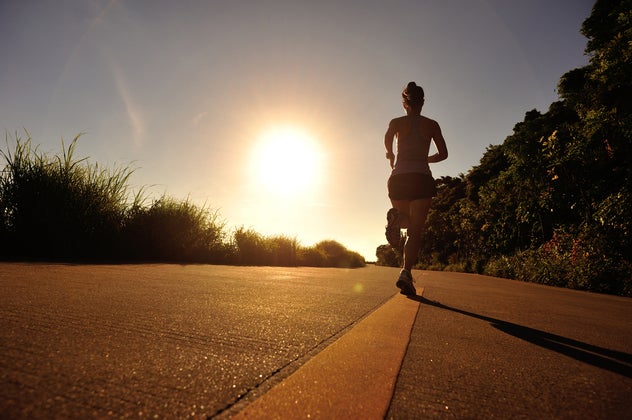 We all have our running heroes. From the big names of the sport to that girl you admire in your running group, everyone has their eye on an athlete who inspires them to be a better runner. But what about the non-runners in our lives? Can they shape us into better runners in some way, too? I think so.
My dad is decidedly a non-runner. He's never been much for working out in general, although he was always game for a bike ride or hike on family vacations. He has an incredible mind for computers and spent much of his nursing career and free time working with technology; he'd much rather sit at his desk than go for a run. But when he had a major stroke last year, his physical abilities took center stage as much as—if not more—his cognitive ones. My dad initially lost much function on one side of his body and couldn't walk unassisted. Nine months and countless hours of physical therapy later he's back at home, able to get around the house and working to get stronger every day. As he's recovered I've gained some new perspective, so this Father's Day I'm thanking my dad for being an all-around awesome role model and for a couple lessons that he, a non-runner, has changed the way I think about running.
You have to celebrate the little victories.
Although my dad has big goals for his recovery, it's a long, slow process. That could be incredibly frustrating for him—and sometimes it is—but I've noticed that what seems to keep him going are the little moments of success, like remembering his grandkids' names or walking unassisted. This is a crucial lesson when it comes to running, as well. When you're training for a big race, it's so easy to focus solely on the big day. Maybe you're attempting a new distance or trying to break your PR, and you put all your energy towards reaching that one goal. But if for some reason the race doesn't go as you hoped it would, you're left feeling disappointed at best, devastated at worst, and it can be hard to get back on your feet. That's why it's so important to celebrate the little victories during your training. If you have an especially good workout one day, treat yourself to a new tank top or a pedicure. Or if you reach a mileage goal a little sooner than expected, get a massage or just allow yourself a day off to put your feet up and watch TV. Little rewards like these will keep you motivated and remind you about the simple joys of running.
RELATED: 11 Ways To Spoil Your Favorite Runner
A support group is everything.
Dad has a serious village that has been a part of his recovery. From physical and occupational therapists to family and friends, the people in his life are constantly there to encourage him when he's down and cheer him on when he's thriving. Conversely, running is a solo sport by nature. But it can sometimes become a bit isolating if you're not careful. Worse, without people to encourage and support you after bad runs or races, it's easy to give up when the going gets tough. I know I've had periods when I've taken a break from running because I've gotten bored or burned out, but I always get back on track when I work out with my husband or a friend. Now more than ever I'll try and remind myself to ask a pal to tag along on a run or even just chat with my mom about how my workouts are going, knowing that it'll keep me motivated.
RELATED: How To Deal With A Motivational Slump
The past is in the past.
It would be so easy for my father to get sucked into the "what ifs" of what happened and dwell on the negative. Sometimes he does; it's human nature. But I've also observed him really enjoying happy moments; even better, he's adapted to doing old tasks in new ways, like playing with my son or using the computer. On a less serious scale, running has its share of disappointments and I'm sure every runner has let herself wallow after a less than stellar race or sidelining injury. But what's important is leaving those disappointments in the past and focusing on the good stuff now, like a long run in the sunshine or that first jog in new sneakers, and recalibrating your training—or maybe just your attitude—to get back on track to your goals.