From Friendly Competition, New American Records are Set
At the Boston University Valentine Invitational, Roisin Willis and Sophia Gorriaran both broke the high school national record in the 800 meters.
Heading out the door? Read this article on the new Outside+ app available now on iOS devices for members! Download the app.
Less than 24 hours before racing the David Hemery Valentine Invitational, Roisin Willis had a sudden onset of doubt. Is it a smart choice to attempt to break the high school American record in the 800 meters for the second try this season? The race in Boston would require her to run 1 second and 50 milliseconds faster than her time at the Millrose Games two weeks prior. She'd have to run faster than her speedy challenger and friend, Sophia Gorriaran. She also had a cold. The idea of it all left her feeling uncertain.
But the senior from Stevens Point, Wisconsin, was nervous most because she had actually forgotten about the race. Willis, 17, didn't think about it because she was focused on the fact that she had a cold. It had robbed her of a day or two of training but anchored her mind in something that wasn't about the record. She focused on healing her body, without normal pre-race jitters. The sniffles and head fog kept her from overthinking about what might happen as she raced against Gorriaran, the phenomenally fast junior from Providence, Rhode Island, and pros Madeleine Kelly and Cynthia Anais. The fatigue prevented her psyche from the stress of the granular: the field, splits and pace, position, and the kick.
Her mother (also her coach) said to her: "Just go out there and have fun." In the end, the cold allowed Willis to take some pressure off herself. The body wants to heal when it's sick. Her mindset helped her have such a successful race.
RELATED: Two of the Fastest High School Girls Ever—Roisin Willis and Sophia Gorriaran—Earned 4th and 5th Place in Pro 800 meters at Millrose
The Race
Last Friday night, the two teenagers blended right into the mix of professionals in bold racing kits, but found each other's familiar stride. "I felt super relaxed," Willis says. "I didn't have time to think about anything too much."
Their splits were executed almost perfectly: Both hit around 27–28 seconds, then 58–59 seconds at the half. It seemed as if the teenagers connived a record-breaking plan as the bell lap rang. Willis came through 600 meters around 1:29 and crossed the line a lap later in 2:00.06, setting a new U.S. record by more than a second. Gorriaran's time of 2:00.58 dipped under the previous record, too.
As soon as the scoreboard flashed their times, the two high schoolers embraced with chin-to-chin smiles across their faces. "Oh my God I couldn't believe it. That was so cool. I'm super excited with my time," says Gorriaran. Both girls jumped up and down as they saw 2:00 by their names on the jumbotron.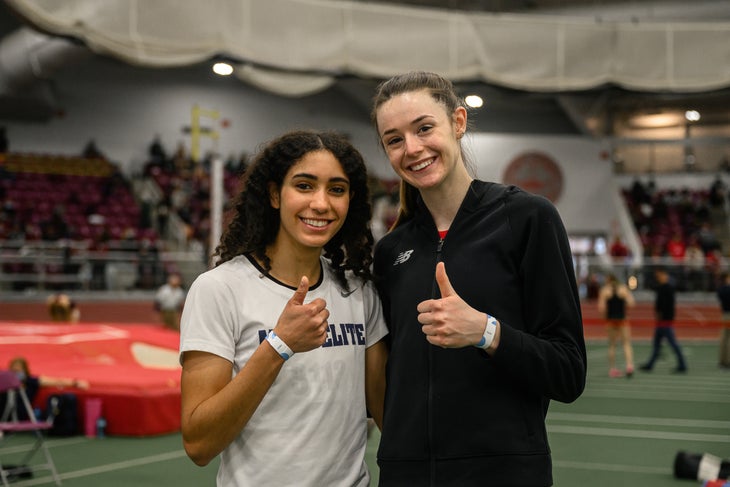 "We kind of have the same mind when it comes to these things," Willis says. Willis and Gorriaran joined forces to do something incredible that no high schoolers have done together before. Something fun. Something unexplainable.
RELATED: Inside the Mental Game of Elite Marathoners
"Even when you're in shape to run the 800 fast, it takes a few tries to get it right," says Willis. Now she is the second-fastest US high schooler ever, indoors or out, with only Mary Cain ahead of her on the all-time list. Gorriaran is now ranked no. 4 on that list; she ran 2:03.66 at the Millrose Games (her previous PR was 2:02), and might have had an even bigger breakthrough.
While Willis was focused on her cold, there was perhaps another factor that helped her let go of her nerves—Gorriaran. Both runners recognize how rare it is to achieve something personally remarkable in the same race. Usually one of them is less happy than the other about the outcome. "But I could see the joy on her face after she crossed the line," Willis says of Gorriaran. "To see her so thrilled in a race we ran together lights me up."
"Boston was the first race I gave it my all to break a record. I was shocked to see how much I went below," Willis says.
The only person who has run faster than Willis indoors is Athing Mu, and there remain only five women who have run faster than Willis' time on Friday night (Mu, Olympic bronze medalist Raevyn Rogers, Suzy Favor Hamilton, Alysia Montaño, and Katie Waits).
RELATED: The Present is a Gift, and Athing Mu is Making the Most of It
Family Support
Two weeks before, Willis and Gorriaran missed the record by a small margin when they had a promising opportunity against professionals at the Millrose Games. The nationally televised race in New York City unfolded into a tactical jostle, so Willis and Gorriaran naturally responded with the opposite reaction in Boston. They didn't leave the record up for play. They went out hard.
Willis and Gorriaran might have the experience and nerve to race faster than most high schoolers and speak with a professional post-race candidness, but they're still kids, and their confidence starts at home. The teenagers eat dinner at night with their families; their parents, who are also their coaches, are their closest supporters.
Willis is the daughter of Olympian Breda Dennehy-Willis, who competed in the 5,000 meters for Ireland in the 2000 Games, and she turns to her mother for race logistics and emotional support. "She's been through it," Willis says. "My mom is the only person I feel like I can be completely transparent with. I'm so grateful to have this person in my life. It's even better that she happens to be my mom."
Similarly, Gorriaran leans on her father, Steve Gorriaran, a former track and football player for Brown University, for explicit splits and intangible guidance. "We talked about trying to go out fast, but take the race as it went," Gorriaran says. For Boston, he devised a race plan and came up with targets for his daughter to hit based on revealing workouts in practice. "It was just a matter of getting in the right race."
When Willis wrote about her performance on Instagram, her instinct was to refer to who's on her side, rather than point to herself. "I can't take all the credit for this accomplishment," she wrote. "Since 2020, I've had the privilege of being pushed by two incredible athletes and friends that constantly raise the bar for high school middle distance running. Sophia Gorriarian and Juliette Whittaker [who's also Stanford-bound], it's truly an honor to have the opportunity to compete against you two."
After the Valentine race, the girls chatted with their parents, taking a moment to congratulate each other. "We've been seeing each other and our families at meets for a while. We reflected on the past couple of years, the journey, and what's next," says Willis. The girls are each other's biggest competition for the 800 meters national title—and perhaps each other's best chance to break 2 minutes.
Looking Ahead
The next race for Willis will be in Chicago this weekend, where she'll sharpen her speed in the 400 meters. For Gorriaran, she's slated to run multiple races in the Rhode Island State Championships this Saturday, a day for endurance.
They could be preparing for the world championships (they're running faster than a lot of pros), but the teenagers are sticking with high school competition. Willis looks forward to joining three of her future Stanford teammates in early March to run a 4 x 1-mile and then DMR, where she's entered in the 400 leg. It's preparation for nationals. "They will all be race efforts. But no pressure, no stress," she says.
RELATED: What Nutrition Should Look Like for an Active Teenager
That doesn't mean Willis and Gorriaran are finished with ambition. Both would like to break two. "I'm looking to run my hardest," Willis says. She pauses. "But keep it fun." She understands the mentality that led to success in Boston. "Don't think too hard. Let my body do what it can do." She wants to bring this mindset to New York City.
In a few months, Willis will begin her career at Stanford, where it would appear she has the potential to run even faster times. Willis and Gorriaran's time to race with each other as high schoolers is running out, but they've discovered something special in their present, unpredictable element. They're making every second count.
In March, Willis and Gorriaran plan to race the 800 meters at The Armory for New Balance Nationals as their last high school indoor race together. Willis is entering in the race as a national record holder. Gorriaran will do everything she can to change that.
Both girls look at time with excitement: The improved times next to their names; the time they've shared together; and the time they have left this season.