Women Coaching Women: A Winning Combination at the NCAA Championships
Men can coach women, and women can coach men. But something special happens when women lead women.
Photo: Shane Bevel/NCAA Photos via Getty Images
Heading out the door? Read this article on the new Outside+ app available now on iOS devices for members! Download the app.
The photos of North Carolina State cross-country team accepting its runner-up trophy on March 15 at the 2021 NCAA championships triggers an emotional response for senior Hannah Steelman, unlike any she's had in her athletic career.
"It's like this feeling of empowerment," she says. "I never shared something like that with a female head coach before. It was just different. Literally our entire picture is female and that's just really cool."
In a year that has been anything but typical for NCAA track and field, another anomaly occurred in the springtime cross-country results. Four of the top five women's teams were coached by women, including champions Brigham Young University, N.C. State, Michigan State (fourth), and the University of Minnesota (fifth).
Was it a fluke? Is it a groundswell? Maybe a harbinger? It's hard to tell at this point, but we know it's not because NCAA programs are hiring female head coaches in droves. According to the 2019–2020 "Women in College Coaching Report Card," published by the Tucker Center for Research on Girls & Women in Sport, cross-country still gets an "F" for less than 20 percent of teams led by women. Among Division I teams, 61 women are head coaches versus 288 men.
But the podium finishes for coaches Diljeet Taylor (BYU), Laurie Henes (N.C. State), Lisa Breznau (Michigan State), and Sarah Hopkins (Minnesota) do show one critical fact: when given the opportunity to lead, women also get results. And something sort of magical can happen when they coach young women, too.
"Men definitely can coach women—I had seen progression all through my years with men coaching me," says Steelman, who placed fifth at the NCAA cross-country championships after transferring to NC State in 2020 from Wofford College. "But there's a special bond between women that only we can understand."
If NCAA athletic directors and track and field program directors are interested in winning records, they may want to take note of what these teams have in common. During a recent "Tucker Center Talks" podcast, Nicole LaVoi, director of the center, discussed new research that shows how women in positions of authority become critical role models for their athletes—and how, in turn, it can enhance athletic performance.
"We have to use the data to convince, to educate, to increase awareness about why women in sport matter," LaVoi says.
Specifically, a 2021 study "She Needs to See it to be it: The Importance of Same-Gender Athletic Role Models," (coauthored by Bowerman Track Club standout Gabriele DeBues-Stafford) found that "same-gender role models are particularly valuable for women because they provide evidence that success is attainable, better represent a future self, and counteract negative gender stereotypes."
Put another way, when young women have healthy relationships with strong female coaches, they are more likely to mirror that behavior in running and beyond. At BYU, for one, Taylor's philosophy seems to be working: Just days before taking the national cross-country championships, the team won the 2021 NCAA indoor distance medley relay and Courtney Wayment won the 3,000 meters title.
"I can translate my confidence to my women," Taylor says. "It becomes contagious in a way that I'm not sure would be the same if it was a male coach. That is why I know what I'm doing here is special and it's important. It's needed, for sure."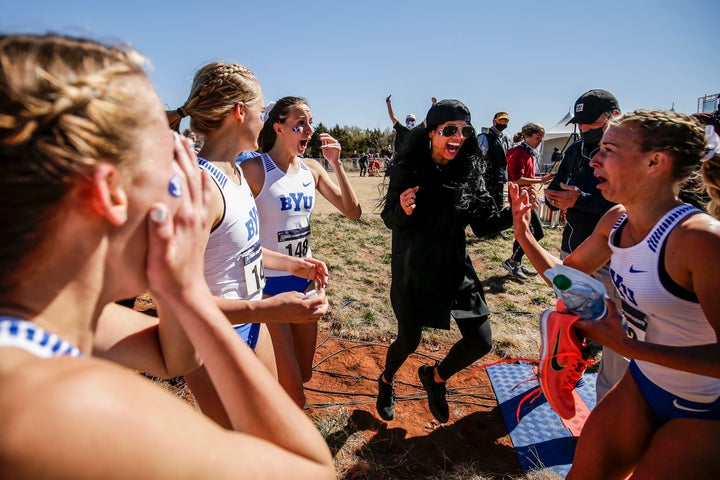 A Matter of Trust
The relationship between a women's team and a female coach is much different than what Taylor has experienced coaching collegiate men, she says. The level of connection she's able to create with the women, having been one herself at Cal State Stanislaus, is often based on shared experiences. The conversations can go deep, in a way they don't with men, she says.
"I love them while still being tough on them and I can create a perfect balance of both of those," Taylor says.
Female athletes in the collegiate age group—late teens to early 20s—are training and competing at high levels during a precarious time in their physical and emotional development. Their bodies are still changing, the volume of training increases along with the intensity of competition, fueling and nutrition needs go through adjustments, not to mention new academic and social demands. Performance doesn't just hinge on nailing workouts, but successfully navigating everything else, too.
"I'm able to coach on a different level because of the conversations that we can have, comfortably, about periods, about body image, about relationships, and about self confidence," Taylor says. "That connection is built on trust. The four most important words a coach can tell an athlete is, 'I believe in you.' And the most important thing an athlete can say is, 'I trust you.' And that's what you witnessed over that weekend: this coach believing in those women and those women trusting this coach."
It can take a while to create that kind of culture. Unfortunately the system doesn't often support women long enough to allow it to happen, says Hopkins, who was first a member of the team, then a volunteer assistant for eight years before taking the helm at Minnesota (she doesn't recommend this route, for the record, but she knew she had a path to the head coach position, so she stuck it out). Young female assistant coaches often don't see a long-term career path at a single institution, so they jump around to different job opportunities and eventually leave the profession altogether.
"A lot of times early on in their careers, women are just used as sort of the token female who holds the stop watch, braids hair, and handles the emotional issues of the kids, but doesn't really do a lot of coaching," Hopkins says. "They're never given a head coaching title. And that's a really big problem in the profession."
Even if the 2021 national championships results are a one-off, Hopkins still believes it's worth taking note and hopes more people in power are doing so—and feel moved to empower more female coaches to lead more teams.
"If you're an athletic director and you're looking to hire, and you look at some of the top-tier programs, you see a lot of them are led by women this year," she says. "If you really want the best candidates for the jobs, hire female coaches not just to be tokens on staff, but because they can create really good programs."
In Demand?
Abby Kohut-Jackson, a senior at Minnesota who placed 45th at the NCAA cross-country meet, says she chose the program because she sensed that "Coach Hop" was committed to helping each athlete realize her individual athletic potential but also foster a supportive team environment.
"In a sport that is so focused on what your body can do, I feel really confident that my female coach understands those pressures and can guide a bunch of women who are all competitive and all trying to run our best," Kohut-Jackson says. "She's very quick to pick up on when something isn't right, regardless of if it's related to running. I feel like we have a relationship where if other life stresses are getting in the way or contributing to my running, I can talk to her about that—like socially, emotionally, academically, everything."
When she was going through the recruiting process, Kohut-Jackson wasn't consciously seeking out a female coach, but she noticed how much more drawn she was to programs led by women. Anecdotally, it's a growing trend. Steelman, at N.C. State, agrees that more girls coming out of high school want to see women in charge. Stories like that of Mary Cain, who alleged emotional abuse by her Oregon Project coach Alberto Salazar (who has since been temporarily banned by the U.S. Center for SafeSport), have highlighted the need for more female leadership, Steelman says.
"The past couple of years when stories have been coming out about professionals who just didn't really feel comfortable, necessarily, to talk about their bodies with their coaches, I think that brought to light the importance of female coaches, too," Steelman says.
To be clear, just because a coach is female doesn't guarantee that she won't body shame or fall into abusive behavior. And female athletes can have honest, open conversations about their bodies with male coaches.
"I don't think anybody believes in swearing off male coaches, but it's great to bring more attention to the women and give the credit that they deserve," Steelman says. "I just think it's special to be coached by a strong woman."
At N.C. State, Henes talks to a lot of parents during recruitment and after 28 years in the profession she's now finding that more families are seeking out women coaches for their daughters.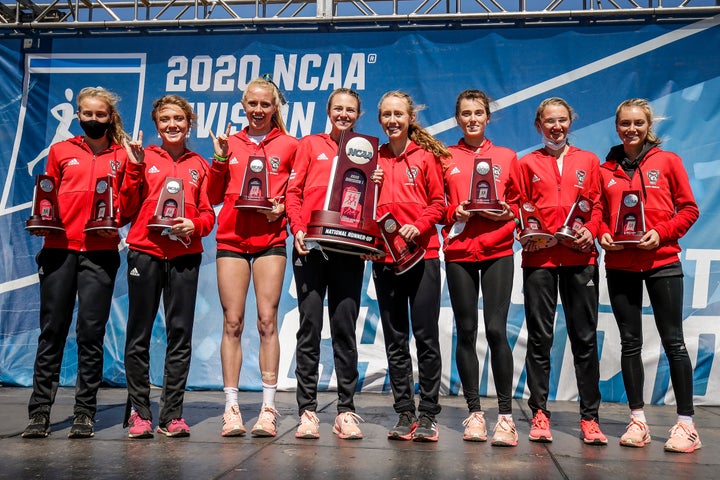 "It's something that's more of a factor," she says. "There's just more awareness about what you need to do to have a long, sustainable running career, if that's your goal. And a lot of that is unique to women—younger women and their families might be seeking out someone that they feel has more of an understanding of that."
Elly Henes, the coach's daughter, is currently a member of the team.
"I think that hopefully says something to other parents," Henes says. "There's been some negative press around how this can be difficult for young women lately, But I wouldn't want my own child doing it at this level if I didn't think this was a great sport to be in."
RELATED: Laurie Henes is a Talented Runner Turned Talented Coach
Beyond Performance
While they're paid to bring home trophies, all of these female coaches agree that their job goes far beyond running results. They're mentors, whether athletes go on to run professionally, become coaches themselves, or dive into careers completely unrelated to the sport (which is the majority of NCAA athletes).
Henes wants every member of her team to learn how to lead—they don't even pick team captains, in the hope that everybody finds a way to contribute during her time at N.C. State.
"We talk a lot about figuring out what you're passionate about and doing it well," she says. "We talk about kindness a lot, too, and gratitude. When I was an athlete, I couldn't wait to go to practice every day, and that's what I want for these women—that this is clearly the best part of their day and they can't wait to get there."
Hopkins, who has two young children, wants the women she coaches to see that they can pursue many dreams simultaneously. She brings her kids to practice and doesn't hide the fact that sometimes parenting (and sleep deprivation) is difficult, but that they can get through it.
"I was pumping on a bus when I had to," she says. "They've been able to see this whole world—I've been very open about it. In this moment they probably aren't really paying attention, but in 10 years when they get into their work environment and they have their first kid, they'll remember what I was doing. There's some relatability that will play out over the course of their lives."
The bonds that these women foster among the athletes on their teams are also a factor that will likely last a lifetime. Teaching women that they can compete with each other while also helping each other succeed is something that translates across all industries. They can have individual goals while uplifting each other—one woman's victory isn't another woman's defeat.
"Hopefully we're showing that as female coaches, too, that you can have friendships with a lot of other female coaches and still want to beat each other," Hopkins says. "When the gun goes up, you better believe we all want to beat each other, but afterward, those women have my back and I love them to death."
The lessons may sink in sooner than these coaches think. Steelman says she'll always cherish the moment she crossed the finish line on March 15 to a big hug from Henes. She hopes that when people recall the 2021 cross-country meet, they remember that four of the five top teams were coached by women—it's what she'll take with her and she recognizes the importance of it.
"I don't really know how to put it into words," Steelman says. "It's funny because I got a lot of calls and texts congratulating me after that race and they'd mention that they didn't know my coach was a woman. And I'm like, 'Yeah, she is. Put respect on her name because she's the best.'"