Brittany Charboneau Wins Four Consecutive Races at Disney's Dopey Challenge
Fun and fast running go hand-in-hand for the elite runner.
Heading out the door? Read this article on the new Outside+ app available now on iOS devices for members! Download the app.
Brittany Charboneau has a penchant for making things fun (and often very funny), especially when it comes to her running.
With a background in sketch and improv comedy and an energetic, happy-go-lucky demeanor, the 33-year-old Denver runner has made a name for herself through her playful antics and costumes on her Instagram as much as she has through her fast running results.
Despite her amusing antics, though, let it be clear: Charboneau is a serious runner. She's a 2:33 marathoner and experienced trail runner who placed 13th at the 2020 U.S. Olympic Marathon Team Trials, won the 2020 Pikes Peak Marathon, and set three Fastest Known Time marks on challenging trail routes in Colorado. She's also a full-fledged professional runner on The North Face elite athlete team.
RELATED: How Brittany Charboneau Gets It Done
On top of that, she happens to be crazy about all things Disney, which is why she figured there was no better way to start off her 2022 running season than by taking on RunDisney's Dopey Challenge this past weekend in Orlando, Florida.
No small task, the Dopey Challenge consists of running four races during the Walt Disney World Marathon Weekend on four consecutive mornings beginning at 5 a.m. That includes 48.6 miles of pre-dawn running through the world-famous theme park via a 5K, 10K, half marathon, and marathon.
Not only did Charboneau spend a week or more designing and hand-making Disney character running costumes for each race—Elsa from Frozen 2 for the 5K, Bing Bong from Inside Out for the 10K, Joy from Inside Out for the half marathon, and Cruella de Vil from 101 Dalmatians for the marathon—she also became the first runner, man or woman, to win every race in a gender division.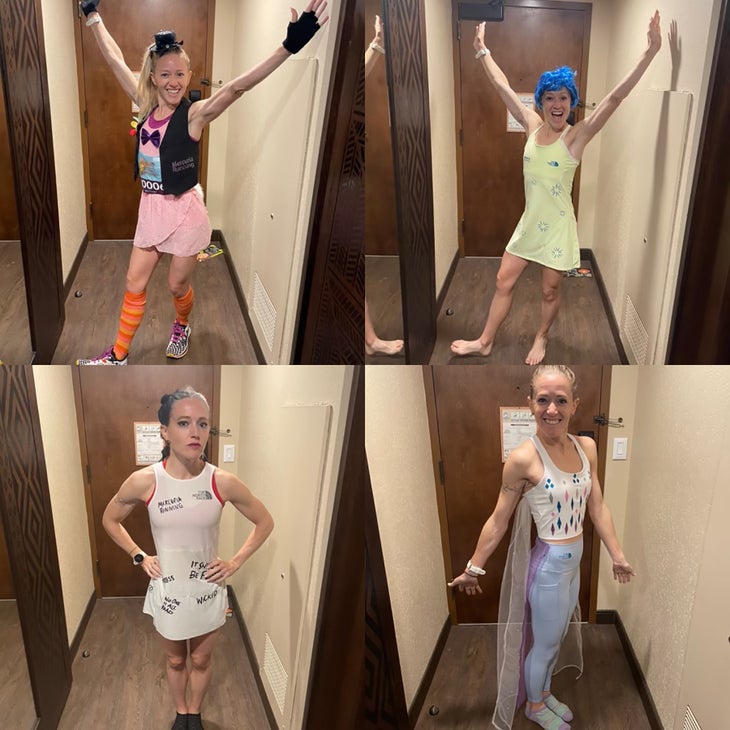 She won the 5K in 17:36, the 10K in 36:36, half marathon in 1:19:18, and the marathon in 2:45:15. She also placed in the top 10 overall in each race, running against a field of more than 20,000 runners total and 5,300 Dopey Challenge participants.
"It was so much fun," Charboneau said on Monday, while getting a private tour of Walt Disney World. "It was four days of running and constant Disney, so that's the best. I'm a huge Disney fan. I grew up on Disney. So I definitely got my Disney vibes going."
She had a blast running in colorful costumes with character-specific accessories, but she also ran pretty darn fast. Her race paces were 5:40, 5:53, 6:03, and 6:18, respectively, for the four races, and, ultimately, she compiled just under 5 hours of racing at an average of 6:04 per mile pace.
That helped make up for the disappointment of having to drop out of the Boston Marathon at the 18-mile mark in October. She had trained well and was very fit, but in the week before the race, she was inadvertently tripped by a dog while running a speed workout and suffered a minor back injury after she crashed to the ground.
While she didn't set PRs in any of the Disney races (partially because she knew she had to save energy for the next day), she says she felt rejuvenated to run hard while keeping the focus on fun.
"I really genuinely did have the Disney 'this-is-fun' feeling the whole weekend," she said. "I set my intention before I came that I was going to soak it up. I wanted to do something I had never done before, and I wanted a challenge, something that was hard but that would have low stakes and no pressure. This was just purely for the running and purely for the joy of it."
RELATED: As Burnout Rages On, Here's How to Avoid It in Your Running
If all that wasn't enough, being treated with VIP status the day after the races was a bit of added fairy dust to cap the weekend. But so, too, was the fun gesture that her husband, Justin, owner of a Denver-based cookie company, added. Prior to the weekend, the imaginative baker hand-painted cookies to match the character costumes she wore in each race and handed them to her at the finish line each morning.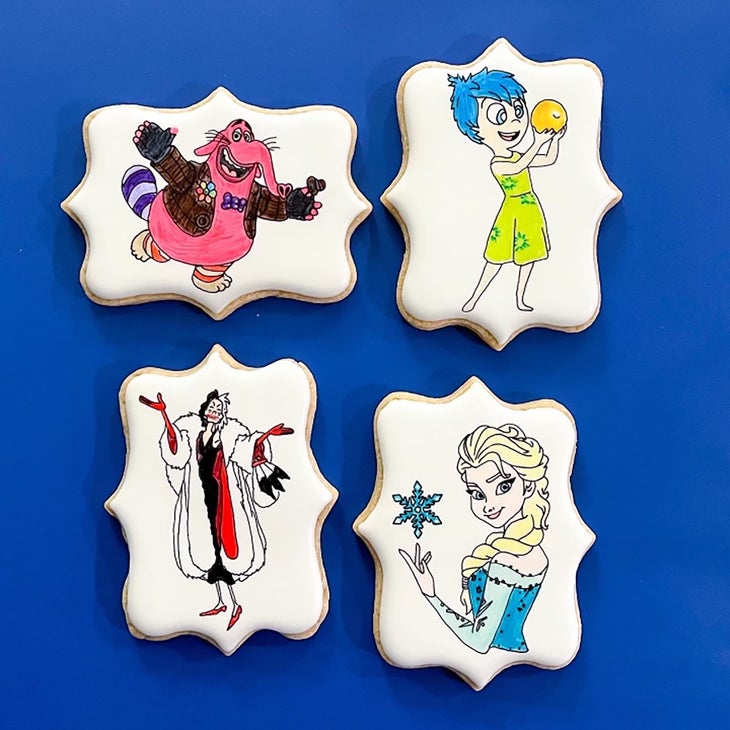 "I'm elated," Justin said. "She's over the moon about what she was able to accomplish, but it's just so incredible that I got to see it happen it too. I think the biggest thrill for me was to see her excitement every day, especially after what she went through in Boston. Waking up at 3 a.m. the first day was the hardest, but the moment she would put her costume on, she would have the biggest smile on her face."
Aside from costumes and humor, Charboneau is known for bursting into song, posting affable bits of novel silliness on Instagram, and going out of her way to pick up coins on her runs (she found $32.08 during 2021, comprised of 530 pennies, 46 nickels, 101 dimes, 47 quarter,  and her first gold dollar, as well as an assortment of foreign coins, too).
For 2022, Charboneau will switch her focus back to training on the trails. She's planning to run a 55K trail race in Argentina in March and a 50K race in France in May. Will she show up in a costume for those races? We'll have to wait and follow along on social media.
"I'm a big fan of anything you can do to channel different energy or make something fun or playful," she said. "So I definitely do have a history of trying to incorporate a theme or some sort of costume in my running and my training. It helps me put good energy into it. But I'm human, too, and I get down and stressed about my running, too. That's when I try to call upon my comedy background, and think, 'How can I make this enjoyable for myself?'"
It's pretty clear her trip to Walt Disney World was a good way to start 2022 off on the right foot.