Angel City Elite Aims to Add Diversity to U.S. Distance Running
The new all-women's pro training group in Los Angeles has a mission to run fast and empower more BIPOC to join the sport.
Heading out the door? Read this article on the new Outside+ app available now on iOS devices for members! Download the app.
Sabrina De La Cruz took a look around last February at the starting line of the 2020 U.S. Olympic Marathon Trials and was struck by the lack of diversity around her.
"I loved representing my culture, I loved representing my community and my family. I remember running through the streets of Atlanta and just hearing, 'Go Latina!' and it was powerful to me," De La Cruz said. "After that, I thought about it for a few weeks. I think I always had this vision, post-collegiately, that I wanted to start a team, but I didn't know how."
De La Cruz, who entered that race with a 2:41:16 person best in the marathon, reached out to other women in the Los Angeles area who had also competed at the Trials. The interest in creating a team was there, but the women wanted the group to do more than just run fast. Angel City Elite was born, with a distinct mission "to bridge the disparity gap of [Black, Indigenous, and people of color] representation in the running community, raise awareness, empower, educate, and inspire."
The team will build running opportunities at local high schools and, more generally, for anybody in the L.A. area. The members, who also include Grace Zamudio, Grace Gonzales, Valerie Sanchez, and Andrea Guerra, will develop educational programs through running, with a goal of helping more people feel included.
"We're going to encourage them—no matter what your age, your culture, your gender, we can run together," De La Cruz said. "We'll also go to high schools. A lot of BIPOC individuals don't realize how running can really improve their success in the future and maybe even lead to scholarships. Running saved me—a lot of my family members didn't go to college or dropped out of high school. A lot of individuals don't know how to even apply to college. We can help."
What De La Cruz saw at the Trials was accurate. The historically large field, with almost 500 qualifiers, was 92 percent white, 1 percent Black, 1 percent Asian, and 5 percent "other," according to the statistics first reported in the New York Times.
Angel City Elite currently has five members who identify as Mexican-American, Xicana-Mexica-Xictlaca, and "Hecha en Acapulco." As they add more runners to the roster over the coming months and years, they'll look for women who add to the diversity of the team, who have the goal (and ability) to qualify for the Olympic Trials in the marathon or other distance events on the track, and buy into the mission.
"We'll look for someone who is very supportive, a team leader, who will advocate for the team, and is able to share their story," De La Cruz, 30, said. "A woman who wants to inspire and is motivated to change the lack of representation in the sport. This isn't just getting free things. All of us have to do work."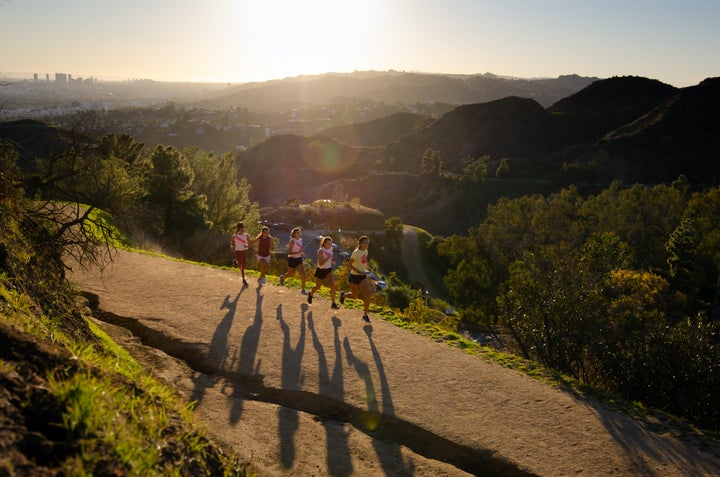 Angel City Elite is now sponsored by Brooks, which is an important aspect of its success. The team members don't have individual contracts (they do have individual performance bonuses that they can earn, though), but they receive financial support for travel, shoes, and apparel. Brooks has also helped with promotion, developing the team logo, getting the website up and running, opening a bank account, and even pursuing its nonprofit or LLC status—all hurdles that can be difficult for new teams to jump amid training and careers (yes, all the women work full-time jobs, too).
Julie Culley, sports marketing manager at Brooks, is lending her experience. A 2012 Olympian in the 5,000 meters and former director of Georgetown University track and field, Culley also helped get her former pro group—the New Jersey New York Track Club—off the ground.
"We don't have women's-only teams in the U.S. and I think that makes this group significant," Culley said. "Their mission is something that really resonated with us."
Angel City Elite members can choose their own coaches, though when COVID-19 subsides the women hope to train more consistently as a group. For now they rely on Zoom calls and some weekend run meet-ups. Some may try to get Olympic Track & Field Trials qualifiers in the 10,000 meters or 5,000 meters, though they are mostly focused on road races, primarily the marathon.
"Beyond the common theme of forming an elite training group to support each individual getting faster and achieving higher performance goals, these women came together with shared values, similar life experiences, and made a determination that they wanted to change the landscape of the sport for the better," Culley said.
In the next year, as races come back, De La Cruz is aiming to lower her marathon time to 2:35 and improve from there until the 2024 Trials, where she not only wants to improve her performance, but she hopes to see more diversity on that starting line.
"What really sparked the fire was the Olympic Trials," she said. "We need more empowerment. We want to embody empowerment."