What A Muslim On The Cover Of Women's Running Means To Me
When she received our October issue , Paria Hassouri had an overwhelming feeling seeing a fellow muslim on the cover.
Heading out the door? Read this article on the new Outside+ app available now on iOS devices for members! Download the app.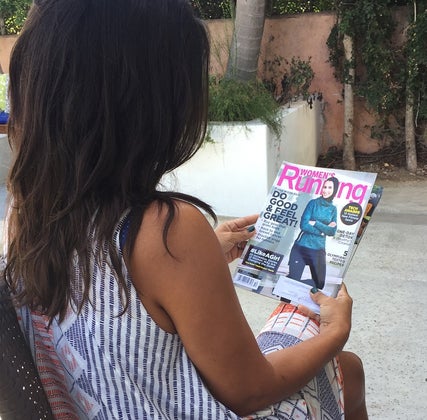 On September 23, I came home from a long busy day of work (during which I tried my best to remember to hydrate in anticipation of an 18-mile training run the next morning as I prepare for the New York City Marathon). I pulled into my driveway, not looking forward to a night in with no glass of wine to unwind. I reached into my mailbox and pulled out the October issue of Women's Running Magazine, with a woman in full hijab on the cover, and suddenly my heart raced and the day's fatigue seemed to fly out of my body.
Why does seeing the face of Rahaf Khatib, a woman I didn't know of before reaching into that mailbox, mean so much to me? If you scroll through my Instagram, you'll see various pictures of an uncovered, dark-skinned, dark-haired mother-of-three who is regularly running and doing yoga, and also attending wine tastings and touring local breweries in Los Angeles. You'll see someone who seems like a confident, secure woman enjoying every day and making the most of her life. And, yes, that is actually me. But that is not who I've always been, and running is a big part of what has shaped me into the present day person that I am.
I am an Iranian-American woman whose parents made the choice to immigrate to the United States when I was ten years old, during the Iran-Iraq war and after the Islamic Revolution in Iran. Both my grandmothers were devout Muslims who covered, but neither of my parents were religious. With the onset of war and mandatory hijab, they decided to leave the country to give their three daughters choice and opportunity.
When I moved to the U.S. in fifth grade, we were initially living in a small mid-Western city. In that first year, there were a lot of spit-balls and snickering, being called dark and dirty, being taunted to go back to where I came from. It wasn't until I was an adult that I started to slowly build back up the confidence that was taken away from me. For years, I struggled with whether to call myself a Muslim or not. It took years for me to become comfortable in my own skin and really come into my own identity. For almost 30 years, I didn't deal with the hurt from that year of being bullied. I just buried it deep and worked on becoming a successful adult and building what appeared to be a confident exterior as well, and then I started running.
When I started running, I finally had time to think on those solo miles on the road. During times when I was aching on long runs as I trained for my first half and subsequently first full marathon, memories of all kinds of other buried hurt came to the surface as well. Letting myself finally feel the hurt on my runs allowed me to free myself from it. Crossing those finish lines of 13.1 miles—and later 26.2 miles—gave me self-confidence beyond anything I've ever done, including completing medical school to become a doctor. I found my true identity on the run.
I do not practice Islam and am raising my three children without any organized religion, yet I still identify with Rahaf. Seeing her on the cover of Women's Running still makes my heart sing. I came to this country at a difficult time, and unfortunately the current political arena makes me worried that there are parts of this country where I may not be welcome and that my family's future here may not be stable. I read commentary in media that takes me back to being that little girl in fifth grade who was told that she doesn't belong here.
Last year, I entered the Women's Running cover contest and was not chosen. I wanted to represent the everyday average late-onset mother runner who is not fast or running multiple marathons a year, but is just out there running for her health and her sanity; the everyday woman whose life changed because of running. Now that Rahaf is on the cover, I don't feel the need to enter the contest again. Although she covers and I don't, she likely does not drink wine and beer and I do, she practices an organized religion and I don't; I still see myself when I see her beautiful smile on the cover.
When I see Rahaf on the cover, in this politically charged time, I'm reminded of all that is good in this country, which is my country. I see a country that says, "You belong here, you matter, and you are an American." I see a major publication that takes a stand and says that despite all the noise in the media today, America is still about respect, diversity, freedom and choice.