Book Excerpt: Mirna's Grand Thoughts Ahead Of Javelina 100K
A Beautiful Work In Progress comes out 10/1!
Heading out the door? Read this article on the new Outside+ app available now on iOS devices for members! Download the app.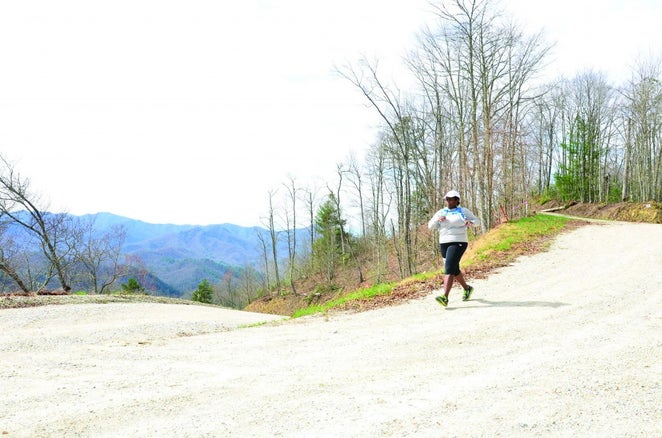 Excerpted from A Beautiful Work In Progress by Mirna Valerio. © 2017 Published by Grand Harbor Press, October 1, 2017. All Rights Reserved.
On the final day of October 2015, I stood at the starting line of Javelina, slightly chilled by the cold, dry desert air. I had stripped down to my thin tank (anticipating an intolerably hot day) and immediately started to shiver. Even though I knew intellectually that the desert is an icebox when the sun isn't up, the relatively cold air surprised me. I had harbored visions of a more Sahara-like experience, but it's probably freezing there in the mornings too.
I had no idea what to expect from running in the desert. Would I be running up and down soft and gently shifting sand dunes? Would there be scorpions and rattlers crawling about (I had been warned), or would my skin burn so much that I would look, as we used to say as young kids in Brooklyn, blue black or, even more descriptively, black and crispy? Did I have enough water and would the aid stations run out before I got to them? Had I brought along the wrong electrolyte powder? Was I going to die in the desert and then never hear the end of it from my black friends and family as I lay in the grave?
All these questions milled around in my head as Jamil—the tall, curly-haired RD whose outward calm belied a fierce intensity and attention to detail—prepared to start the race. I don't typically get nervous or anxious at the start of a race because, hey, whatever happens happens, right? This time was different, however. I had basically announced to the world I would be running the Javelina Jundred 100K. So I had to do it, and I had to finish. In fact, there was no real question about finishing barring injury, hypothermia, hyperthermia, or being burnt to a crisp.
Numerous folks including family, real-life friends, social media buddies, students, and colleagues had wished me well. They sent Facebook messages like "You got this, Mirna! Show 'em how it's done! One foot in front of the other! You've done the training, now it's time to enjoy the course! Do it with thy might!" I carried every one of them on my shoulders and in my heart that morning, and any self-doubt that had the nerve to show its ugly face was immediately crushed by this immense, positive vibe that I had been surrounded with in the months leading up to the race. I was going to make this happen no matter what.
Why am I doing this again? This is the question I always ask myself at the beginning of any distance event, which might be a 10M race or, in this case, a 62M race. Why am I subjecting myself to more than two consecutive marathons? Haven't I already done enough? And then I remember why I repeatedly throw myself into this pool of suffering—I love it. I love the experience of digging deep, pulling layer after layer off the onion that is me, discovering the most profound parts of myself over and over again.
While waiting for the inevitable, I took selfies and pics of the small crowd. I looked around and saw a woman whom I had "met" on Facebook.
"Are you Priscilla?" I asked a Latina woman clad in traditional trail-runner couture and accessory (hydration pack, capris, a technical tank top, and a Dirtbag Runners trucker cap).
"Hey! Nice to finally meet you," she said, hugging me.
"How're you feeling about this?" I asked, hoping she would be as nervous as I.
"Yeah…why are we doing this again?"
"I have the same question." We both chuckled knowingly.
A woman asked me to take a picture of her and her friend, and they did the same for me. Another runner caught my eye and told me that she followed me on Instagram and that she loved my feed. Could we take a selfie?
About two minutes before gun time (runnerspeak for the official start of the event), Jamil got our attention. Many of us fidgeted anxiously, tying and retying our shoes one more time, as we listened to his directions.
"Make sure you take care of yourself out there. Hydrate. Sunscreen. Rest when you need to. Visit the medical tent if necessary. Have fun. Run your own race. Enjoy our beautiful desert and mountains." After Jamil yelled "Go!" we set off. I was relieved to finally start but anxious for what the long journey ahead held for me. With sixty-two miles to go, I settled in with the rest of the back-of-packers until my body and mind were warm; I knew it would take me at least four miles to feel like I was in the zone, so I started slowly and deliberately, relishing the sensation of walking on a dusty terrain that was rather different than what I was accustomed to. The air was dry, and for this I was thankful I had brought two kinds of lip balm in the front shoulder pockets of my Nathan hydration pack. My nose, fingers, and earlobes were chilly to the touch, but I knew the air would warm and that the sun would eventually peek, then rise over the jagged peaks of the McDowell Mountains.
A little after the first two miles and after I had jogged some, testing out this sandy and gritty terrain, I stopped at the Coyote Camp aid station. The night before, after I had carefully and methodically set out my run kit for the race on the hotel bed, I reviewed the course map. Each loop was 15.5 miles long, and I would run four of them for the 100K distance. I knew to expect an aid station just a few miles into the run, but didn't fully understand its importance.
Order the book now, out Oct. 1!
Related: 
Take A Peek At The September Issue, Featuring Mirna Valerio!
Mirna Has The Best Response For Someone Calling Her A Fat And Fake