Meet Wendi Lewis, Founder Of Strong Ones
Selling one running shirt at a time, Wendi Lewis is on a mission to support Native American runners and share her culture with the world.
Heading out the door? Read this article on the new Outside+ app available now on iOS devices for members! Download the app.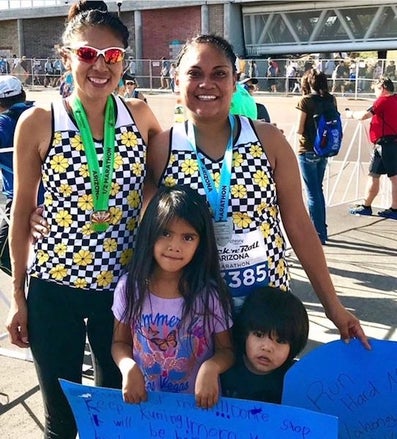 Strong Ones
Selling one running shirt at a time, Wendi Lewis is on a mission to support Native American runners and share her culture with the world.
Lewis, a member of the Hopi tribe in Arizona, started a running apparel business a few years ago called Strong Ones. With the help of Hopi artists from her reservation, Lewis creates designs you won't see on a mall store rack. "Every design has a story behind it, and it is tied to the Hopi culture," says Lewis, a 35-year-old runner and mother of four. "Hopi culture is unique. Our designs are unique, and they have distinct meaning."
For example, a singlet she created for young female runners includes yellow flowers in its design, a nod to the Hopi sunflower, which represents new beginnings, Lewis says. Other designs include symbols of things in nature that the Hopi value, such as rain and corn. Her most popular shirt features a drawing of a young Hopi girl in a traditional dress with her eyes closed in prayer. A message on the back of the shirt reads, "Run. Pray. Live."
A portion of Strong Ones sales goes to running-related activities on the reservation. Lewis is an especially strong supporter of the boys' and girls' cross-country teams at Hopi High School, where Lewis was an accomplished runner as a teenager. To raise money for the teams, Lewis created a cross-country T-shirt with the Hopi word "Nahongvita," on the back. Meaning "stay strong" or "dig deep," it is what spectators shout to Hopi runners during races.
"One of my biggest missions is that Strong Ones will always support Hopi cross country, whether it's [through] fundraising or providing apparel," Lewis says.
Kathleen Fasanella, owner of the sewing factory in Albuquerque, N.M., where Strong Ones clothing is made, admires what Lewis is doing in her community and has learned a lot about Hopi culture from her over the years. "She is an amazing story teller," Fasanella says. "When she comes to visit the factory, I never schedule anything around her visit because she often ends up telling us stories."
A Culture With Deep Ties To Running 
Running plays a big role in Hopi culture and history. Before people had cars, men would run to and from villages on the vast reservation to deliver messages. Not only is running a valued physical activity for the Hopi, but it is also considered a spiritual exercise.
"We believe that running is a form of prayer, and whenever we see someone run, we thank them in our language," Lewis says. "For women, 'thank you' is expressed as 'askwali,' for men it is "kwa'kwah.' "Because we believe that you are out there running not just for yourself, but for other good things in life, for other people and the community and nature."
Growing up on the Hopi reservation, Lewis spent a lot of time around runners. Her stepfather coached the very successful Hopi High School girls' cross-country team, sparking her interest in the sport at a very young age. "I found myself going to their practices and just running a mile or so while I watched the team go out on their longer runs," she recalls.
By the time Lewis was a teenager, she was winning cross-country races and became a three-time state champion at Hopi High. After running competitively her first year at a community college, Lewis took a hiatus from school and running and had her two daughters. In 2006, the young mom returned to both, eventually earning her associate degree and, later on, a bachelor's degree from Arizona State University.
She got a job with a community development nonprofit on her reservation. It was there she launched her first idea, a program called We Run Strong. To celebrate her community's connection to running and bring people together, Lewis organized running forums with motivational speakers, including Olympic gold medalist Billy Mills, a long-distance star and member of the Sioux tribe in South Dakota.
Lewis also hosted a series of awareness runs. When people gathered to run, they would learn about issues affecting Hopi families, such as Alzheimer's disease, autism and cleft palate syndrome, and how they could help.
Earlier this year, Lewis left the development nonprofit to focus full-time on her apparel business, which blends her love for running and clothing design with her desire to uplift her community.
Caroline Sekaquaptewa, Lewis' longtime friend and running buddy, says Lewis puts an important Hopi belief into action. "In our culture, it is always emphasized to us the value of helping others, not for personal gain or recognition but to help better the community. This is what Wendi does in her work," Sekaquaptewa says.
Working Hard, Dreaming Big
In addition to Hopi artists, Lewis hopes to eventually have more skilled people from her community involved in her business. "The dream for this apparel company is that it will grow as a successful business, and we can have a building on the reservation that can employ people," Lewis says.
She would also love to be part of an effort to send a Hopi distance runner to the Olympics someday. Louis Tewanima, a silver medalist in the 10,000 meters at the 1912 Olympics, remains the only Hopi Olympian.
Every year, the Hopi community honors his legacy with the Louis Tewanima Footrace. "The pride it has built within our community is tremendous," Lewis says. "I never understood how big going to the Olympics was until I got older. It is this run that reminds me every year to keep motivating our runners to work hard."
This includes Lewis' own daughter. As a 17-year-old distance runner at Hopi High, she's already running faster times than her mother did at the same age.
Related:
Born To Run's Tarahumara People Teach Us About Chia Seeds
Door County Opens The Door To Great Wisconsin Running