Meet Our Newest Contributor: Elite Runner Stephanie Bruce
Elite runner Stephanie Rothstein Bruce talks about her post-baby training, flying with Oiselle and running goals.
Heading out the door? Read this article on the new Outside+ app available now on iOS devices for members! Download the app.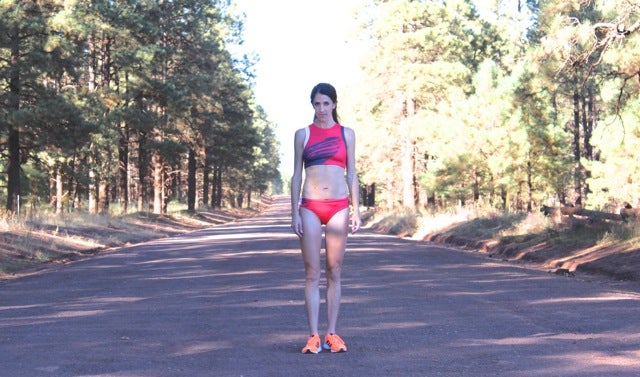 Women's Running would like to introduce our new elite runner blogger, Stephanie Rothstein Bruce! Stephanie wears many hats, including being a parent with fellow elite runner and hubby Ben Bruce, running professionally for Oiselle and co-owning Picky Bars with Oiselle teammate Lauren Fleshman. We asked her a few questions about post-baby training, her decision to fly with Oiselle, plans for the 2016 Olympic Trials and the best and worst thing about being married to a fellow elite runner!
Women's Running: Congratulations on baby Riley! How is mommy life treating you so far?
Stephanie Bruce: It's been awesome. It's definitely been a big curveball in life, but a good curveball. No one could have prepared me for it—people can give you advice and tell you different things, but I think until you go through it, you don't really understand the demands and changes your life will go through. But at the end of the day, they are all positive, and I wouldn't have it any other way!
WR: That's awesome! So now you're a parent and a runner, as well as a business owner/creator of Picky Bars alongside Lauren Fleshman—how do you balance it all everyday?
SB: I would say probably five years ago when I was kind of on the verge of a lot of injuries and hanging up my shoes, that's when Lauren and I started Picky Bars. We were looking for balance because we were just 100% invested in running, and it wasn't giving back what we were putting in, so we kind of asked ourselves, "What more is there to life?" So I think yearning for that balance is probably what instigated us to want to start Picky Bars. And then same thing—once Picky launched and both our careers got back on track, everything was great, but it was still like, well what else? Then [Lauren] ended up having a baby, [then me]. I think performances we have as runners are great, and at the end of the day that's ultimately what we are trying to achieve—doing great things in the sport. But on days that it doesn't go well, you're stuck in the life if that's all that you do. It's almost like I thrive on the busyness—I like having my hand in a bunch of different things. I'm a better athlete because I'm a mom, or I'm a better businesswoman because I'm an athlete. So all the qualities you have to have to be good at different things in your life in a way just balance out. So I don't really have any "secrets"—but there are days where I just do nothing and make popcorn and watch movies all day. I think you need that in life! Everyone needs that one chill-out day without anything taxing on the brain or the body. I try to do that every two weeks, and that helps with juggling everything.
WR: You recently joined Oiselle as a sponsored athlete after a few months being unattached from Adidas. Can you talk a little bit about what drove that decision?
SB: I've actually been following Oiselle since Lauren went with them, and we actually met them a few years ago [in Eugene]. We met one of the main women, Sarah Robinson. And it was just so cool—they were so giddy and fangirl-like, and they asked us to wear one of their shirts. When Lauren signed with them, I really got to know the company. The biggest thing that drew me to them is that they are just fans of the sport; they support everyone. It doesn't matter [who you run for]—they just cheer for everyone. They don't see them as competition, whereas I feel like when you're with a lot of other shoe companies, you're not allowed to cheer for other brands. That's on the elite side, so the other part is that they are trying to connect the masses with the elite world, and that's been one of my goals throughout my whole career—trying to show the masses there's a lot they can pull from us. Yes, running is our job, but a lot of the deep-down reasons we run are very similar across the board. Oiselle is able to bridge that gap between the elite world and the masses, giving the message that we are all in this together, we are trying to support each other and lift one another up. That was a big sell that drew me to them.
WR: Love that! You also recently joined Northern Arizona Elite (NAZ) and said in a previous interview that both you and Ben are excited to have teammates again—how important is it to you to have that support system, especially as you work to get back into post-baby shape?
SB: It's huge. One, having my husband share my lifestyle is awesome. It's also helpful with raising the baby because it's kind of 50/50. But having teammates was helpful as well—when I was pregnant, I was able to live vicariously through them. Two of the [NAZ] girls won national titles this year, one in cross country and one on the roads. And their times were blowing me away, I was just excited to get back to training with them. But I was also scared because they were running so well! But it was good to see them—when you see someone out there suffering, it makes it easier to suffer yourself. When you're having a bad day, you can kind of pull energy from someone else and have a good day. Ben and I were by ourselves in 2013, and he coached me and it was great, but we just missed that team aspect. Our new coach, Ben Rosario, is not really well known yet, but he will be soon. The passion he has for the sport and athletes and what he does behind the scenes is incredible; often coaches don't get as much credit as they should. It's great to be a part of it!
WR: He sounds like an excellent coach! We are also so excited to introduce you as our new Women's Running elite blogger—what are some of the major things you hope to share and get across to our growing audience, many of which, like you said earlier, share a similar passion as you and similar responsibilities as you?
SB: One of my biggest things is transparency. My goal coming back from having a baby was to be really transparent—share the highs and the lows and the ugliness of coming back after having a baby. There's a lot of stuff that doesn't get talked about; no one told me about all of these things. I don't know if some will be too much sharing, but I do feel there's a lot of stuff that women experience and would be like, "Wow, that's awesome! I can't believe you go through that." if they knew other women experienced it too. One of the things people talk about is postpartum running and incontinence and peeing your pants. That happens everyday for me. I'm doing this really hard run and trying to compete at the highest level in the country, yet I can't control my bladder. So it's crazy thinking I'm a really well-trained elite athlete, but because I had such a big baby, it wrecked my pelvic floor. So I have to work on that for the next however many years. I think there's some women that might not want to hear that, but I guarantee there's some that do. Also, the balance of everyday life of being a mom and training and not feeling guilty for wanting [to run]. As a mom and women you still need that independent time for yourself. And then diet, weight issues, being a female runner, getting your period—I think people want that knowledge but don't know where to find it. I think if I just give my own account people will be able to relate.
WR: That all sounds great. Looking ahead at the trials—we are rapidly approaching the one-year-out mark in February—what do some of your 2015 plans and goals look like as you prepare to make the 2016 Olympic team?
SB: My coach and I have been planning training week by week. Coming back from a baby is really different from coming back from an injury. So we really haven't put a lot of things on the calendar yet, but basically the goal is to get my body back to being really strong and being uncomfortable in training again. The hope is to run one or two marathons next year—I want to get that dusty PR (2:29:35, set in 2011) down—and then if time permits, we'd like to get on the track. Maybe I would run the U.S. champs in the 10K, and then of course I would like to try to go after running under 70 minutes in the half and win a national title on the roads.
WR: That sounds like a very impressive 2015 resume! Finally, you're married to a fellow badass runner, who's racked up a handful of wins this year in the marathon. What is the best and worst thing about being married to another crazy runner?
SB: Oh yeah, okay. So worst thing is, who is more tired on the day? Now that we have a baby, it's who had a harder workout? Who was doing more miles? Who takes Riley when one of us wants to nap? We don't paper, rock, scissors, but we have to decide! Sometimes we joke and say, "Riley, can't you just hang out?" That's probably the worst part of it. The best part of it is sharing the ups and downs of meeting our goals and missing our goals. No one else can experience the feeling that you do, but he knows if I miss a national title and I'm third, he knows that disappointment feeling, because he's been there too. Sharing that with him is incredible, and traveling the world together because of our jobs is unlike any other. AND—being like, "Hey do you want to go to bed at 8:30?" and he's totally on board.
Stephanie will contribute every Thursday to womensrunning.com, sharing her insights on training, being a mother-runner, race lessons and everything else she juggles as a busy elite athlete!