A Letter To My Dad, The Greatest Runner Of All Time
One editor writes an open letter to her father, the greatest runner of all time.
Heading out the door? Read this article on the new Outside+ app available now on iOS devices for members! Download the app.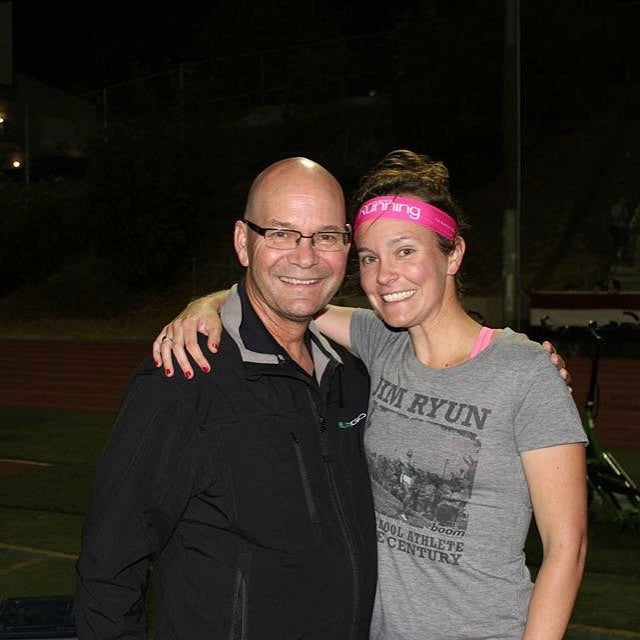 For me, running was as hereditary as left-handedness, both traits I got from my dad. And when it comes to my history of running, dad doesn't miss a thing—literally I can count on one hand how many meets he's ever missed—and he certainly doesn't forget a single important moment. So in honor of Father's Day, here are some key things that I haven't forgotten about when it comes to the miles covered and my dad's words of wisdom that fueled the tailwind:
Dad…thank you for completely immersing yourself in my early years as a young runner.
I still cringe at those photos of a scrawny 14-year-old that had absolutely no idea what she was doing or how she was going to do it. I ran because I wasn't good enough for the basketball team—but also because you ran and because you knew I inherited those Pilkington legs. But what do you see when you stare at old memories? Perhaps hesitation that turned into determination, when I finally realized I was faster than the senior girl in front of me and wasn't scared to pass her anymore. You and I never looked back after that.
Dad…thank you for teaching me about your best school records, as well as a lesson in humility and confidence.
I felt a bit more "like my dad, the runner" after I smashed my first course and meet record. I felt really proud to be your daughter when my fellow competitors moved aside to give me the inside lane for that championship 1,600-meter race. It may have been realized years later, but I felt extremely grateful for all of the advice you gave me on how to run a smart track race, how to strategically play to my strengths on the cross-country courses and how to display excellent sportsmanship. You knew I could do it before I even know what "it" was.
Related: What My Non-Runner Dad Taught Me About Running
Dad…thank you for running back and forth on the field and never missing a single turn or straightaway.
I still have images of two outspoken, loud, talented, encouraging coaches screaming instructions at me during crunch time, whether it was to pass one more girl to grab the league title or to stick with the teammate in front of me to go for a full sweep. For me, those images can start to fade into a distant memory; the voice I remember more than the faces is yours—I always heard you, and I still do hear you. Every homestretch of any challenge is better with you cheering me on.
Dad…thank you for never missing a big moment.
Remember when I ran in the state meet? I had to share that start box with one other individual qualifier, the two of us surrounded by massive armies of full squads that were good enough to race together. I felt so small, but you made me feel big by being there. Names like Kim Conley or Sara Bei (now Hall) were names we used to read together in the printed invitational programs; now we nerd out when those now-professional runners do anything noteworthy on the national stage. Remember when I ran a 1:40 half marathon for my second 13.1 in freezing conditions in Las Vegas? You were there—you made sure the mylar stayed on my shoulders. Remember when I ran a little marathon in Boston? I never told you this, but when I was overwhelmed with self-doubt so early on in the race, thinking there's no way I'm doing this, I thought of you, I knew you were at the finish, and I knew I had to get there.
Related: I Became A Runner To Follow In The Footsteps Of My Dad
Dad…thank you for showing me what passion looks like. 
When a runner celebrated too early, losing her bronze medal in the last barely-seconds of her race, you were so upset. On the outside, it seemed to be because you didn't think you could clearly explain the major error that runner made to someone who perhaps didn't run competitively on the track. But on the inside, it was that passion, that runner fire, in you coming out, saying, "You always commit to the race by running through the line." The frustration wasn't from trying to explain the error, it was because runners feel together, and maybe you felt a little bit of that error yourself. Thanks for teaching me to always run through the line and commit to anything I'm passionate about in this life.
Dad…thank you for writing a letter when you know I need it.
I cried when I read your letter you snuck into my Boston bag. You attached a ribbon to it—your first race that you won—and said you remembered when you saw the joy in my eyes when I won my first race. I bet our joyful glows were identical. It's not hard to believe you still have that ribbon; it belongs in the "man cave" with all of those other memories you've kept. Sure, they are great conversation starters, but to me, all that memorabilia is where my whole running journey started too. You really were the spitting image of Steve Prefontaine in full form—beard, long hair and gutsy racing—and that was so rad.
Dad…thank you for encouraging me to pursue my career in this industry we both love.
Before this, I learned all the greatest facts and about all the greatest runners from me. Now I'm on the other side of the fence, researching the very things you taught me and often teaching you a thing or two. But when you text me about the latest news around the Olympics, or what a big runner just said online, or something you read about, I smile, because I know you're still my favorite source of running news. No one will talk about the little things, dissect those few seconds from a close race or analyze larger decisions made around the industry like we do, father and daughter.
Dad…thank you for being my original coach, my teacher, my dad. People often ask me if I would be a runner if my dad hadn't been a runner. The answer: I would probably run, but I'm not sure I would be the runner I am today.