Late Bloomers Prove You Can Run at Any Age
These women started running later than most but have proven runners of all ages can be successful.
Heading out the door? Read this article on the new Outside+ app available now on iOS devices for members! Download the app.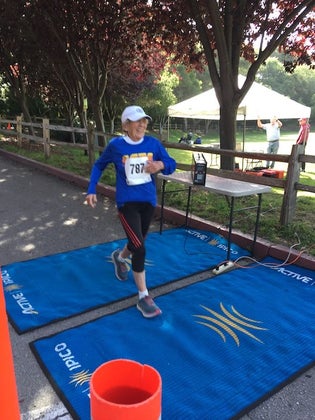 Age Is Just A Number
At the starting line and ready to go, Julia Hawkins took off like a shot with a red flower in her hair. In 40 seconds, she won the 100-meter dash breaking the world record for her age group.
Of course, that was the 100 and over age group at the National Senior Games last year. Now 102, she is still going strong.
"I started cycling in my 80s, but I stopped because there wasn't anyone to compete against anymore," Hawkins said. "I started running at 100. I thought it would be neat."
Hawkins may have come to the sport a little late, but she's made up plenty of time. And, so have many others.
Harriette Thompson, who died last year at 94, was the oldest woman to finish a marathon. She started running when she was 76. Marjorie Kagan ran the New York City Marathon for the first time in 2011 at 81, training only a few months before that. Now 88, recent back surgery foils future marathon plans, but she says she still runs occasionally.
"I never thought about my age," she said. "I knew I could do it."
Katherine Beiers, 86, ran the Boston Marathon this past spring in 7 hours and 50 minutes. As the oldest woman to ever complete the marathon, she wore a garbage bag to shield herself from the freezing rain. It was her 14th Boston run and probably won't be her last.
As a librarian at the University of Santa Cruz, Beiers started running at 49. She noticed around that age her energy was low and any weight she gained stuck. Seeing the campus track outside her window, she decided to give it a try. One day led to the next. 5Ks, 10Ks, and half-marathons followed. At age 51, her first marathon was the Napa Valley Marathon. Once she started, she never stopped.
"I don't think of stopping my running," Beiers said. "Many people think they can't. Yes, you can. Just pick up your feet."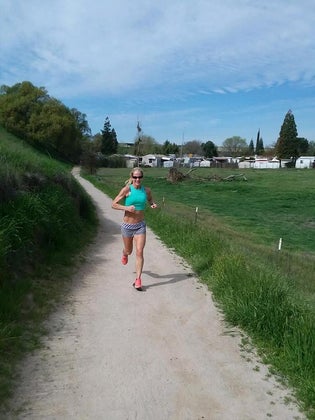 In January, Molly Friel qualified for the Olympic Marathon Trials at age 50. She finished well under the qualifying time at 2:43:57, averaging a little over 6 minutes per mile. She and others in her age group are considered "master runners," or runners ages 40 and up. With every headline, "50" was the highlight of the clip.
"I'm just glad they didn't say 'practically dead' when the headlines ran with my age," she said. "It's never been an age thing for me. I still feel strong. I'm going to keep running as long as I can."
Friel knows that staying on top of her game won't last forever. She sees a lot of talent coming up behind her and said she's interested to see how those women will handle running as they age. Susan Loken and Jenny Hitchings, two of her running colleagues, made the same point.
"It seems like there are a lot more older runners now—a lot still winning masters," said Loken, 55, who is a running coach when she's not training for a race. She qualified for the Olympic Marathon Trials at age 40. "I see fitter, older people still chasing goals."
Hitchings, who is also 55, a running coach in her spare time and won the Mountains 2 Beach Marathon in May, agreed with Loken's point of view.
"There's a running boom behind us, a slew of fast women runners now in their 40s turning 50," she said. "It will be interesting to see what they do in their 50s or 60s. Any record I break now I won't hold very long."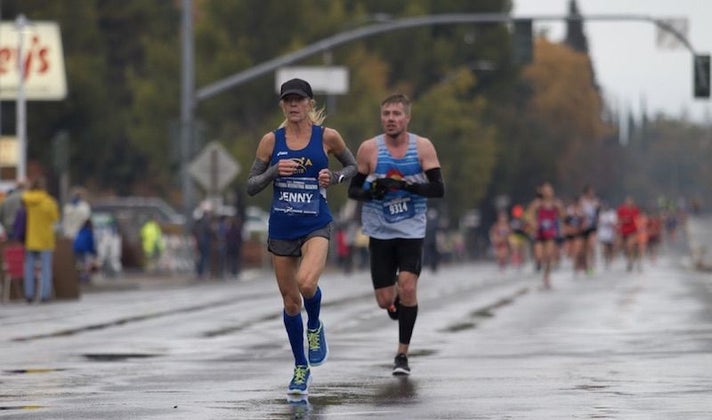 But, how long can you expect to keep running without age-related injuries?
Ten years ago, Stanford researchers showed that regular running actually slows the effects of aging. Tracking 500 runners for over two decades, there were fewer disabilities and longer life spans than those of non-runners. Earlier this year, a study published in the Journal of Bone and Joint Surgery showed that marathoners and other runners may be protected from arthritis due to better muscle development, lower body weight, bone strengthening and a decrease in inflammatory agents in the body.
Dr. Rajat Chauhan, a sports and musculoskeletal specialist and one of the co-founders of La Ultra, an ultrarun in the Himalayas, says runners do slow down as they age. But, there is an advantage in running longer distances, as with marathons and ultrarunning. Slowing down really doesn't start to show until around 40 or 45. In some cases, he says strong runners even in their 50s could be "giving a good fight to the youngsters."
"Injuries are only an issue if runners pick up running later and are not generally active up until then," explained Chauhan. "Folks who pick up running, sports or exercise later in life, to them movement doesn't come naturally."
A German study in 2010 tends to agree with Chauhan's point. Performance losses in middle age are the result of a sedentary lifestyle, rather than physical aging. The study claimed that the large contingent of older "newcomers" among marathon runners demonstrated that, even at an advanced age, non-athletes can achieve high levels of performance through regular training.
Whatever your age, each of these runners had the same advice: Start slow and gradually build up your mileage. Be consistent every week rather than running randomly. Not everyone is a winner, but everyone can run. As Loken said, "Running proves there's enough sunshine for everybody!"
Related:
6 Training Tips For Older Runners New To The Sport