Jenny Jurek Was Made For The Mountains
Ultrarunner Jenny Jurek's relationship with the outdoors shaped her into the woman she is today.
Heading out the door? Read this article on the new Outside+ app available now on iOS devices for members! Download the app.
Photos by Greg Mionske
"These mountains that you are carrying, you were only supposed to climb." —Najwa Zebian
Made For The Mountains
Jenny Jurek answered the phone from her headset while sitting in her home in downtown Boulder, Colo. On that Friday morning, she had just gotten back from a run, then nursed her 3.5-month-old son, Evergreen, to sleep right before our interview.
She's still in the thick of that infant fog that all moms remember, which is made even more challenging with Evergreen's 2-year-old sister, Raven, toddling around the house. "I want to run, but I'm so tired, so sleepy, so every run just feels like I'm trying to wake myself up—like I'm not really getting into my groove yet," Jurek says. "It feels good to be moving, but it's not really feeling easy."
Even so, the cheerful Jurek, whose high-pitched voice and quick wit instantly put you at ease, exudes a gratefulness for even the tough moments. She and her husband, Scott Jurek, one of the best trail runners of all time, released a book earlier this year, North, which chronicled Scott's attempt to clock the fastest known time on the Appalachian Trail (or "A.T.") northbound, a 46-plus-day run for which Jenny acted as crew chief. The attempt, which happened in 2015, was successful, but it took the Jureks almost to their breaking point—individually and as a couple.
Both Scott and Jenny now work from home, which gives them freedom to go for solo runs while the other stays home with the kids, and Scott, a longtime vegan and lover of food, cooks essentially all their meals (Jenny calls him her "live-in vegan chef"). Looking at their family now, you'd think of her life as charmed. Idyllic even. But the road that brought her to where she is now—a place that seemed impossible just three years ago—has not been without its challenges.
Born Jennifer Lee Uehisa, Jenny grew up in Walnut Creek, Calif., in San Francisco's East Bay. She describes her childhood as "a pretty normal suburban life," with two working parents but not much time in nature. "We never went hiking or to Yosemite—we just weren't an outdoor family," Jenny says. Instead of sports, she chose to spend her time on academics and student leadership.
Yet when it came to college decision time, she was inexplicably drawn to the mountains—specifically the Rocky Mountains surrounding the University of Colorado Boulder. After a friend went to college there, she saw photos of the campus and decided to apply. Based solely on pictures and without so much as a campus visit, Jenny enrolled in an undergraduate program at Boulder.
That decision altered the direction of her life—Jenny's relationship with the outdoors began during those years. "I was never exposed to anything—any big mountains, any kind of camping, backpacking stuff until I moved to Boulder," she says. "When I got to Boulder, that's when I started to explore the mountains, and I learned how to rock climb."
She had applied for a work-study program to earn some money while in school, and she lucked out by being placed in the outdoor program, through which she could take any course that had openings. She took advantage of it—she earned her scuba certification and took intro classes for rock climbing and fly-fishing. "Climbing is something that I was just really drawn to," Jenny says. "It just really clicked with me."
Jenny earned her degree in international business, what she called "a safe bet," but at her first post-college job at a brokerage firm in the Bay Area, she realized she hated the world of finance. Six months later, she took a customer service job in the warranty and repairs department at Moonstone, an outdoor apparel brand. That job sparked her interest in outdoor apparel design, so she went back to school. Her career then took her to Seattle with Montrail and Outdoor Research, and later to Ventura, Calif., with Patagonia.
Jenny made the transition from rock climbing to running after coworkers at Montrail encouraged her to join them on their weekly runs at Lake Union, a 6-mile loop around a lake in Seattle. "It blew my mind," Jenny says. "Because 6 miles seemed so long to me!" But she started to join them anyway.
"When I started running, then my climbing got so much better—I was just more fluid and stronger, obviously, and I had more endurance," she says. "That's what kept me running—I noticed it helped my climbing—until I fell in love with it. Because I didn't really love running at first."
A coworker named Kristy Moehl, a well-respected and accomplished ultrarunner, inspired Jenny to start running trails. "We shared a cubicle, and she started doing these ultraruns and was just winning," she says. "And I thought, 'Gosh, here's this girl, she looks normal, she looks like me, no different than me, and she's killing it at these really long distances.' I was super inspired."
Jurek's new running hobby brought her into contact with Scott—he worked at her local running store, the Seattle Running Company. She recalls him being so approachable that she didn't realize he was considered a running celebrity to some people. The two were friends and running buddies for about a decade before they started dating in 2008, while Jenny was living in Southern California and Scott was still in Seattle. Jenny estimates she had five serious relationships before him, but Scott had one thing that stood out from other men: "Really, it was the food," she says, laughing. "I never cooked for myself. I always just ate cold cereal and toast for dinner—I was a lazy vegetarian."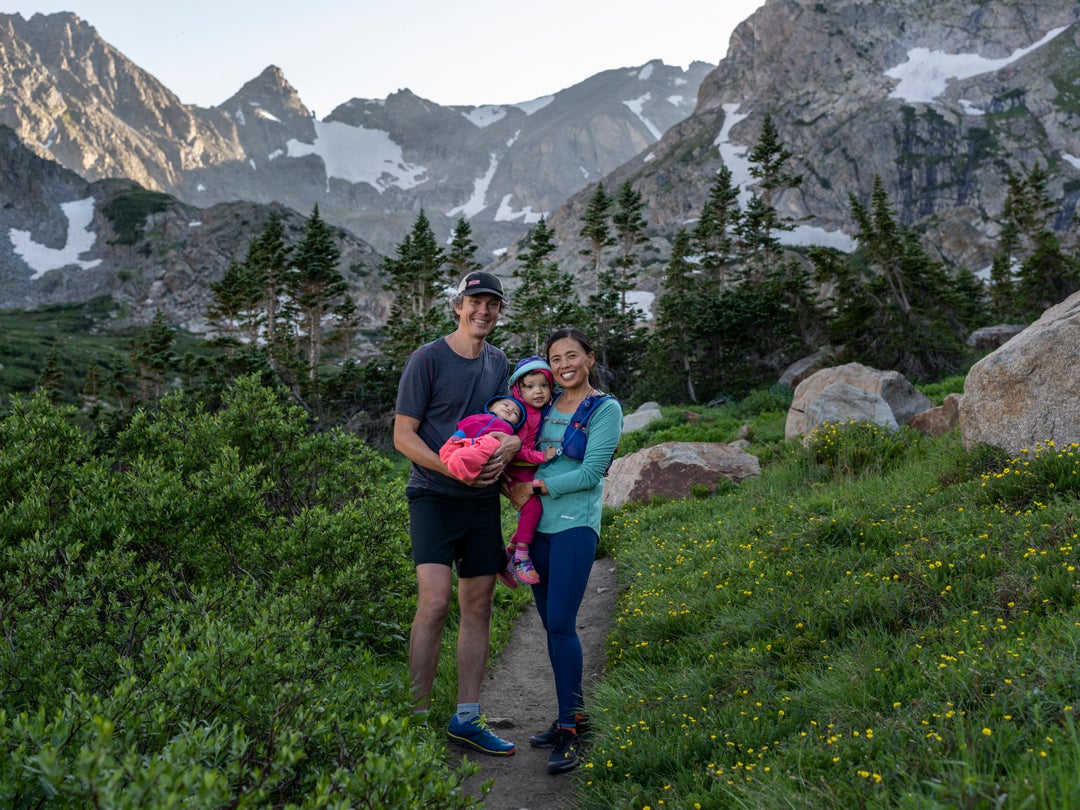 And it wasn't just the food, but his whole lifestyle: "He just had a different way of looking at food and wellness. His whole love language is food, and that really struck me as something special."
The couple moved in together in 2010 in Boulder, and they married in July 2012 (two weeks after Scott's first book, Eat to Run, was released). It was Scott's second marriage and Jenny's first. If you'd asked each of them in their 20s if they wanted kids, Jenny knew she always wanted a family, but Scott would have said no. He just didn't have a desire—he even had a vasectomy at 30 because he'd been opposed to population growth.
But something softened in Scott after they moved to Boulder—his outlook on life was a little brighter, and he wanted to be a dad. After getting his vasectomy reversed, the couple started trying to get pregnant. Little did they know the emotional toll the journey to having a family would have on them.
They started trying to have kids not long after they were married—Jenny was 36 at the time. For whatever reason, it just wasn't happening for the Jureks. Then in spring 2014, Jenny passed out and started vomiting in their kitchen. Scott took her to the E.R. to learn she was seven weeks pregnant, but the embryo was growing in her left fallopian tube and had caused it to rupture. The doctor took her into emergency surgery to stop the internal bleeding, but he said it shouldn't affect her ability to get pregnant again.
Then in April 2015, as they were preparing for their journey up the A.T., she was eight weeks pregnant and eager to see the baby on the ultrasound at her first doctor's appointment. But the ultrasound tech couldn't find a heartbeat. Scott and Jenny were devastated.
Through the emotional ups and downs, trail running has kept Jenny grounded. "Running is so powerful for me because it just makes me feel like I can do anything," she says. "After I finished my first 100-miler, I was like, 'I seriously can do anything. Whatever comes my way is nothing compared to this.' And it gives me this feeling of hope, but also a sense of never giving up. My whole path to having a family—there were so many setbacks and misfires and ups and downs. Running long distances really just taught me how to be resilient, and resiliency is what got me through the whole infertility journey because being able to bounce back from these really major lows—that's what made it happen for us. We never gave up, and we never lost hope."
The timing of the A.T. trip couldn't have been more perfect—in addition to their personal struggles, just before they left, they learned that a close friend had passed away. The A.T. became not just a goal to work toward, but an escape from their life in Boulder.
Scott set off on his 2,189-mile trek up the A.T. on May 27, 2015, and finished it 46 days later. He called it his "masterpiece" before he set out, and it served as "a good endcap to a long, successful career," Jenny says, looking back now. The fastest known time (FKT) attempt was as big of a commitment for Jenny as it was for Scott—their book, North: Finding My Way While Running the Appalachian Trail, details the challenges both of them experienced while trying to get Scott to the finish line in Maine.
As close as it brought the Jureks to the brink, Jenny looks back on the time fondly. "We really went into the mountains just to escape and get away from all this emotional stuff that we'd been dealing with," Jenny says. "Seeing someone you love suffer, and then reach that other side and have release and that relief actually is just amazing. And it just really drew us so much closer together. The A.T. really has a special place in our hearts and in our relationship, and I can see why so many people love to do that trail. You can't do it and not be transformed. You have to have tons of self-discovery and awareness and all this time to think about ideas and who you want to be and where you've been. It's a really magical place, and it was a magical experience for us."
Both Scott and Jenny share very raw and real emotions as well as details of their personal struggles in the book, an effort that took its own toll on them. "Honestly, I still have PTSD from it because writing the book together while raising our 1-year-old—it was so gnarly," Jenny says, only half joking. "It was like this dark cloud over us for a year and a half." They skipped holidays and didn't celebrate birthdays, and she remembers the three drafts they went through as more difficult than crewing the A.T. "Writing is so hard because neither of us look forward to waking up and sitting in front of a computer," she says.
But the book ends happily—readers learn in the epilogue that less than about a year after the FKT attempt, Jenny had given birth to their first child, Raven (also Jenny's trail name). She was a result of IVF (in vitro fertilization), in which an egg is fertilized outside of the body. "IVF is not easy, and it's not cheap—we had to refinance our house," Jenny says. "We just really went for it because we wanted to make it happen."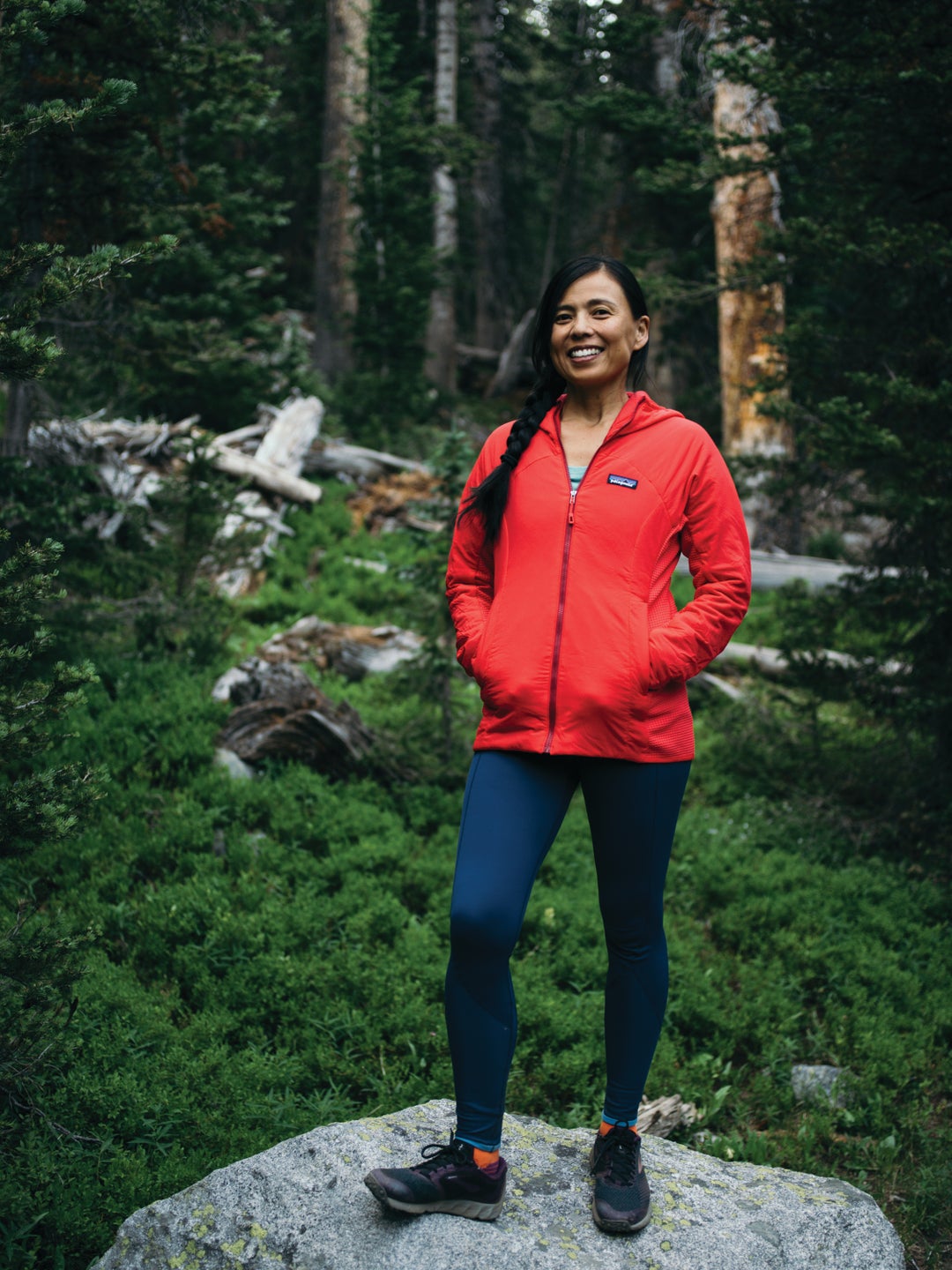 In IVF pregnancies, doctors don't allow women to be active the first 11 weeks to give the embryo the best possible chance of surviving. But after that, Jenny's obstetrician encouraged her to go back to her normal active lifestyle, only stopping when it hurt. Raven was born in 2016 via C-section (she was breech), yet Jenny bounced back pretty quickly, which she credits to being able to run in her second and third trimesters. She ran a marathon six months postpartum, then the Boston Marathon four months later. "Neither of them were fast—they were actually my slowest ones—but I was full-time nursing, and I felt great," she says.
Jenny thinks she was perhaps in her best shape ever when she learned she was pregnant again, with her "miracle, surprise baby," Evergreen, who was born in March 2018. "People say, 'Oh, it's because you weren't as stressed out,' but our doctors say that sometimes having one baby primes the stove or clears the way." She wasn't able to stay as active during her second pregnancy—doctors discovered she had placenta previa at 20 weeks, where the placenta is covering the cervix. While most women are placed on lockdown for the condition, with zero running or traveling farther than 30 miles from a hospital, her doctor allowed her to run 5K on the elliptical. The timing worked out—Scott and Jenny were in the midst of writing their book, so she was mostly in front of a computer every day anyway.
Evergreen, also born via C-section, made his debut four weeks before North came out, and he joined his parents on the book tour.
Looking back now, the infertility challenges are diminished by the joy she experiences from being able to raise her kids alongside Scott. "Now all those struggles seem like a distant memory," she says. "It was totally worth it. And there are some days where I'm like, 'Holy crap, why did we want to have kids so bad?' Now we never get to run in the mountains together, but we will eventually."
The mountains have been a common thread through Jenny's life, giving her rock climbing as an outlet in her college years, surrounding her on trail runs after tough breakups and serving as the backdrop for the Jureks' great adventure on the A.T. The biggest thing running through the mountains gives Jenny, she says, is perspective.
"Being in the mountains, it makes me feel insignificant—these mountains have been here for ages," she says. "Whatever stress, whatever worries or whatever heartaches I'm going through feel so minuscule, and they seem to just be swallowed up by the breadth of the mountains or whatever landscape I'm running through. I feel like that just helps me settle and helps me not freak out too much because life just goes on, you know? And these problems or issues I'm dealing with are not moving mountains; they're not going to make that much of a difference in the big scheme of things. … It's like, 'Okay, this load that I'm carrying, it's not that big. I can do this.'"
These days, getting in trail runs means Scott wakes up early and does his run while Jenny and the kids sleep, then he manages the babies while Jenny runs. But Jenny doesn't mind those solo runs—she actually relishes them. "When I first started [trail running], I just felt a little bit out of place," she says. "I always needed to go with people, I needed people to show me around, and I didn't really trust being on my own." As she joined groups that showed her new routes and she gained more experience, "I just really loved being there by myself. I loved feeling confident and feeling like I did belong—like I knew where I was going."
Now she feels a pull to get her runs in as her alone time, and sees it as a gift. "Doing a long run by myself has always helped me grow," Jenny says. "There's so much self-discovery in running alone and in running in new places. And I really am so grateful for all the people who showed me the way because they gave me this gift that I can do by myself. I don't need a partner. With climbing, I always needed a partner, I always needed all this gear, you need time off and great weather. But a long run in the mountains you can do by yourself."
This fall, Raven will start preschool, so Scott and Jenny can run together a few mornings per week, pushing the baby in the stroller ("I feel a little spoiled because he pushes the babies all the time," Jenny says). Jenny's mostly taken a sabbatical from her design work since the A.T., mainly because she's been focusing on the book and the babies. She's done side projects with Ultimate Direction, and she'd love to somehow continue to use her design expertise or at least creativity on something new. "We have some ideas—maybe in the food space, or maybe even in the health and wellness space, but we're not quite sure," she says.
Running-wise, she hasn't recovered as quickly from her second pregnancy and delivery, but she's signed up to run a 50K in September as well as the New York City Marathon as a fundraiser for the nonprofit organization Every Mother Counts, which helps make pregnancy and childbirth safe for every mother. In 2019, she plans to race a 100-miler because it'll be 10 years since she raced her last one. While she's hoping to PR in some races, she really just enjoys being able to run those distances again, for both the physical and mental benefits.
"Running has really just helped me be my best self," she says. "I just always feel humbled and refreshed [after a run]. I just feel so much lighter, and it galvanizes me—it makes my shell a little bit harder and makes me a little bit tougher and able to face whatever adversities or issues I'm dealing with."
Jenny views her future ventures with excitement, and she isn't looking back. "I have zero tolerance for living in the past and having regrets—I just feel like the most exciting times are right now and every day," she says. "Trail running has always been a way for me to stay focused and be present. I feel like running helps me have focus and goals to shoot for to keep me always looking forward and never looking back. Nothing is more exciting than the present."
Related:
The Rising Trend Of Solo Active Travel
Beginner's Trail Running Training Plan