5 Types Of January Gym-Goers That You'll Recognize
It happens every year. You are following your normal routine and—bam!—January hits and the gym is packed. Here's the people you'll see.
Heading out the door? Read this article on the new Outside+ app available now on iOS devices for members! Download the app.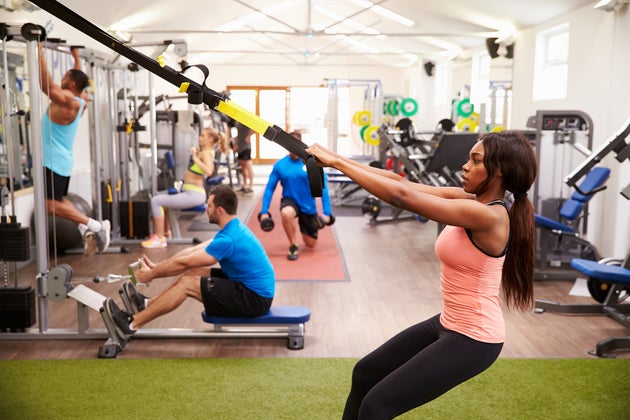 It happens every year. You're minding your own business, working through your usual routine at the gym, when you look up and suddenly notice people everywhere working toward their New Year's goals. Your once pleasantly busy gym is currently filled with dozens of new gym-goers wanting to follow through on their New Year's resolution. And while of course you support anyone trying to jumpstart a healthy lifestyle, it doesn't make the suddenly three-person-deep line for a treadmill any less annoying.
As many popular January memes allude to on social media, much of the masses might disappear by March. Still, I can't help but notice some of the traditional January gym-goers:
The Paper Trail Athlete
This type clearly didn't get the introductory memo about gym etiquette 101. Even though cleaning up after yourself should be common courtesy, this person leaves a trail of sweat and dirty towels everywhere they go. No amount of signage is enough to encourage them to wipe down the machines, and they seem to think nothing of using a minimum of three towels per shower. While usually found in the weight room or on the cardio machines, this gym-goer can also be spotted in the locker room by the wads of toilet paper left on the bathroom floor and the obscene amount of water splashed all over the sink.
The Copycat
This person may be new to the gym, but they haven't landed on getting a personal trainer just yet. Instead, they lurk around fellow gym-goers and copy their moves. They may choose the treadmill next to yours even though there are plenty others available, just to sneak a peek at the details of your interval workout, or casually follow you around from machine to machine, mentally counting your reps to repeat themselves. Stealing exercise may not be a crime, but the copycat is one smooth criminal who will stop at nothing to craft the perfect workout. Take it as a compliment and offer them some pointers!
The Weight Room Enthusiast
You can easily identify this gym-goer by the rapid pace with which they move from machine to machine in the weight room. They might fumble with the knobs and levers at each station because it's their first time on that machine, but they want to feel confident by banging out a couple reps at whatever level the machine is already set at. Maybe not sure how to ask for assistance, this person completes a quick circuit through the weight room before asking a friend in private the correct way to use the leg press. If you spot someone who fits this description, crack a joke about how you were once there and offer them some tips on good form and appropriate weight! You might have yourself a new gym buddy past March.
The Juice Bar Junkie
This person is brand new to the fitness world but is more excited about the fancy juice and smoothie bar than the actual exercise (because let's be honest—we kind of all are). A 20-minute prance on the elliptical is all they desire before coming up with a healthy concoction to quench their thirst. They hem and haw over the perfect protein-juice-supplement combination, but once you graciously tip them off about the smoothie place down the road that comes with the same goodies sans gym membership, you'll be back at the front of the line to get your post-run green juice in no time—and quite possibly made yourself another outdoor running buddy!
The Class Crasher
This person is all about getting their group fitness on in the new year. Zumba? They'll be shaking their groove thang at the front of the class. Spin? They have a bike reserved for the next ten classes. Barre? They'll show up in head-to-toe adorable printed spandex and that perfect top-knot bun. Hopefully soon their trial and error will inspire them to find a favorite class of their own. If not, it won't be long before you're kicking it in the locker room, offering them inside scoops on which class they should choose for themselves.