Is Running An Afterthought In The Pro Sports World?
The professional American women's field is at its strongest in recent memory. So why does it still feel like the sport of running goes largely unnoticed?
Heading out the door? Read this article on the new Outside+ app available now on iOS devices for members! Download the app.
We've all seen the massive efforts that go into blockading streets for Sunday morning races, passed runners toiling along on the sidewalk while driving by and watched the athleisure sections in department stores expand from one season to the next. The secret's out: Running is in. But if that's true, then why does it feel like running's legitimacy as a sport is overlooked?
Whether you follow professional sports or not, you're likely to know when the Super Bowl takes place, can sing "Take Me Out to the Ballgame" on cue and recognize names like Tom Brady, Alex Rodriguez and LeBron James. These examples mean more to the sporting world than their mentions alone suggest: Each holds a place in popular culture that Americans have deemed valuable by being reliable spectators, invested fans and engaged social media followers.
Running simply doesn't have this same level of engagement. Sure, you may have heard about it when Shalane Flanagan and Desiree Linden, two of American running's biggest stars of the moment, announced plans to race the 2018 TCS New York City Marathon earlier this year—but do you know where else they're competing before year's end?
Any person with the proper gear can become a runner and can, in theory, toe the same start line as Flanagan and Linden, something our Brady/A-Rod/James–cheering friends can never do with their heroes on their turf of choice. Given how tangible running and its professional representatives are, one may think that the sport could skyrocket to the forefront of pop-culture recognition, but in reality, its accessibility may be the very thing that keeps it chugging along under the radar.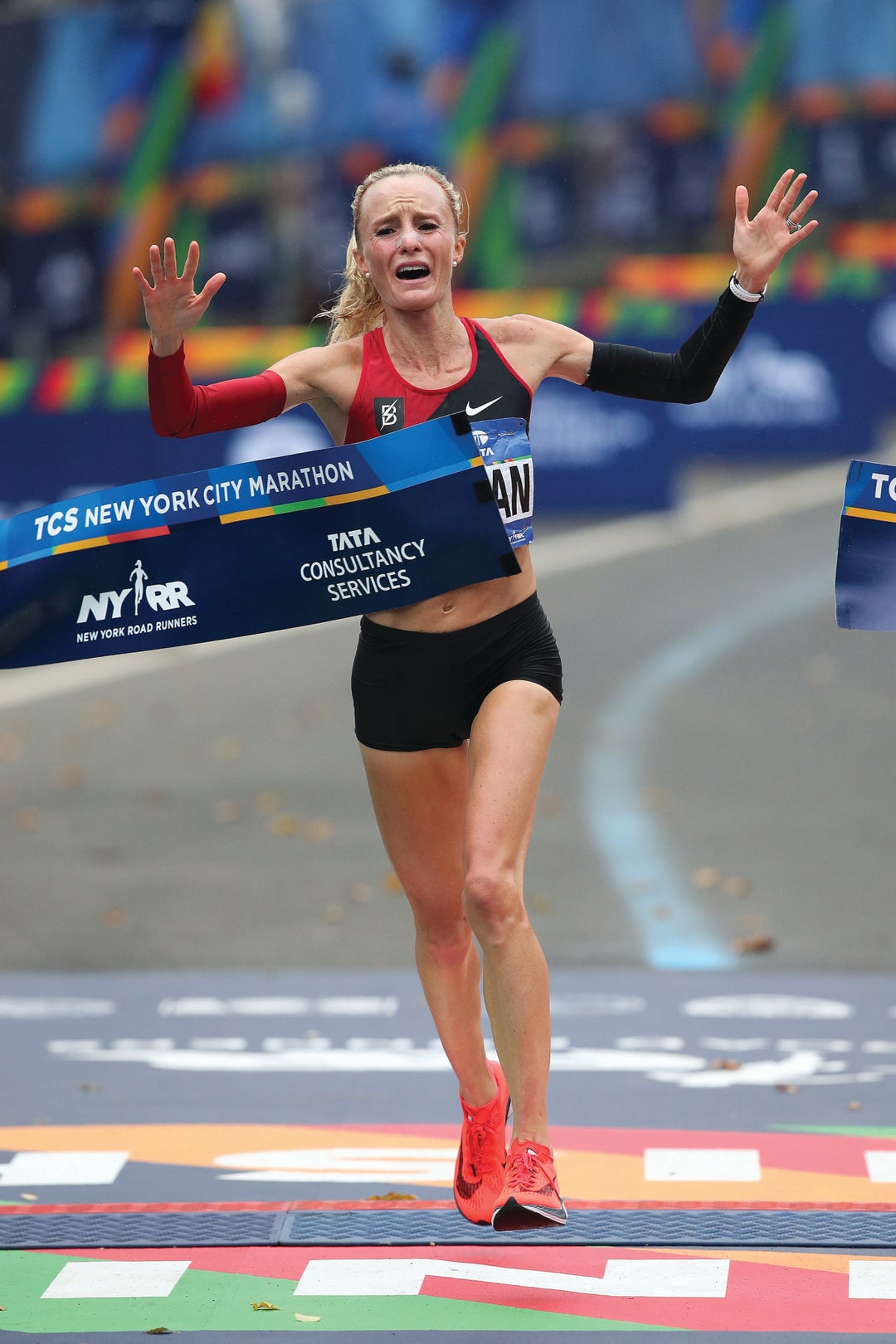 Running On The Rise
Running saw a spike in interest when Meb Keflezighi delivered a particularly inspiring Boston Marathon win in 2014, just one year after the infamous Boston bombings terrorized the city. Flanagan's New York City Marathon victory and Linden's 2018 Boston Marathon win earned extra attention boosts for the sport as talk of an American movement—one that isn't tied to a Summer Olympics, when every participating sport revels in a heightened sense of adoration—grew louder. Even so, running has a long way to go before it reaches the same echelon as other popular sports, even if its accessibility to interested participants and the tools it provides them to join running's ever-expanding club point to growth potential.
Accessibility
The latest Running USA report released on road-race participation earlier this year revealed that 18.3 million people registered to participate in races held in the U.S. in 2017, 10.8 million (59 percent) of whom were women. While the oft-quoted saying "All you need to run is a pair of shoes" isn't entirely accurate, it's true that there are fewer barriers to entry in running than there are in other sports. "Running might be low in popularity within sports media, but it ranks high in involvement," says Danny Mackey, head coach of Brooks Beasts Track Club, the professional running team sponsored by Brooks Running. "Young people are engaged, which is a key metric for popular culture. Track and cross country are the most participated-in sports at the high school and college levels, but the mainstream exposure to this participation is very low. The professional level of the sport can drive exposure, but a lack of event opportunities and U.S. governing body marketing hurts this element. You can go to Europe and see the difference."
Runners don't need to pay for gym or team memberships to practice their sport, nor are they restricted to certain places or times of day. Running is flexible enough to accommodate runners of all sizes, shapes and backgrounds, and competition opportunities similarly welcome athletes of all ability levels. It's rare to hear people who participate in pickup basketball games or toss footballs around with friends call themselves basketball or football players, but most who run regularly don't hesitate to identify as runners.
The runner identity has inspired complicated arguments over what a "real" runner is. If you ask Kim Dawson, Ph.D., a sports psychologist who teaches at Wilfrid Laurier University in Waterloo, Ontario, and has worked with Olympic athletes through her company Mind2Achieve, anyone can become a "real" runner. "You can be a recreational runner using [running] for stress relief or try to be competitive and get to that next level," Dawson says. "A 'real' runner to me is someone who uses running to bring capacity into their life: a new mom using it as a way to cope with the stress of having a child or someone reaching their potential in the running field. It's any individual who decides to engage in that behavior, and it can look so different for everybody."
Christy Bantugan-Bohan, Ph.D., a San Diego, Calif.–based clinical psychologist who invites patients to run or walk with her through a program called Therapy in Motion, agrees that running is known for welcoming athletes of all fitness levels. "When I do races myself, people of all sizes and shapes are out there," Bantugan-Bohan says. "There's more freedom to just go; you don't have to look a certain way before you start running."
Becoming a runner is one thing—remaining a runner is another feat entirely. "It takes willpower to get individuals to remain successful," Dawson says. "In terms of work, it's one of the most difficult sports." Luckily, there are more tools available now than ever before to help runners do what they do even better.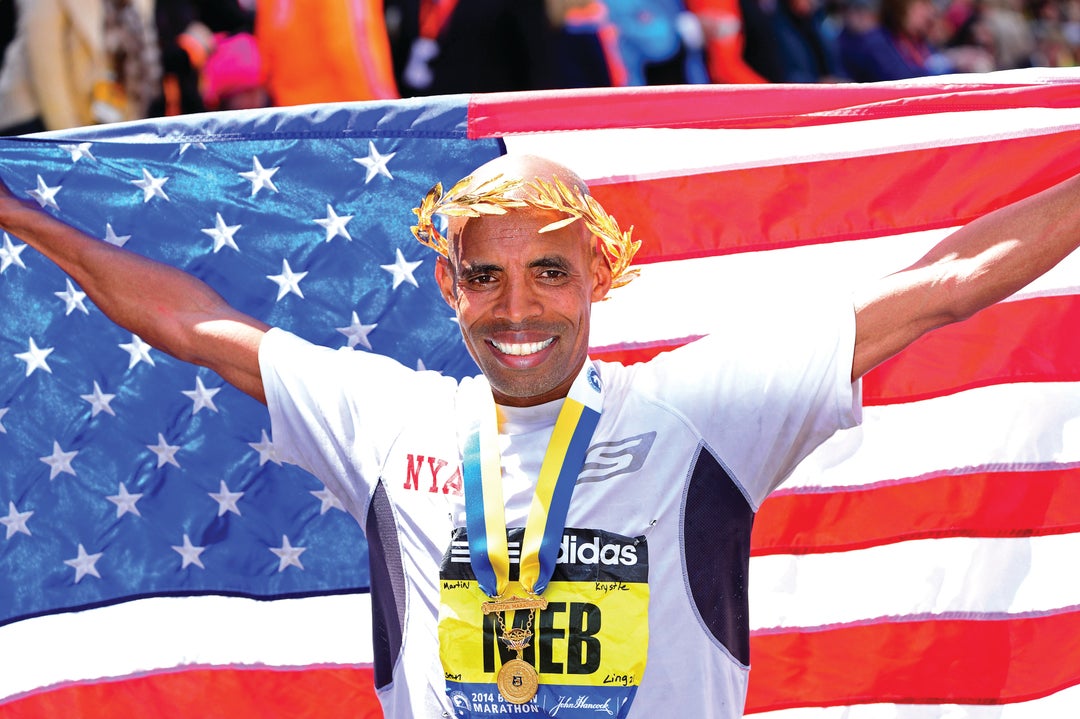 Improvement Opportunities
Runners who want to improve don't have to search very hard for guidance. The internet is flooded with training plans, injury prevention tips, nutrition advice, gear referrals and recommendations from pros, coaches, influencers and industry experts. The sheer volume of tools and information available means that runners can craft individualized training and nutrition plans just by doing the research—and they can build their own gear closet according to preferred price points, too.
The running industry has come a long way since Nike released the first running shoes designed for women in 1978. Forty years later, the research involved in creating craft running gear is more complex than ever before, with brands collaborating with technology companies to make things like personalized or 3D-printed shoes and "motion sense" sports bras made with shear thickening fluid. Runners can invest in watches and fitness trackers that do everything from recording mile splits and calories burned to tracking fertility windows, all available at varying prices. Though much of this gear is designed for runners, features like step, calorie and female health tracking imply that these tools can be used by anyone—and anyone who uses them can become a runner.
Carson Caprara, the senior director of footwear product line management at Brooks Running, is among those who value product accessibility. "We believe the future of running footwear is personalization," Caprara explains, citing the company's use of FitStation, which gauges runners' biomechanics and will make an appearance in the personalized running shoes Brooks plans to release in early 2019. "With FitStation powered by HP, we're able to create products designed specifically to an individual's foot shape and biomechanics and learn exactly how the personalization enhances the runner's experience." Though Caprara acknowledges that there's significant room for improvement in running technology—especially in regards to shoe support—the developments that companies like Brooks are making signify an important transition.
Since the running trend of the moment is the individual experience, most brands—even top dogs like Nike and Adidas—are jumping onboard, shifting their product development focus to tailor brand strategies toward the everyday runner. This focus is aided by the athleisure craze that has managed to seep into clothing lines sold in department stores and boutiques alike; it's in vogue to wear athletic apparel, whether a shopper considers herself to be athletic or not. For runners, that means there's a seemingly endless supply of clothing options.
The versatility of athletic apparel sold outside of specialty running stores makes it difficult to determine exactly how much of the clothing American consumers purchase is intended for use while running. While spectator-driven sports enjoy cash inflow from things like merchandise and ticket sales, most of the money that flows into running is participant-based, deriving from customer gear purchases and race participation fees. Every person who's purchased a pair of athletic shoes or clothing has technically contributed to the sport's bottom line, but the flexibility inherently built into athletic clothing as a style and trend means it's tricky to compare the money spent on running practice and participation in comparison with that of other sports. That divide between those who do and those who watch has far-reaching effects not only on how money is spent and earned in sports, but also on how any given sport is absorbed on a cultural level.
The Uphill Battle
Running Culture
The most popular sports in America at present don't enjoy their elevated cultural statuses because viewers expect that they can replicate the types of physical activities in which professional athletes engage. Many who watch Monday Night Football, for example, have never attempted to play football outside of school sports or physical education classes. Instead, spectators are drawn to these sports because they're loyalists—they root for the teams that mean something to them. In Brian J. Barth's 2016 Nautilus article "The Unique Neurology of the Sports Brain," he explains how studies by the often-cited social psychologist Daniel Wann of Murray State University support the idea of sports fandom as a modern example of tribalism. "[Wann] found that sometimes the well-being benefits flow directly from fandom—a sense of belonging, for example—while other times there is a 'mediating' factor—I'm more trusting of others because I have a strong sense of belonging in regards to my team," Barth writes. "Similar [phenomena] can be observed in other instances of strong identification with a group, whether a gang or a church congregation, though few cultural institutions today have as many die-hard adherents."
Team sports tap into tribalism first by giving fans home teams to root for, and then by providing easy-to-follow matchups, where there are clear winners and losers. By comparison, professional running teams aren't tied to specific locations—the teammates may be based in the same city, but their loyalties lie with their birthplaces or adopted hometowns, and the teams themselves tend to be brand-owned, reinforcing the consumer focus of the industry as a whole. Location-driven sports fandom makes sense for a country as large as the United States, where social, political and economic differences are influenced by location.
This phenomenon isn't as common in smaller countries. Take Jamaica, for instance—it's a country with roughly 1/113th the population of the U.S. and is home to Usain Bolt, widely recognized as one of the greatest sprinters in history. The difference between running's prominence in the two countries is one reason that Aisha Praught-Leer, a steeplechaser with dual American and Jamaican citizenship, now races for Jamaica. "I knew that I could be more influential in a country whose number-one sport is track and field, whose number-one childhood sporting idols are track athletes," Praught-Leer says. "My role as an international athlete in Jamaica, particularly in track and field, is a very influential one." Though the U.S. national running team is significantly larger than Jamaica's, the potential for cultural impact just isn't the same.
A Team Of One
The players may change, but the game remains the same.
Fans loyal to specific teams tend to remain loyal long after the players who initially drew them in have retired. Fandom can become a decades-long practice to the point where it becomes rooted in an individual's identity, stronger than the allegiance any lone athlete commands. Most Kobe Bryant fans have continued cheering for the Los Angeles Lakers in the wake of his retirement, just as Tom Brady fans will likely continue rooting for the New England Patriots after he sets his helmet aside. Fans purchase tickets to games, watch competitions on TV, invest in branded merchandise and identify as members of their team's fanbases. As Barth points out, group identity is a strong motivating and community-building device, and it's something that the running world is lacking.
The absence of registration restrictions for most races allows runners of all levels to participate, but it also means that the competition is not limited; in theory, any non-pro can upset a predicted race outcome. This also means that there is no limit to the potential end results in any given race, and there are no preordained starts or finales to a runner's season. What's more, runners are not expected to win every high-profile race they enter the way teams are expected to gain momentum throughout a competitive season. There is no Super Bowl in running—any number of big races could be groundbreaking for a runner's career, and with the exception of the U.S.'s three World Marathon Majors events (the Boston, Chicago and New York City marathons), little national media attention is focused on each race's outcome.
That's not to say that professional runners are without fans. Flanagan, Linden and Keflezighi all have dedicated cheering squads—mostly composed of other runners—that follow them on social media and celebrate strong race finishes and public appearances. Historically influential athletes such as Kathrine Switzer and Bobbi Gibb, both of whom made guest appearances at the last two Boston Marathons, prove that the fandom runners inspire can be long-lasting, even if it's not quite powerful enough to drive attention to the sport as a whole. Support for professional runners can be strong, but without an underlying sense of team identity, that support leapfrogs from one athlete to the next. "After I won New York, I sent Des a message, and I told her, 'Well, it's your turn now,'" says Flanagan, who was hinting at retirement before she won the NYC Marathon last fall. "There's this idea of passing a baton: Everyone wants to be the next woman to step up to the plate and carry this momentum that American women have."
The latest successes by American women have generated the strongest pride in professional running that the U.S. has observed outside the Olympics in recent memory. Without much attention directed at other professional women's teams in the U.S., this moment is unique in its focus on female athletic success. But without a clear path of succession, it's difficult to predict how long this moment will last—or who's qualified to fill Flanagan's and Linden's roles when the time comes for them to step away.
Spectatorship
It is at once easy and tricky to be a running spectator. Races take place every weekend across America with varying degrees of media attention, enabling every person the chance to run themselves or line up along the course as cheerleaders. That said, unless the races in question are run around a track, the only way to see a race unfold from start to finish is by watching it on TV. The lack of centralized racing and viewing locations removes the immediacy of competition that drives spectatorship.
Like Barth, George Dohrmann, a Pulitzer Prize–winning sports writer and author, also pointed to Wann's social psychology studies in his 2018 book Superfans: Into the Heart of Obsessive Sport Fandom. "Arenas and stadiums and sports bars (and even fan message boards) can function as neutral meeting grounds for people who agree on this one thing—their love of a team—if not necessarily much else," Dohrmann writes in his book. In the crowd that gathers at a marathon finish line, fans rooting for their favorite athletes stand alongside casual observers and those cheering friends and family members to the finish. Some design posters to hoist above the pack of onlookers, but the signs are just as likely to be for participants who started in Wave 4 as they are for the elites. Without designated cheering sections or jerseys to wear that denote which competitor a spectator is rooting for, running spectatorship becomes anonymous. It's a far cry from the "Team A versus Team B" format under which more popular American sports operate, where winning is defined solely by the final score, and friends and foes are clearly identified.
Another strategy of sports spectatorship that favors team competition is leagues' adherence to season schedules. Team sports benefit from having a clear path to follow from the start of a season to the culminating competitions, as fans can easily follow along with their team's progress from start to finish. Meanwhile, runners devise racing schedules without the existence of clear season start and end dates, instead adhering to their coaches' recommendations in accordance with personal goals. Races can be added or abandoned with little notice, the competition from one race to the next is unpredictable and races happen year-round, meaning one professional runner or another is always competing. It also means there's no singular focal point on which spectators can craft their fan identities.
In a 2015 Scientific American article, author Eric Simons, who penned 2013's The Secret Lives of Sports Fans: The Science of Sports Obsession, wrote, "Sports fandom is one of the more accessible, more obvious, more fixed sources of identity out there in the world…A sports team and its fanbase are an anchor point in an inconstant universe, fulfilling a need for belonging that, some research argue, is as fundamental a motivator to us as hunger." Sports fans want to have something or someone to root for, be it a team or an athlete. The continued success of that team or athlete doesn't necessarily matter—once they become ingrained in a fan's identity, that fan's support becomes natural. Even though professional runners have supporters, cheering for them is a completely different experience from cheering for a team in a packed stadium. Races are exciting to watch, but the anonymous nature of race spectatorship makes it difficult for professional running fandom to gain momentum.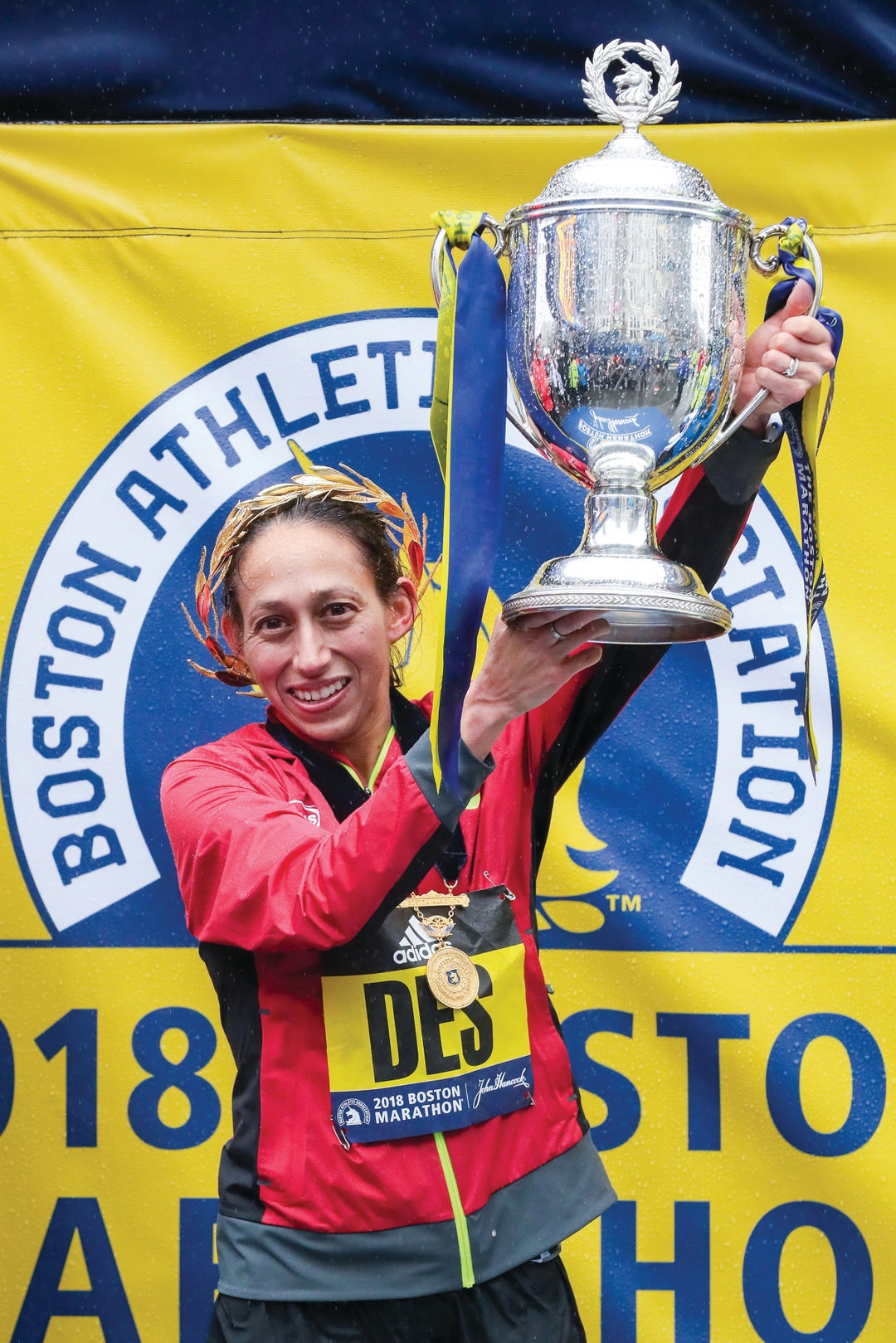 Looking Ahead
Though running is arguably one of the most accessible sports in terms of participation, there are several barriers preventing it from rising to the cultural level that sports like football or basketball occupy, at least in America. The independent nature of the sport is perhaps its strongest and weakest attribute. Runners embrace their "runner" identity because it accepts them regardless of their speed or endurance and still allows them to set challenging, attainable goals. Running is capable of meeting athletes at every point of entry—brands provide them with the gear they need at varying price points, running clubs offer grassroots communities as an alternative to solo running and opportunities to compete are regularly available for those interested in pushing their limits. In the professional running world, teams do exist, even if they're not constructed in the same way American sports fans think of competitive teams.
Linden's decision to hold back during the 2018 Boston Marathon and help Flanagan return to the front-runners after making a pit stop serves as a strong counterpoint to the theory of running as an individual sport. Running is, after all, celebrated for the widespread community it generates; that's why sidewalks throughout the country are dotted with runners logging miles after work, why more than 18 million Americans register for races every year. The sport is measured by personal achievement but made valuable by the shared participant experience.
It's unlikely that American running as it stands will ever rise to the same level as sports that are inherently more spectator-
friendly. But it is possible that the recent rise in public interest will hold steady. "The trajectory will continue because brands are investing in the athletes and sport," Mackey says. "[Flanagan and Linden] got major career wins in their mid-30s, and they both were part of professional teams and had their same sponsor their entire career. That is a lot of time and money the brands put into them to reach those achievements. And that support seems to be improving."
Above all, running remains a sport that anyone can, in theory, practice. It doesn't command dependable fan loyalties or inspire weekly viewing parties to congregate around shared televisions, but it does lend an unparalleled level of accessibility and inspires average, everyday people to think of themselves as athletes and dare to pursue personal challenges. Not too shabby.