The One Important Running Lesson I Learned From A Non-Runner
Sometimes, you learn lessons about running in unexpected places, like this important advice one runner got from her non-runner husband.
Heading out the door? Read this article on the new Outside+ app available now on iOS devices for members! Download the app.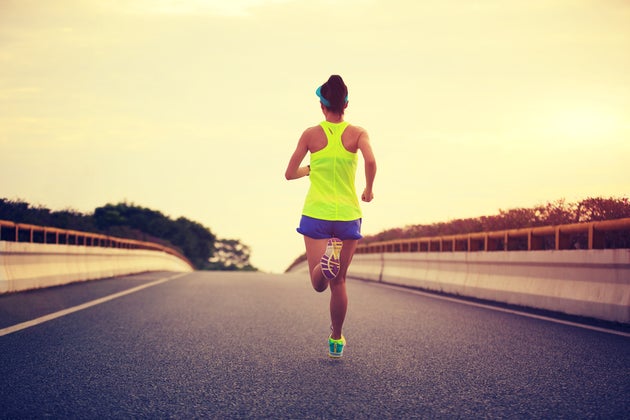 One of the best parts of being a runner is the awesome community you get to be a part of. Runners are welcoming and inclusive and full of amazing insight and advice. If you have a question about choosing a race distance, coming back from an injury or what foods will best fuel your workouts, a fellow runner is guaranteed to have the answers. But when it comes to some problems, runners can have a hard time stepping back and seeing the big picture, and it takes a non-runner to bring us back to reality.
Recently, I've had a hard time running and exercising in general. I'm in the last few weeks of my second pregnancy and just don't have it in me for anything too strenuous. But even though I know that it's normal to physically slow down, mentally I've been struggling without my workouts. I'm used to planning my day around a run, and not having that in my life anymore has made me feel everything from bored to anxious to just plain lazy.
On a day when I was feeling particularly sorry for myself and complaining about how out of shape I must be becoming, my husband turned to me and said, "This is not the end of the world. It's just a temporary break. You'll be on your way back to normal in no time." At first his bluntness annoyed me (It's not the end of his world maybe, he hates running!) but after it sunk in, I realized how right my non-runner husband was.
It's common for runners to get caught up in the cycle of training schedules and to fixate on hitting specific mileage and pace goals with every run. So when circumstances force a break from working out, it can be extremely frustrating. But for a more casual exerciser, a few excused days or weeks without activity are much more easily forgiven, because there isn't that pressure to track and analyze each workout that runners often impose on themselves.
I won't lie and say that I don't still stress about missing workouts or worrying about getting back into shape after the baby. But I do have a different mindset about it now and am trying to focus on how short a window of inactivity this will be in the grand scheme of my overall healthy life. It's a lesson every runner—pregnant, injured or just burned out—should learn.
Not only is it okay to take a break (and it is just a break), it's sometimes necessary. And if you're worrying yourself sick about losing your fitness level, know that how stressed you are is an indicator of how passionate you are about running and a sign of how committed you'll be to getting back into shape when the time comes. Most importantly, don't forget to turn to turn to the non-runners in your life for some much-needed perspective once in a while—they might just have the answer you didn't know you needed to hear.