How Running Prepared Me For Motherhood
Endurance isn't just for runners—the women who brought us here need it in a huge way as well.
Heading out the door? Read this article on the new Outside+ app available now on iOS devices for members! Download the app.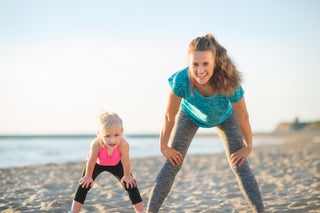 When I was pregnant, everyone told me that you can't prepare for motherhood. Since my son has come along, I've had my share of days that were challenging, to put it mildly (World War III). While there were plenty of things I wasn't prepared for—you don't fully understand a diaper blowout until you've lived through one—I think I was already equipped with a few qualities that have helped me survive. Because before I was a mother, I was a runner, and I think the two have a lot in common. Physically, they both can test your limits, make you feel muscles you never knew existed, and just plain exhaust you. Emotionally, they can make you burst with pride, break down in tears, and even test your sanity. I'm just at the starting line of the marathon that is motherhood, but I've already found that some of the best things I've learned from running have helped me get through the things I couldn't prepare for with a new baby. Here are the things I can't live without (Besides coffee. All the coffee.):
Endurance
Whether you're running your first mile or training for a marathon, it's crucial to cultivate both your physical and emotional stamina. Each successful long run or hill climb makes you confident that you have the endurance to get through it the next time you want to give up. It's also crucial to develop endurance as a mom, because there have been times when I was positive I just couldn't do it anymore. Going through night after night of infant insomnia is the definition of torture, but after I survived the first night I knew I could do it again. I may not have felt like I had the physical strength to keep going (again, I can't stress the coffee enough), but I had the mental endurance to push through.
Related: What Morning Runs Are Really Like For Moms
Increased pain tolerance
Let's face it—running can hurt. It's not just the injuries; blisters, shin splints and lost toenails are all part of the package. But you learn when to push through and when to treat the problem and end up stronger for it. The aches and pains of motherhood start in pregnancy and lead to cracked nipples, headaches and sore backs. Knowing when to power through the minor pains and when to listen to my body is an invaluable skill that running has taught me; I know the difference between needing an ibuprofen and needing a nap.
Related: Run-To-Running Tips For New Moms
Super strength
Runners are a strong bunch by default. The more you run and train, the stronger your muscles will become. In my opinion, runners have some of the best legs out there! But the sport takes just as much emotional strength as it does physical, and you need a tough mind and spirit to push through setbacks or difficult runs. In the same vein, lugging groceries in one hand and a sleeping baby (plus car seat) in the other has toned my arms in a way no dumbbell ever could. More than that, though, experiencing pregnancy, childbirth and the intricacies of raising a child has helped me realize how much emotional and mental fortitude I have.
Resilience
If you're a runner, you've very likely had at least one disappointing race or run. But you didn't quit and hang up your shoes—you got over it (maybe after a little wallowing) and got back out there to chase after your next PR. Running teaches you that there are going to be bad days but you just have to lace up again and keep going. I have to say that this is the lesson that has served me best as a mom. Colic, viruses, teething—we've been through the wringer and some days have really felt like the end of days. But I know from experience that if I just put my head down and get through the bad day, a good one is right around the corner. In the meantime, going for a head-clearing run always seems to turn things around. And coffee.  Thank god for coffee.