Running At Every Age: Off To A Good Start
It's never too late—or too early—to become a runner.
Heading out the door? Read this article on the new Outside+ app available now on iOS devices for members! Download the app.
Running at Every Age is our new regular article focusing on enjoying our sport in every decade of your life. Join us here each issue as we highlight the joys and considerations of running as a lifelong sport.
Brittany Petros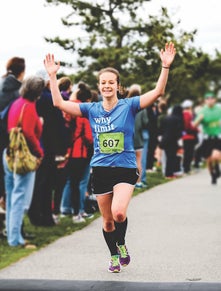 Like most college freshmen, Brittany Petros was overwhelmed with it all—classes at Harvard College, wrestling with the new independence of young adulthood and figuring out who she was and what she wanted to be.
It didn't make sense to anyone—most of all Petros—but on one particularly stressful day, she threw on a pair of sneakers and challenged herself to run the 1.5 miles from her Cambridge, Mass., dorm to the Charles River. She hasn't stopped since.
Running provided a healthy outlet for the chemical and physical biology major. It's also introduced her to some of her closest friends at Harvard, thanks to the Harvard College Running Club.
"It was an easy way to make friends with other classmates who ran recreationally," Petros says. "I've met many close friends, professors, graduate students and administrators on runs, and am happy to be part of an environment in which all runners feel welcome."
In her four years at Harvard, Petros has progressed from 5Ks and 10Ks to half marathons. This year, only one month before donning a mortarboard to walk across the stage at graduation, Petros, 21, will run the Boston Marathon as part of the Harvard College Marathon Challenge group.
"Running has given me a constant amid times of change," Petros says. "Staying active and healthy makes me more mentally alert, too. When I find myself struggling through a statistics problem or grappling with a research obstacle, I go for a run."
Brittany's Top Tips For New Runners
Run your own pace. "You will encounter runners who started running before they learned to walk and those who started days ago. Develop your own milestones and goals."
Log your runs. "As a die-hard statistics fan, the more data that you have on mileage, pace or even feel, the better. Use it to understand what works for you."
Fuel. "Make sure that you're not only eating well but that you're eating enough."
Jessica Burdg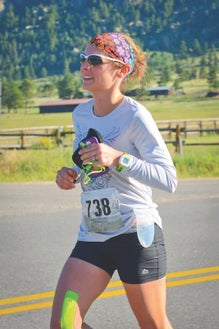 Somewhere along the way, Jessica Burdg lost her sense of self. She loved being a new mom to her daughters, Ella and Emmylou, but there was still something missing.
"I was entirely wrapped up in motherhood and meeting the needs of my girls to the point that I neglected to take care of myself physically or emotionally," recalls Burdg. "I knew I was a good mom, but I didn't feel challenged. It felt like I was losing myself a little more every day."
She needed something that was hers, and hers alone. When her mother suggested she take up running, Burdg was enthralled with the idea of taking an hour of her day for silence and self-care. But was that selfish? Every time she considered even taking five minutes for herself, Burdg struggled with what she called "mom guilt."
"As liberating as those first runs were, it was harder to find hours to sneak away and even harder to justify missing time with my girls. The mom guilt was real, and I almost gave up," Burdg sighs. She bought a double jogging stroller and began to take her daughters with her, but quickly found she didn't enjoy it. Running was her time, and a change of perspective was greatly needed.
"I told myself that instead of taking time away from my daughters, I was taking the time I needed to make me a better mother. I was modeling healthy behavior and setting an example for them."
Four years and 11 half marathons later, 30-year-old Burdg has found herself once more: "Running has made me a better mother. Now that I have an outlet for stress, I can save my troubles for the pavement and be more in the moment with my daughters on both good days and bad. Running has also made me realize I can do hard things (my mantra!) and that I am capable as a person and a woman in this world—a knowledge that stays with me whether I'm wearing spandex and Sauconys or knee-highs and heels. It never leaves."
Meet Other Moms
Mom running groups are all the rage right now, providing a network of women who are willing to push the stroller when you're tired, swap childcare duties so you can get your long run in or simply listen when you need to vent. To find your tribe, try these groups with local chapters across the United States: See Mommy Run, Another Mother Runner and Moms RUN This Town.
Nancy Lambuth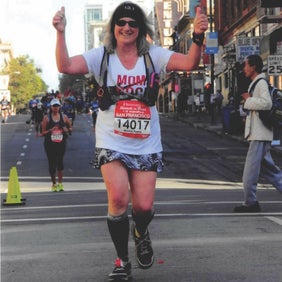 At 63 years old, Nancy Lambuth was eagerly anticipating the next stage of her life. She had always wanted to be a grandmother, and her daughter, Shayne, was about to start a family with her husband. Shayne was excited, and mentioned offhand that she expected her mom to be an active, fun grandma, not a staid one.
That comment really got Lambuth thinking—did she have the physicality for that? She thought about the types of activities she wanted to do with her grandchildren: lifting babies high in the air, crawling on the ground, skipping through playgrounds. At the time, she couldn't handle that. Lambuth decided she needed a training plan. Running, she determined, would provide her with the strength and endurance required for grandparenthood.
"I knew nothing about running," Lambuth laughs. "I didn't even know if I had the right kind of shoes to run in. I started reading Jeff Galloway's Running Until You're 100 and started using an interval plan. A friend invited me to join a beginner running group, and I went to a local running store to get fitted for running shoes."
Lambuth was all in. It paid off in the form of new friends, new milestones (Lambuth proudly boasts of finishing the California International Marathon) and, most importantly, as a new grandma.
"I am so grateful to be able to spend unlimited time and energy with my new granddaughter," she says.
Nancy's Tips For Running In Your 60s (And Beyond!)
Don't be afraid to start because of your age or physical condition.
Respect your body's signals so you don't get injured.
Run to make yourself happy. "I don't worry about pace or where I finish in races. I run to be healthy, enjoy the beauty around me and spend time with my friends."
Related:
How Running Changed My Course In Life
I'll Never Run A Marathon. Am I Still A "Real Runner"?