Gabe Grunewald Plans To Return To Racing After Chemotherapy In 2018
Her attitude toward cancer and competing on the track is so incredible.
Heading out the door? Read this article on the new Outside+ app available now on iOS devices for members! Download the app.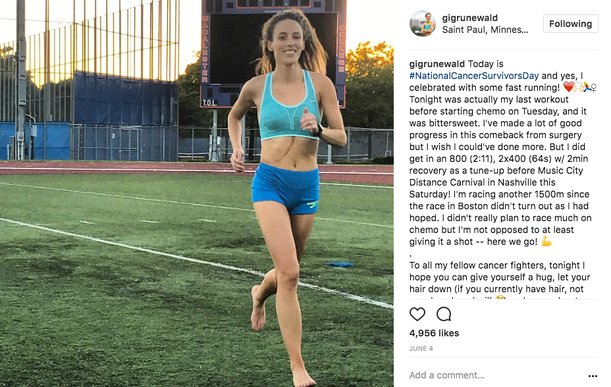 Gabe Grunewald has always been a hardcore competitor on the track, but she's recently been in the running headlines more due to her courageous and public battle against cancer, all while still pursuing the standard to participate in the national track and field championships this summer in Sacramento.
Ahead of this past weekend's meet in Nashville, where she hoped to get the standard in the 1,500 meters—she ended up placing 12th and missing the time by less than 20 seconds—Grunewald was feeling pretty good, considering her first chemotherapy infusion was the Tuesday prior. She posted on Instagram for #NationalCancerSurvivorsDay about her prep.
"I [felt] about as good as I think I could, physically, after my first treatment on Tuesday. I felt heavy from all the fluids from the first infusion (which took about four hours) but I think it has started to work through me. My electrolytes seemed to be a little off for a couple days so I [worked on] hydrating as much as possible and getting in some magnesium supplements. Mentally, I am also feeling pretty good. I'm happy to have my treatment started; it feels good to be doing something to treat the cancer."
Related: Controversy Surrounds Gabe Grunewald's DQ At Indoor Champs
This is Grunewald's fourth bout of cancer in eight years, something no human at any age, let alone a 30-year-old professional athlete, should have to endure. Yet, here she is, smiling from ear to ear, happy to continue running despite it all—and inspiring thousands of runners and fans across the country.
"I am honestly just doing my best to get through this tough part of my life. I think the hope that I'll be healthy in the future keeps me going, just trying to hang in there and believing that the best is still in front of me even though it's been a hard year. I also think having positive and supportive people around me has been a huge boost. I feel fortunate lucky to have my husband, family, friends, my coach, and the whole running community encouraging me."
Grunewald says maintaining her normal life helps her hold onto things that are meaningful, like running and racing. "I know I need treatment and I want to be free of cancer just like anyone else, but I don't want to be solely defined by my disease and the perceived limits of being a cancer patient. My best might not be as good as it is when I'm not in treatment, but it's still worth searching for that and striving to get the most out of myself each day." 
Just days before Global Running Day on June 7, another cancer survivor, Harriette Thompson, made national headlines, becoming the oldest woman ever to complete a half marathon. Grunewald, inspiring people in a similar way on the track, says: "I think it's our duty as humans to inspire each other and do our best with our circumstances, so I think it's wonderful to see her pushing back on some of those limitations."
Although she did not hit the mark needed to compete at the national championships, Grunewald is unsure if she will do any racing after that date regardless, which falls during her 'off' week of treatment on June 20. However, she on the list to potentially still compete at nationals.
"I'm not going to go after another qualifying time. I'm on the descending order list with a 4:11.86 and I'm just going to wait and see if that gets in. I've got a flight booked already though and hoping it will work out!"
This week she has her second infusion, followed by the off week, then she starts round two on June 27. "Right now we are planning for 4-6 rounds of chemo that will likely end sometime in September or October. My goal is to keep running and training as much as treatment allows throughout the summer, with the ultimate goal to get healthy and train to compete in a full track season in 2018."
Related: Brenda Martinez Shares Which Runners Inspire Her
Grunewald says putting on her uniform—she's sponsored by Brooks Running—helps maintain part of her identity as a professional athlete. "It's been important for me to show myself that I can still get out there and chase my dreams, even with a giant cancer scar on my abdomen." [She had surgery last year to remove a large tumor from her liver, leaving a 13-inch scar down her middle.] To me, the scar represents survival and my hope for health in my future, so I try to embrace it and let it be a part of my journey.
"Racing this spring has been one of the hardest things I've ever done, but probably one of the most important things too. I needed some new goals after I found out I had tumors in my liver in March, and I'm so happy that I didn't give up on the whole season even though it wasn't going to be the one I had imagined. Running the standard would be great, but it's about more than the time, for me. It's about trying to get the most out of myself even in the toughest of circumstances."
According to an interview with Flotrack following her race at the Prefontaine Classic last month, Grunewald's scar has inspired others to embrace their own scars; she mentioned one woman who ran in shorts for the first time in five years before she saw Grunewald's scar on the track.
"I mainly want to run the [standard] because I've put in some really solid training and I haven't exactly shown that in my races so far—I'd love to give myself a chance to do that! Then I feel like I can give myself a pat on the back and move into the next step in this journey."