Fun Facts About The World Of Marathoning
Ever wonder how other marathoning countries stack up against the U.S.? Here's your answer.
Heading out the door? Read this article on the new Outside+ app available now on iOS devices for members! Download the app.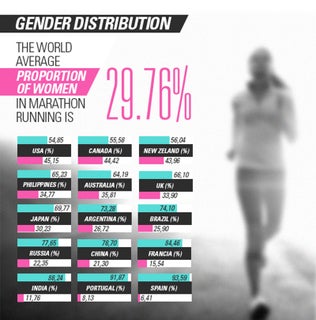 Runrepeat.com, an ad-free website that houses hundreds of shoe reviews, conducted a worldwide study comparing marathon finishers from different countries. Data was collected between 2009 and 2014 from large races, like Chicago, Marine Corps, Boston, London, Paris, Berlin, Frankfurt, Athens, Amsterdam, Budapest, Warszawa and Madrid—totaling 72 events over five years. The number of people included and analyzed in the study? Nearly 2.2 million(!).
Lead researcher Jens Jakob Andersen, founder of RunRepeat.com, says it took three months for his team to compile the information, which covered five years of running, and another two months to sort through everything and ultimately decide what to focus on.
"There are a little numbers in compiling reviews at RunRepeat.com, but having this amount of data to work with was amazing," says Andersen, a former statistician at Copenhagen Business School. "To apply my knowledge is very fulfilling. It started as a smaller side project, but it quickly became quite a big part of my work. It is not to make money or things like that, though I must admit that I do enjoy see my work spread out on the internet. I love to do work that other people enjoy as entertainment and knowledge."
Together with his team, Anderson developed an engaged infographic summary of worldwide marathon stats, from median finishing times, to men versus women finishers, to increase/decrease in participation and marathon popularity. Some of the most interesting tidbits were:
The world average for finisher time (including men and women) is 4:21:21.
The U.S. falls in the bottom half of that average finisher time.
Marathon popularity increased by nearly 14% in the U.S. in the last five years.
Only 6.4%(!) of Spain's marathon finishers are women.
Overall, marathon popularity among women across the world has increased nearly 27% (whereas men, only 8%).
The great U.S. has the highest percentage of female marathon finishers out of any country in this study!
Check out the entire infographic for more insights into our great world of marathoning.