5 "Fearless AF" Women Advise Against Common Race Day Mistakes
Five of the women from adidas' "Fearless AF" team advise on race day mistakes to avoid.
Heading out the door? Read this article on the new Outside+ app available now on iOS devices for members! Download the app.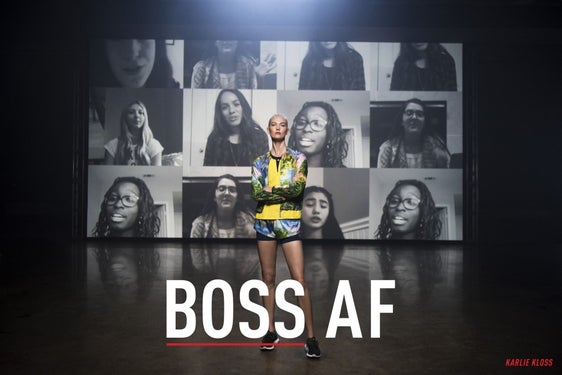 Valuable AF Advice For Race Day
Five of the six women featured in the "Fearless AF" adidas video campaign attended a panel at the adidas flagship store in midtown Manhattan on Friday to discuss the ways in which running has become a social movement, as well as their individual contributions to the sport. Those present included Kathrine Switzer, the first female Boston Marathon finisher and the 1974 NYC Marathon champion; Robin Arzon, a running coach and ultramarathoner; Jessie Zapo, a coach for adidas Runners NYC and organizer of Girls Run NYC; Karlie Kloss, a first-time marathoner, founder of Kode with Klossy and supermodel; and Jen Rhines, an Olympic distance runner.
The women onstage ran the gamut in terms of running and racing experience. While Switzer and Rhines both have decades of running between them, Kloss is representative of the first-time marathoner who's new to training and has battled doubts all along her marathon journey. Despite their differences in experience, all five women agreed upon a few simple dos and don'ts for race day–tips that are valuable to new and seasoned runners alike.
Related: Adidas Launches "Fearless AF" Video Campaign Ahead Of The NYC Marathon
Leave The Free Race Shirt At Home
"Do not wear the shirt they give you for the race," Arzon says. In addition to citing race day superstition and the very real concerns of chafing as a result of wearing unwashed and untested gear, the overenthusiastic act of dressing up in the event t-shirt is kind of like when a teenager dresses up in full formal attire for the first dance of their high school career. "It looks silly," Arzon says.
Nothing New On Race Day
Switzer's advice relates closely to Arzon's. "Don't do anything new on race morning that you haven't tried in practice," she recommends. Asked how long before a race runners should stop trying new fuels, clothing and other race accessories, Switzer and Arzon agreed that the three weeks before an event is a good timeline during which one can perfect their running strategy without having to worry about introducing new elements.
Ignore The Devil On Your Shoulder
"Don't listen to the negative voice in your head that tells you to stop–because it's lying," Zapo says. There will be moments during the race when you'll want to stop, or think you simply can't go on. When those negative thoughts crop up, just focus on putting foot to pavement. "You're going to feel a lot better when you finish than if you drop out," Switzer adds.
Expel "Never" From Your Vocabulary
"Never say never," Kloss says. Before registering for the NYC Marathon, Kloss hadn't considered herself a "real" runner. Before her training began, the farthest she typically ran was about 2 miles. "I never thought I'd be running the NYC Marathon–and here I am."
Don't Be An Early Speedster
"Don't go out too fast," Rhines says. "It's the biggest beginner mistake." Preventing her training buddy Kloss from beginning at too quick a pace on Sunday is one thing that Rhines is preparing for. After all, it's easier to muddle through those 26.2 miles when you've got a buddy by your side. "Running together and being held accountable has been very important [to my training]," Kloss says.
Runners might also be tempted to pick up their pace when spectators shout encouragement along the route. Switzer warns to be wary of the impact this can have on your mid-race psyche. "For all first-timers: don't listen to what people say on the sidelines when they say, 'You've only got a mile to go!'," she says. "They're lying. They're wrong."
Related:
Therapy Dogs At The NYC Marathon Starting Line
Kellyn Taylor Aims For Top 10 Finish At NYC Marathon