Here's An Excerpt From Spitting In The Soup—It's About Doping
This new book dives deep into the dark, dirty sport of doping in sport, something that's unfortunately still rampant today.
Heading out the door? Read this article on the new Outside+ app available now on iOS devices for members! Download the app.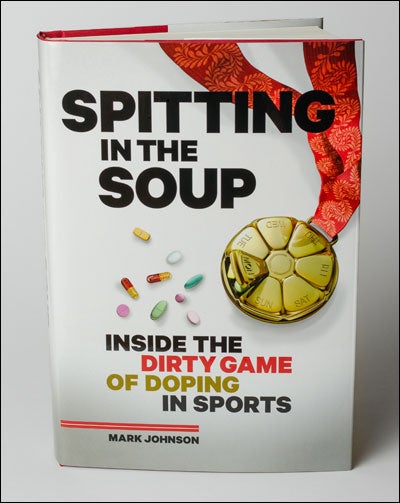 Used with permission of VeloPress from Spitting in the Soup: Inside the Dirty Game of Doping in Sports by Mark Johnson. Learn more at www.spittinginthesoup.com.
The morning of August 30, 1904, dawned hot and humid in St. Louis, Missouri. The United States was hosting its first Olympic Games, and it was as if an oppressive blanket had been lowered over the Missis­sippi River town for a signature event, the marathon. Fourteen miles into the 24.85-mile run (the 26.2-mile standard was not established until 1908),1 runner Charles Hicks—British-born but representing the United States—doubled over on the side of a road in what a Brooklyn Daily Eagle reporter called "sweltering heat and clouds of dust."2 Along with the swampy conditions, Hicks and 31 other runners dodged a torture trail of unpaved roads and ankle-twisting rocks. Dust accumulated in powdery pools so deep it swallowed the runners' shoes. There was one water stop—a well 12 miles into the course. Farm dogs added misery. A pack of snarling canines chased a black South African competitor off course. Meanwhile, running in cutoff trousers and street shoes, the race's sole Cuban, a mail carrier named Félix Carvajal, scrounged fruit from an orchard along the way. The Cuban promptly puked up a gut full of pulp. In these conditions, turning to modern medicine was logical; refusing to offer it would have been ethically shocking.
A physician and Olympic chronicler named Charles Lucas trailed the 5-foot 6-inch, 133-pound Hicks in one of 20 race follow cars. While two of these support vehicles ended up flipped over in roadside ditches, the remaining parade kicked up so much dirt that runners had to peri­odically stop to hack their lungs free of crud. Press reports describe a California competitor named William Garcia found "lying unconscious by the roadside several miles from the stadium." Garcia collapsed from a dust-induced stomach hemorrhage. As for Hicks, Lucas felt his charge was not the favorite. "There were three other men in the race who were better runners than Hicks, and who should have defeated him," the doc­tor noted. "But they lacked proper care on the road."3
"Proper care" meant drugs. When Hicks hit the wall 10 miles from the finish, he begged for water. Hicks's Boston-based trainer, a football coach named Hugh C. McGrath, was in the car with Lucas. Hewing to cutting-edge fitness doctrines of the day, McGrath and Lucas denied the dehydrated Hicks's pleas for water. Instead, they furthered his torture by sponging his mouth with distilled water. Three miles farther along, with other runners dropping out with cramps and heat exhaustion, Lucas had to turn to more sophisticated medicines. With Hicks's pace reduced to a crawl, Lucas recalled that he "was forced to administer one-sixtieth grain of sulphate of strychnine, by the mouth, besides the white of one egg."
Though we know it as a rat killer, strychnine was a common endur­ance sports drug at the turn of the 20th century. "Strychnine is a grand tonic," novelist H. G. Wells exulted in his 1897 book The Invisible Man. In Wells's opinion, the drug was a performance-enhancing wonder that took "flabbiness out of a man." Strychnine affects the central nervous system, and when taken in small doses, it allows neurons to fire even when neurotransmitter levels are low due to fatigue. The result is a feel­ing of agitated energy. Indeed, swallow 100 milligrams of strychnine and your muscles will begin twitching uncontrollably. You will shiver with restless unease before respiratory arrest sets in. Although Lucas had another common chemical performance enhancer, brandy, in the car with him, he kept Hicks on the strychnine with 10 miles to go, think­ing it best if Hicks abstained from other stimulants as "long as possible."
Related: John Oliver's Take On Doping Ahead Of Olympics Is Spot On
At the 20-mile mark, Hicks began to turn gray. Shock and heat exhaustion were shutting down his system. With his progress reduced to a walk-march on climbs, Lucas administered Hicks another "one-sixtieth grain strychnine," two more eggs, and a mouthful of brandy. Stopping to warm a pan of water on the car radiator, Lucas and McGrath gave Hicks a sponge bath. The roadside cleanse, raw eggs, strychnine, and brandy had their effect. "He appeared to revive and jogged along once more," Lucas reported.
In first place with 2 miles to go, Hicks began to hallucinate. He insisted the finish line was 20 miles away and begged for something to eat. After refilling their exhausted liquor canteen with booze from another sup­port car, McGrath and Lucas gave their delirious runner brandy but no food. Two hills loomed between Hicks and Olympic glory. Reinforced with more brandy on top of the strychnine already coursing through his system, Hicks rallied, fought his way over the two summits, and took marathon gold.
At the finish, however, another athlete temporarily stole Hicks's glory. Fred Lorz of New York City had arrived first, entering the stadium to thunderous applause, and had apparently taken the win. When it was later revealed that Lorz had hitched a car ride to the finish, Lucas exco­riated the disqualified New Yorker, writing that he had nearly robbed Hicks, a newly crowned hero who was only "kept in mechanical action by the use of drugs, that he might bring to America the Marathon honors, which American athletes had failed to win both at Athens and at Paris."
Related: Doping and Drugs in Women's Endurance Sports
The position of the authorities was clear: Getting a ride in a mechan­ical conveyance was cheating. But taking an assist from chemical stimulants was commitment, a heroic glorification of country. After mar­athon failures at the first two modern Olympics in 1896 and 1900, the Yanks had turned to modern chemistry and delivered victory. Hicks's doctor publicly celebrated the win as a show of American courage and vision—a Yankee unification of chemical science and personal moxie in the interest of ultimate performance. In his post-race report, Lucas applauded drugs in sports: "The Marathon race, from a medical stand­point, demonstrated that drugs are of much benefit to athletes along the road, and that warm sponging is much better than cold sponging for an athlete in action."
After the race, a team of doctors examined Hicks and the 17 other marathon finishers to compare their before and after physical condition. In his 1998 book on the Olympics and the American experience, Making the American Team, historian Mark Dyreson explains that these medi­cal experts were motivated by national pride—"a desire to convince the nation that a scientific understanding of athletic technology could guar­antee the progress of American civilization." As we will see, the founder of the modern Olympics, Baron Pierre de Coubertin, linked the creation of his Games to the revitalization of French national character. In the third iteration of the Olympics, American doctors also hitched athletic excellence to national pride, attributing their boys' success to a Yankee capacity to wed brave medical technology to bold national character. An athlete's healthy body "is the safest guardian of morality and civiliza­tion" wrote James Edward Sullivan, chief of the Department of Physical Culture for the St. Louis World's Fair, which ran in conjunction with the 1904 Olympics.4 For forward-looking, scientifically minded Americans, combining modern chemistry with natural physical ability was a point of pride and distinction—evidence of the New World common man's superiority. Alongside a World's Fair that awarded seven gold medals for the best presentations on sports science, associating the application of pharmaceutical science to American athleticism with moral corrup­tion would have thoroughly puzzled an attendee of the 1904 Olympics.
[velopress cta="See more!" align="center" title="More from the Book"]