Is Emily Infeld A Cinderella Story For The Masses?
She crossed the line in a huge grin when she realized she made the team—so is she the Cinderella story America should watch in Rio?
Heading out the door? Read this article on the new Outside+ app available now on iOS devices for members! Download the app.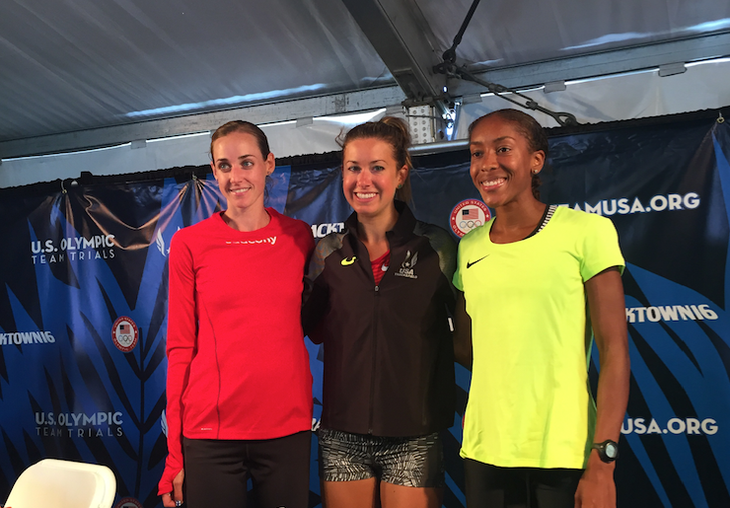 When you stack up stats, results, commentary, opinions and all-time marks next to each other from all elite runners, the argument can almost always be made that any of those runners have had a worthy Cinderella moment at some point in their career. As a fan of the sport, I can't help but be captivated by not only Emily Infeld's speed and tenacity on the track, but also her giddiness and willingness to just show open love for life and the sport she loves: running.
If you look at her track record (pun intended), it's plagued with injuries. Suffering multiple injuries, including a sacrum fracture twice; setbacks with emotional and physical exhaustion; and inability to recover properly from major runs that spanned basically 2011 to 2013, she had a solid argument to give up, hang up those spikes and find a new passion. She could have snuck out quietly; before last year's turn of events at the world championships, the average fan of the sport didn't really know who Emily Infeld was. Wait, she trains with Shalane Flanagan, right? Right, and she's been a member of the Bowman Track Club since 2012, so she's definitely not a brand-new pro.
Today, Infeld is all smiles, as she qualified for her first Olympic team in the 10,000 meters, finishing second behind Molly Huddle. In fact, she was all smiles the second she stepped over the line, realizing she finished second and fulfilling her childhood dream of becoming an Olympic athlete.
Related: What Went Down At Day 1 Of The Olympic Trials?
"Even Jerry [my coach] this morning said, 'You've dreamed of this since you were a little girl, and I'm, like, 'I know. I don't even want to think about that right now, I just want to focus on the race,'" said Infeld at the post-race press conference. "Then right when you cross the finish line, it's 'Whoa! We are doing it! We are really doing it! We are going to Rio!'"
There has always been something about Infeld's infectious energy toward everything—be it her bubbly Instagram posts, her zest for life that is so easily visible on and off the track, or the fact that she literally did not stop smiling from finish line to cool-down. One might even notice her words feel more raw when it comes to answering popular post-race questions; she doesn't seem as calculated, in a good way, with what she says and how she says it. That isn't a bad thing; it's refreshing to hear the voice of a person who hasn't tired of the attention and people's desire to learn more about what drives her. She isn't afraid to be joyful in front of the cameras—she doesn't shy away from being herself or mask her vibrant energy in any way.
Even the way she describes her race breakdown seems so easy, so simple, for a runner, who knows nothing about tactful running, to understand. "The difference between first and seventh place is basically a second per lap, so basically the same pace. So I didn't want to get too stressed out that I had to be right there like right now. I let the race play out."
Related: There Was Plenty Of Action At Day 2 Of Olympic Trials
It's relatable and makes sense—how many times have you watched a gap form between runners during a long track race and noticed they are still running stride for stride? I know I have. All of these smaller things, from how she races to how she speaks about that race, bring a level of innocence back to running—a really fast, hardcore, inspiring, badass level of innocence.
So is she the Cinderella story everyone will be rooting for at the Olympics? I guess it depends on how you look at it. She shot herself to fame already after darting past the incomparable Huddle, who holds the U.S. record, to claim a world medal, so perhaps she's already had her underdog moment in the spotlight. On the other hand, maybe that "fluke" was her shortcut to launching the Infeld name onto the radar of this year's Olympic track and field fans. While Shalane Flanagan focuses on the marathon, it could be Infeld who steals America's heart on the track.
Of course, you can't ignore that Huddle predicts it will take an American record effort to do great things in the 10,000 meters, like medal, so it's a good thing there are no hard feelings between Huddle and Infeld after what went down at worlds. They both laughed and admitted they were friends, but "it would be a better story if we weren't," laughs Huddle.
"Molly's someone I've looked up to a ton, and she's just a fierce competitor and the top of the class, the top of the field," says Infeld. The two will hopefully have plans to work together in Rio, along with now-Team USA teammate Marielle Hall, so here's to hoping for a Cinderella Team USA story 25 laps long.