Elite Runner Shares Her Pro Tips On Kicking Self Doubt
Stephanie Bruce brings top suggestions on how to silent those mental demons.
Heading out the door? Read this article on the new Outside+ app available now on iOS devices for members! Download the app.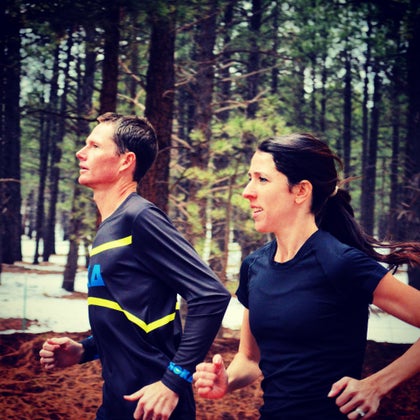 Question from a fan on Facebook: What's the best way to overcome the negative battle in your mind about yourself as a runner? 
Tell the mental demons they are not welcome!
The mind is powerful. It allows us to think critically, logically, and emotionally. As runners it is one of our greatest assets—if you could only tap into it a positive manner. How many times have you stood on the starting line, doubting every bit of your training cycle, overthinking what you ate in the last week or worrying about that nagging Achilles that magically popped up the day before the race? These thoughts have probably crossed your mind more than, Gosh I'm in phenomenal shape, my training has gone awesome, can't wait to smash this race, has. But what if we did change our thinking to 100 percent positive thoughts and blocked out the negative self talk? We'd be less stressed, looser on the starting line, excited about the race, and odds are we'd perform close to our best. This is ideal, but in the running world, it's very difficult to attain.
Years ago I met a sports psychologist named Stan. Stan challenged the minds of athletes and called out their fears and sabotaging thoughts that he felt held the athletes back from optimizing their performance. He would have athletes share their goals and fears until they almost in tears for saying all the negative crap in their head out loud. Pretty intense, but cathartic at the same time. After working with Stab, I was able to recognize my shortcomings as a runner, acknowledge they exist but then throw them in the garbage.
You are the only one in charge of your running when you are out there. Yes your coach and training program are there as a guide, but the decisions you make at the 18-mile mark of the marathon, or during the fifth mile repeat during a workout, or during your pool workout, are ultimately in your head. Your head—not your body. Injuries and sicknesses aside, when everything is firing for you while running, your mind is the one that tells you to slow down, that you're in pain and that you can't sustain that pace. If you've done the training and are healthy, use your mind to tell your body what to do. Basically: "Put your body in its place." Positive self talk receives a lot of flack and criticism; some think it's all fluff and not realistic. Yet if you asked people running PRs and nailing their workouts what they told themselves during the race, they'd most likely say, "You are strong, you can do this, keep pushing, just one more mile." It's not that we have to ignore the mental demons that creep in—we simply tell them they are not welcome.
Here are some steps to beat negative thoughts:
1. Find a saying, quote or source of inspiration to pull from when the pain starts to set in. Mine is Rocky and his fights in Rocky 3 and 4.
2. Believe in what you're doing—the training, the coach or mentor and the process. Hiccups will happen along the way, but you're outlook on them is what makes them only temporary instead of a permanent problem.
3. Be kind to your image as a runner. If you're running, you're a runner regardless of your weight, stride length, PRs, etc.
4. Stand on the starting line always thinking, My 'shiz' don't stink. I call it: fake it 'til you make it. Even if your training cycle wasn't perfect, odds are you're in better shape than you think, so why not believe in yourself?
5. Don't limit yourself before the workout or race even begins. You've finished workouts, so you have an idea of the shape you're in. Yet workouts aren't always indicative of your ability to race and tap into the "magic."
Other topics by Steph Bruce:
Stephanie Bruce Dishes on 7 Myths About Elite Runners