Door County Opens The Door To Great Wisconsin Running
One of our editors shares tips on where to run, hike and dine while exploring Door County, Wisconsin.
Heading out the door? Read this article on the new Outside+ app available now on iOS devices for members! Download the app.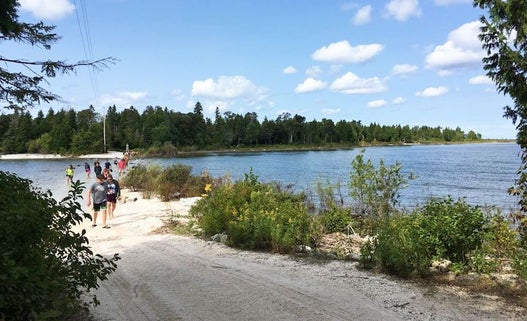 Door County, Wis.
Travelers are always searching for locations that have beautiful views, intriguing history and lots of opportunities to explore. It's a bonus to find a town that isn't overrun by tourists or densely populated, greater still if there are as many indoor as outdoor activities to try. For active travelers, Door County, Wisconsin is one such hidden gem that's as beautifully unique as it is quirky and fun.
I had no idea what to expect when I was invited on a press trip to Door County, a land of roughly 27,000 people in northeastern Wisconsin. I've spent most of my life in California, and the images that came to mind when I thought of Wisconsin–a state I'd never visited before–were all gleaned from television (mostly episodes of That 70s Show) and my late grandfather, a proud Packers fan and Cheesehead for life. I expected to see cornfields and cows (check, check), but I certainly didn't expect the terrain to be so green. Coming from Southern California, where our hillsides of browned vegetation are making local firefighters nervous about the likelihood of another scary fire season, Wisconsin's lush vistas dotted with cherry orchards and healthy fields of corn (so much corn) had the same effect on my eyes as when a fluffy puppy walks my way: I was excited and couldn't stop staring. The eastern and western edges of Door County give the eyes even more to soak in, since they border Lake Michigan and Green Bay, respectively. On this delicate peninsula of "America's Dairyland," one can walk along beaches, troop through forests, cruise past farmland along open highways and get a dose of small town life–all in one day.
Related: 5 Things I Learned About Running In Door County, Wisconsin
Where Is It?
At this point, you're probably wondering: Where and what the heck is Door County, anyway? That was my first thought–so here's a brief history lesson. Door County has been around since 1851, almost as long as Wisconsin itself. Nestled between Green Bay and Lake Michigan with its finger-like shape pointing toward southern Ontario, CAN, the county experiences postcard-worthy beach weather in the summer and freezing temperatures during the winter, with its surrounding bodies of water hiding beneath as much as two to three feet of ice as snow coats the land. For this reason, many of the local hotels and restaurants operate seasonally, their most profitable months landing between Memorial Day and Labor Day.
Door County alone is home to five state parks and 19 county parks, many of which were once populated by Native American tribes like the Potawatomi. During the summer, visiting this slice of land is like winning the lottery for outdoor enthusiasts. There are plenty of trails on which to run, hike and bike, its calmer lakes provide plenty of space for kayakers, paddle boarders and fishing boats to splash around, and its eastern shore is an ideal docking location for the sailboats and high-speed units that cruise along Lake Michigan.
The three days I spent in Door County were among the best of my summer–there was great food, friendly people and more activities than I could possibly squish into my visit. For those interested in learning more about what there is to do and see in Door County, read on. Just remember that summer will be the best bet for an outdoorsy visit–at the end of August, there was low humidity and plenty of sunshine, but temperatures stayed in the mid-60s and 70s during the daytime, making the weather ideal for taking advantage of all the outdoor activities available to visitors.
Related: 11 Things Only Midwest Runners Understand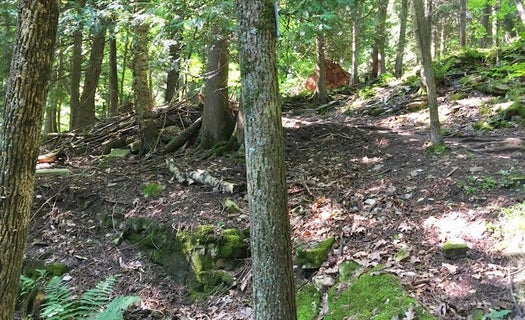 Running And Hiking
Naturally, one of a runner's first questions upon arrival in Door County is: Where can I run? The answer: almost anywhere. I stayed in Baileys Harbor along the eastern coast of Door County, where running trails were accessible just off State Highway 57, along which many of the area's hotels are situated. In the summer, one can lace up before the day's heat settles and run along tree-framed paths right by the water's edge. It's a beautiful way to start the morning, and the late August temperatures (settling in the upper 50s and low 60s in the early mornings) made for comfortable running weather. Door County is very runner friendly, with several walking (or running) paths woven into the framework of its small towns and along the water. But the state parks are fun for runners, too. Though best explored while hiking, state parks like Whitefish Dunes and Potawatomi consist of wide trails that allow runners and hikers plenty of room on which to navigate.
Related: We Dissected The "Best Tips" For Running On Vacation
Visiting Old Baldy
Whitefish Dunes State Park has one of the county's best trails for running. It's mostly flat and features changing terrain one delves deeper into the park. There's a crescent of sand near the visitor's center at the park entrance, on which children build sandcastles during the summer. There's plenty of room to run along the sand, but there are also miles of trails to explore on the other side of the trees that line the beach. The main path through this park eventually branches off and up: after climbing a short incline, one can enjoy the views from atop Old Baldy, the state's tallest sand dune standing at 93 feet. Though the consistency of the path varies between sand, grass, dirt and gravel, it's an easy trail to follow, scoring low on the difficulty scale for runners, hikers and cyclists.
Scouting For Eagles (They're Around Somewhere…)
Hikers up to a greater challenge would do well to explore Eagle Trail at Peninsula State Park. Though a short 2-mile loop is accessible, visitors are advised to watch their step as they descend roughly 150 feet from the road to the edge of Eagle Bay. The trail is marked by visible tree roots and rocks, and is made slippery due to rainfall and spray from the nearby bay. Adventurous trail runners might dare to test this trail for tough training purposes, but hiking alone is tricky enough. That being said, the tree density makes for gorgeous photography: glimpsing Eagle Bay through low-hanging branches offers a stunning blend of blues and greens, and the rocky bluffs that outline the trail are cluttered with shallow caves.
Related: Why Runners Are Flocking To Bend, Oregon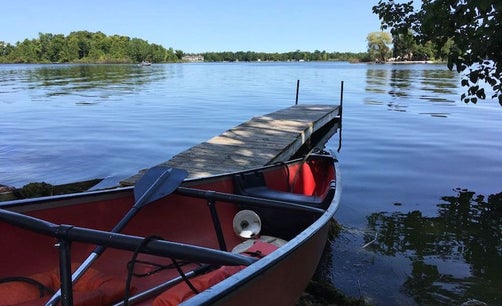 Cross-Training
As mentioned above, there are several outdoor activities available for summertime visitors that make Door County a destination for cross training. Whether you're taking a breather before fall marathon season or simply setting the "reset" button on your training, there's lots to do without losing your fitness. We've touched upon hiking trails open to visitors, many of which are also accessible to cyclists. (Peninsula State Park specifically has a 10-mile tree-lined bike path that's moderately flat, and Newport State Park has more than 17 miles of trails open to mountain bikers.) With Lake Michigan and Green Bay both straddling the peninsula, there are also several places for kayakers, paddle boarders, swimmers and fishing boats to explore. There are underwater caves to visit via kayak at Cave Point on Lake Michigan, calm waters to glide across off the coast of Nicolet Beach on Green Bay and shipwreck sites to view above water near Death's Door, the strait at the northern end of the peninsula from which the county earned its name.
Related: Why Paddle Boarding Is Summer's Favorite Activity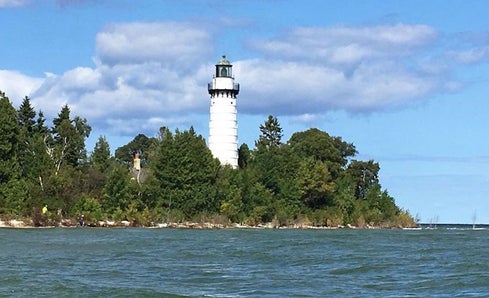 Adventure
Door County has zip lining, diving, brewery and cave tours, all of which offer visitors chances to explore the county in ways tailored to their interests. One of the best ways to get an accurate scope of the peninsula's size and beauty is on a boat. Door County native Matt Olson is the owner, founder and captain of Door County Adventure Rafting, a small operation that takes tourists speeding along Lake Michigan. After a wary departure from Bailey's Harbor during which Olson jokingly played the opening verses of Celine Dion's "My Heart Will Go On," Titanic-style, our fearless captain cued up Ozzy Osbourne's "Crazy Train" and aimed the high speed boat and its seven passengers toward the open water.
Any one person's boat tour experience will depend upon the weather of the day. There were moments when I had little faith that the hand grips I clung to would keep me inside the boat; it was a choppy day, and every time we hit a wave at an awkward angle, I was certain I was going overboard (I didn't, nor did any other passenger). As the journalist on my right dug her nails into the leg of the journalist on her right, our captain kept the mood light, teasing, "I've never lost any passengers overboard–I always go back for them!"
Related: The Most Gorgeous Alaskan Race You'll Ever Do
As the boat caught air on the chop and blared classic rock tunes over the waves, its passengers had the opportunity to absorb Door County's skyline, made green by the abundant trees with occasional lighthouses sticking out to warn nearing boats of the rocky coast they stood upon. In calmer, shallower moments on Lake Michigan, the water was clear enough for our group to peer over the side of the boat and glimpse old shipwrecks collecting algae beneath the surface.
Since Door County is so strangely shaped, more than 275 ships have wrecked off its coast—and many of those are visible by boat. One of the county's 11 lighthouses, located on Cana Island, remains operable after nearly 150 years of service. Standing tall at 97 steps, the Cana Island Lighthouse is only accessible to tourists via a natural causeway that theoretically separates Green Bay from Lake Michigan (though, depending on the time of year, visitors might tromp through several inches of free-flowing water or travel by tractor from the island to the mainland). It's also one of the spots to which the Door County Adventure Rafting tour pays a visit, bobbing along the water so visitors can take pictures and learn about the original Fresnel lens still in use.
Related: 7 Great Places To Run In New England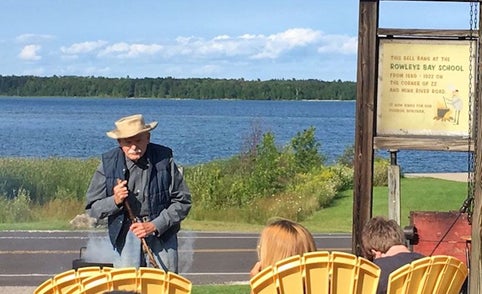 Good Eats
Hiking, running, adventure rafting, kayaking—these activities build a strong appetite. Much of my Door County trip was spent in food heaven—and I really don't know how else to describe it. Authentic fish boils take place up and down the coastline as restauranteurs embrace foods grown and caught locally. Food is very much a community-supported business in Door County: from the whitefish cooked at places like Rowley's Bay Restaurant & Fish Boil to the cherries used in Fred & Fuzzy's Waterfront Bar and Grill's house margaritas, restaurant and hotel owners work together to support and encourage local specialties.
This is similarly evident in the symbiotic relationship within the Door County Coffee & Tea Company (which, by the way, if you ever have a chance to attend their "coffee college" class, take it), where more than 100 coffee blends are distributed throughout the county and the storefront itself transforms local foods into breakfasts bound for Instagram fame. The community feeling this collaboration inspires is warm and authentic: when inn owners mention that the cherry oatmeal cookies offered during breakfast use cherries from local orchards, or when restauranteurs proudly explains that most of their food is locally sourced, the sincerity of such declarations makes visitors feel good about the food they're consuming.
Related:
The 12 Best U.S. Cities For Runners
Plan Your Next Vacation At One Of These Adult Running Camps