Don't Be A Race Bandit–No Matter How Badly You Want To Run
Regardless of how badly you want to race–or how hard you try to register–it's never okay to be a race bandit.
Heading out the door? Read this article on the new Outside+ app available now on iOS devices for members! Download the app.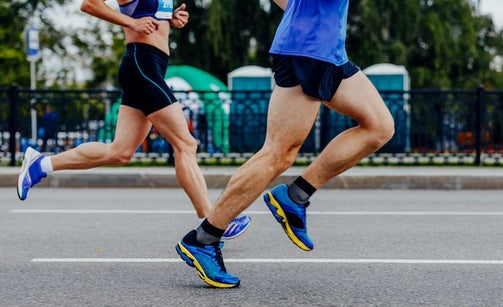 Race Lesson Learned: Don't bandit a race, especially one in which you might PR.
Race: The Mesa-Phoenix Half Marathon
Date: February 28, 2015
Location: Mesa, Ariz.
Steph's Time: 1:37 (not official)
Before I begin, I'd like to state for the record that it was not my intention to run as a bandit. I earnestly wanted and desperately tried to register. I did not yearn to be the bib-less runner, dodging glances from volunteers at water stops and sneaking through the finish line.
You see, Matt was originally planning to travel solo to Phoenix to visit his family and compete in this race. As race day drew nearer, my FOMO (Fear Of Missing Out) kicked in. This FOMO was magnified by the fact that I was struggling through my first official Chicago winter. Knowing that I would be stranded in Chicago while Matt was in the Valley of the Sun was more than I could bear. So two weeks before the race, I bought my flight and went online to register for the race.
And that's when I was greeted with the fateful news: the half marathon was completely sold out! Completely forlorn, I scrambled for other options. Maybe I could find someone selling an unwanted race entry online, I thought. I combed the web: race forums, Facebook, Twitter, Instagram, and Google searches galore, all to no avail. I was left with two options: I could either spectate the race, or I could run as a bandit. Hesitantly, I chose the latter.
This was actually my second time racing as a bandit. To my credit, I was a poor college student during my first, and I didn't know any better. During that inaugural renegade run, I discovered that the bandit entry is not truly "free," at least not for me. I'm a bit too paranoid, riddled by the fear of being reprimanded by race officials, to actually enjoy my race experience. I convinced myself that this time would be different, since I'd actually tried to register.
We drove in the dark to the race start with Matt's parents, who were our cheering squad for the day. It was a "chilly" 50 degrees, freezing by Phoenix standards, as we waited for the race to begin. Local runners, bundled head to toe, huddled with chattering teeth around patio heaters. Matt's dad suggested we "wear" trash bags to keep warm. I happily agreed; a perfect way to conceal my nonexistent race bib! For a brief second, I even contemplated wearing the trash bag during the race, however I worried about the excessive drag from the bag. Instead I emulated a true bandit evading capture, and I opted to run the course as fast as I could to avoid being caught by race officials.
Luckily for me, it was a flat course with several downhill stretches, so running quickly was not an issue. I settled into a fast pace, identical to two other runners. The three of us ran for several miles before conversation ensued. The lady commented on our collective pace and asked if we were hoping for a PR. Until then, too worried about my bandit identity being discovered, I hadn't even considered a PR. Curious, I did a few quick calculations and realized that if I simply maintained this pace, I could indeed PR.
Ecstatic, I forged ahead, careful not to grab any sort of sustenance at the aid stations (I couldn't be a true thief!). I crossed the finish line with a self-reported time of 1:37, which was a five-minute PR from the previous month's Mississippi Blues Half Marathon!
And that's when it dawned on me. This wouldn't count as a true PR. I didn't have an official timing chip attached to me, reporting my times. I couldn't even validate my PR on the race website, since my name would be M.I.A.!
Despite the circumstances, I couldn't help being (a bit) excited as I searched for Matt and his parents. I learned that Matt had also bonded with fellow runners to keep pace along the way. He didn't PR, but finished in 1:19 and 10th in his division. As I explained my moral dilemma about my "PR" to Matt and his parents, I realized my fate. I was being punished for my renegade run. I had snagged a PR, but I couldn't claim it as official. I had learned my lesson. I made a vow that I would never bandit another race, even if it is completely sold out.
Related:
Race Recap: PRing At The Saints And Sinners Half Marathon
50 Years Ago Bobbi Gibb Became The First Female Boston Finisher