Is Being Competitive A Bad Thing? Des Linden Shares Her Thoughts.
There's a place for everyone in running, she says.
Heading out the door? Read this article on the new Outside+ app available now on iOS devices for members! Download the app.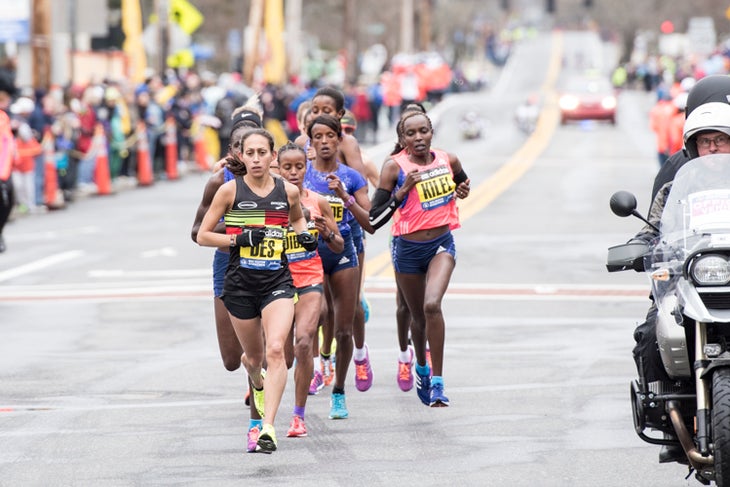 Olympian Des Linden is one of most tactful and competitive distance runners in the world. She attacks every course fiercely, a way that's been compared to an animal on the prowl. Her grit feels endless, and her modesty—and often sarcasm—makes her personality one of the most relatable among professional runners. When you're in the business of qualifying for the Olympics and attempting to win the Boston Marathon—if she does on Monday, she will be the first American woman to do it in 32 years—a focused competitive mindset is non-negotiable.
As a competitive runner who enjoys the PR chase and the life stories of these elite runners, I got curious about that word: competition. Does it have a welcome place in our sport in 2017? I've heard my fair share of snide comments when others don't deem "competitive" a dirty word. "Why can't you enjoy the experience?" (Well, going for a PR is my enjoyable experience.) Our sport has deep roots in competition—it's why something like the Boston Marathon is such a historic, heralded event—and it's still only in the last 30 years that running has felt accessible to everyone. The encouraging, all-inclusive "anyone can do it" voice has transformed a seemingly "elitist" endeavor into an accessible weekend getaway with thousands of other runners. You were once hard-pressed to find a "regular" human finishing a race, but it's now almost uncommon to find someone who has not.
I find great joy in the fact that running 26.2 miles, or 13.1 miles, or 3.1 miles, or a mile, is something literally anyone can enjoy, and really, it always has been. But as someone who still thrives on the rawness of pitting one runner against another from start to finish in a moving duel, it does beg the question: Is a competitive person still welcomed in this community? Why does it still feel so polarizing to speak of the winners and back-of-the-packers in the same breath? And why can't I enjoy the experience and still want a PR?
I went straight to a viable source: Linden. She fields piles of questions about her journey to the top of the podium, so I wanted her thoughts on being competitive at all, and if it is actually a good thing. Here's what she had to say…
On what the importance of competition means…
Personally for me I always view running as a you-versus-you challenge. When you line up for a race, you line up with other people and they bring out the best in you. Ultimately it's watching yourself progress; you measure yourself against yourself because that's the controllable thing. That's what I find really exciting and motivating.
On being written off as "too competitive" (and her response to a few Instagram comments)…
I've definitely seen a disconnect with people who love to go out and just enjoy the process of running. [When I took over Women's Running Instagram], I said "relaxed running is fast running" and it was misconstrued as, so only fast people do that? I never really thought of it like that, in a competitive way. I just thought, be relaxed and you'll be fast. I realized that other runners never even look at time or pace; they go out and enjoy that moment. It was eye-opening for me. But it's a good thing to realize, because I never want to exclude people. However you approach running, there are different ways to run happy, as long you're just going out and putting on foot in front of the other. Even if I meant the fastest version of yourself, a lot of people didn't even care to be "fast" at all. They just go out and run. I would never put that down; I just hadn't looked at it from the perspective because of what I do [as a professional runner].
On being competitive with other runners…
I think that's totally okay, when you line up for a race, if that's what you want to do. But I think you have to have the ability to turn it on and turn it off. That's obviously super important. When you line up in a race and you're around other people, it draws out the best in you, and you rise up on race day and do more than you could do by yourself in a workout. So I think it's a positive thing if you can use others to get the best out of yourself. I don't see it as negative if you want to challenge yourself in any way.
On connecting all runners, no matter their competitive preference…
Running is super universal; I think people think that for elites, the first day back after a break isn't hard. Or injuries are easier to deal with. There are so many things that tie the group together that I think there's a mutual respect that [just hasn't been fully bridged yet]. Everything is so universal from the front of the pack to the back of the pack, and there's a conversation that could connect the two. Obviously I'm bias, but I love the Brooks tagline "run happy" because everyone has their own different way to identify with that. Some people want to run fast, and that's what makes them run happy, and some people just want to get out the door. Whatever it is—maybe it's just getting fresh air—we are all trying to go to our happy place.
On PRs and enjoyment being synonymous sometimes—but not all the time…
I would describe it as seasons within my career. I've been at a place where I was young and I just wanted to be outside with my friends. Then it turned into, oh, I want to find out how good I could be at this, and I've been able to make that a career. That's what motivates me and gets me out the door and keeps me passionate about running. Eventually when I retire, I don't think I'll see improvements, but I'm not going to fall out of running because I can't PR. I'm going to find a new way to love and embrace the sport. Maybe that will be running ultras, maybe it was just be staying fit and running a couple miles a day. It kind of goes in seasons. I think running is a lifelong thing, and it can be a lot of different things in a lifetime for me.