In Defense Of The 'Fit Moms'…
Fit moms, who stay devoted to workouts and a healthy lifestyle during pregnancy and postpartum, are getting a lot of criticism online.
Heading out the door? Read this article on the new Outside+ app available now on iOS devices for members! Download the app.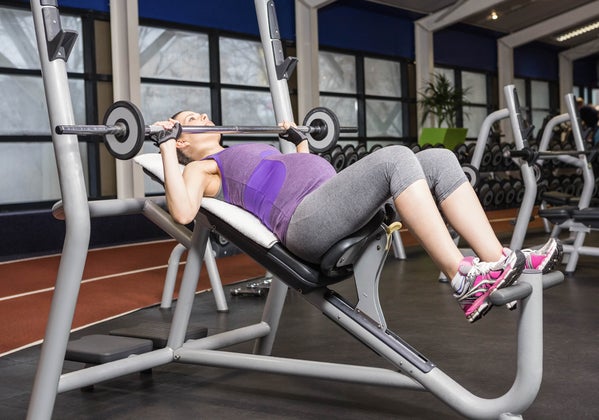 In our social-media-obsessed, document-every-moment world, it's hard to make a move without being judged. There was a time when that judgement was reserved for celebrities, but now anyone can be targeted for the words or images they post.
Enter the age of the "fit mom." It's a relatively new concept in which some moms, both pregnant and postpartum, who are devoted to exercise and healthy lifestyles, frequently post about their workouts on social media. Sounds harmless enough, right? Apparently not; these kinds of images have ignited a firestorm of negative criticism as of late.
It all seems to have started a few years ago with a photo posted by one of the original fit moms, Maria Kang, featuring her super-toned body posed next to her three small children with the headline, "What's Your Excuse?" The image seemed to imply that if a busy mom can find the time to work out, everyone should be able to do the same. The post quickly went viral and sparked a major battle in the mommy wars; thousands of commenters accused the fitness enthusiast of body-shaming other moms whose post-kids bodies don't look like Kang's.
More recently, there's been a wave of online criticism for active women in every stage of motherhood. Model Sarah Stage was slammed after sharing pictures of her pregnant belly with visibly defined abs, while personal trainer Chontel Duncan was accused of not caring for her unborn baby after posting a photo of her relatively small belly compared to her equally pregnant friend with a much larger belly, and Crossfit competitor Emily Breeze came under fire for continuing her intense workouts right up to her due date. There are many more moms just like these women who endured the same criticism for their fit pregnancies as well as for how quickly they resumed their workouts postpartum, despite the fact that they were under the supervision of their doctors and delivered healthy babies.
While the attack on the fit mom is certainly just another chapter of the depressing general trend of judging, bullying, and trolling complete strangers online, going after this particular group seems especially harsh to me. Expecting or new moms are in a notably vulnerable time in their lives to begin with; you're sleep deprived, constantly caring for the needs of someone else, and always wondering if you're doing things the right way. So when a mom endures all that and still makes the effort to stay in shape and set a healthy example, the idea that she might be torn down for her efforts is simply unacceptable.
This issue bothers me personally for many reasons. I'm not a fit mom by the definition we're talking about—by any means—but I am a mom, and I do try my best to stay healthy and active when I'm pregnant and afterwards. I also know how incredibly hard that can be, so I have enormous respect for moms who commit to that lifestyle with such a passion. But more than that, I know what it's like to worry that others are judging how I care for my child, and I've got to tell you, that's one of the worst feelings in the world. Everyday there's fresh outrage about how things have to be done when it comes to our children, from breastfeeding to organic foods to how long to rear face the car seat, and it's easy to never feel like you're doing it right. So the thought of people berating women who are doing one of the best things they can for their children—keeping themselves healthy—breaks my heart.
Look, I do get where this all stems from. Insecurity, true concern, sometimes self-righteousness—all these emotions are contributing factors to the fit mom shame game. But none of that excuses the vitriol and degradation that these women endure simply for sharing a snapshot of their lifestyles. Everyone deserves to be praised for making the effort to work out, mothers and non-mothers alike, but the fact of the matter is that when a mother works out, it's also healthy for her child, both when she's pregnant and afterwards. It's not selfish, and as long as she's not trying something new and is on the same page as her doctor, it's not dangerous. And yes, if you're going to share with the world, you have to expect some level of response; that's just the way social media functions. But this, like all online shaming, has to stop. Even the most confident-looking fit mom still shoulders insecurities about motherhood and doesn't need strangers cutting her down. So the next time you see a picture of a pregnant woman working out or a mom doing pushups over her kid, please think twice before you post a comment—unless it's to compliment her form.