Getting To Know Dee Palagi, Our 2018 Cover Runner Contest Winner
Presenting our 2018 winner and her powerful story of steely grit and determination after losing her leg just 14 months before our shoot.
Heading out the door? Read this article on the new Outside+ app available now on iOS devices for members! Download the app.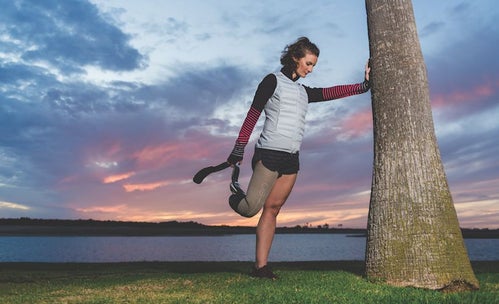 Last October, almost 1,000 women submitted their inspiring stories to the annual Women's Running Cover Runner Contest powered by Jaybird. Our editors had to narrow the list down to eight incredible finalists before you, our readers, selected one woman to appear on the cover of our magazine. Presenting our 2018 winner, Dee Palagi, and her powerful story of steely grit and determination after losing her leg just 14 months before our cover shoot.
September 2016, while lying in her hospital bed with a newly amputated leg and a broken pelvic bone, Danielle "Dee" Palagi made the decision that she would be active again. She didn't know what that would look like—her athletic experience involved dropping out of swimming as a child, taking up competitive dancing for well over a decade, running a 5K once through her work and bicycle commuting for the previous few years (which led her to being in this bed in the first place).
While commuting home on her bike one afternoon, a semi-truck passed her, sped up, then made a right-hand turn in front of her without signaling. She didn't realize he was turning, and she ended up falling off her bike and a tire ran over her right ankle. Her foot was amputated that night. "I was always active before [the accident], but I think it just gives you determination to get stronger as you see your muscles atrophy," she says.
There are added benefits of staying active for amputees especially: "The stronger you are, the more you're able to do just the simple tasks in a better way," she says. Things like putting on her leg, getting in and out of the shower, getting in and out of a car, and walking on slopes and stairs are all easier when you're stronger and have good balance. "The stronger you are, the more you can do those activities, whereas before, with two feet, I could decide whether or not I wanted to be active in my life and be fine."
With a pelvic fixator stabilizing her pelvic bone, for seven weeks the most she could do was sit up in bed or sit up in a wheelchair. From that moment on, "I just knew I was going to be just as active," she says. "I was determined to do it, even though I didn't know it was going to be triathlon."
Finding Her Stride
For the last four years, Palagi has been a teacher at an autism therapeutic school called Easterseals Academy in Chicago. A Chicago native, she grew up in the Naperville area before moving to West Town, on Chicago's west side.
She quit swimming to switch to dance when she was in third grade—a passion she pursued all the way into college. She's been commuting by bike for the past five years (and sold her car three years ago), so being active has always been a part of her life. Yet running was always a difficult sport for her, and one she wanted to pursue once she could walk again.
She got out of the hospital in mid-November and started walking again in mid-February. She credits her prosthetist with giving her the chance to run so soon after the accident though—"A month later, my prosthetist put me in a running blade," she says. "He sees a lot of active, young people, and he works with a company to help them build better running blades, so he kind of helps make prototypes and also uses his clients as data to show what's working and what's not."
Not every amputee is able to get a running blade—they cost at least $15,000 and aren't deemed medically necessary by insurance companies, so most amputees acquire them through grants. "I wish everyone had one," Palagi says. Armed with her fancy new carbon-fiber blade, she just needed to learn how to use it.
Finding Community
A Google search is ultimately what led Palagi to find Dare2Tri, a Chicago-based triathlon organization for people with physical disabilities. "I was already interested in swimming and biking, so learning the running piece was motivating," she says.
In January 2017, Palagi, who was still on crutches, joined Dare2Tri. The organization provides coaches and a support system for athletes with disabilities, whose triathlon experience ranges from beginners to veteran athletes. They taught her how to adapt her bike so she could ride again, and they taught her proper technique for running with a blade. She did her first triathlon at a Dare2Tri sports camp. But the biggest thing the organization provided was a support network. "You get to meet new people with the same disability or similar challenges, and then it makes you feel more comfortable getting out there and doing all these things," she says.
One of the people who's helped Palagi along the way is Melissa Stockwell, a Paralympic bronze medalist in triathlon and co-founder of Dare2Tri. Stockwell was impressed with how quickly Palagi got into endurance sports following her accident: "She didn't let losing a leg stop her," Stockwell says. "She's back out on her bike, running and showing the world what someone with one leg can do…I haven't known her for long, but her passion for excellence, her athletic drive and always wanting to be better—it motivates me!"
Palagi raced her first official sprint triathlon on August 27 at the Chicago Triathlon. "I felt accomplished and humbled by how my body progressed and got some of my strength back, but it was stressful competing for the first time and moving through transition with my prosthetic leg." About a month later, she ran the local Bucktown 5K, and she's not stopping there.
A New Dream
In a relatively short time frame—just 14 months from her accident to the publishing of this article—Palagi has used sports to gain a new outlook on herself and her disability. "I think the most it gives me is a sense of independence—just that I can do things for myself because I'm strong," she says. "But I think also just a sense of belonging—it's helpful to know there are other people with physical disabilities doing the same thing I am…It gives me a lot of self-worth in terms of how I view my body—it gives me a lot of positive body images and thoughts because I'm doing something positive for it."
She plans to stick with swimming, biking and running—she's set a goal to qualify for the paratriathlon national team, which offers her the chance to travel to different races and compete as part of a certain class, which means competing with people with similar disabilities (e.g., single-leg above-the-knee amputees). In Rio de Janeiro in 2016, triathlon was included in the Paralympic Games for the first time ever. When asked if that's a goal for Palagi, she says, "My goal is to compete on the paratriathlon team and see where it can lead me, whether that's competing nationally, internationally or the Olympics."
Paralympian Stockwell can see Palagi doing whatever she puts her mind to. "She is a go-getter," she says. "She is motivated, she is willing to work hard, and I'm so excited to follow along with her and her athletic career—I see big things ahead."
Dee Palagi's Running Playlist
As part of the Women's Running Cover Runner Contest powered by Jaybird, the winner and each finalist received a pair of Jaybird RUN headphones. Here's the playlist that contest winner Dee Palagi is rocking out to on runs through her new buds.
"Slime Sh*t" by Young Thug feat. Yak Gotti, Duke and Peewee Roscoe
"Problem" by Young Thug
"Body Like A Back Road" by Sam Hunt
"Thunder" by Imagine Dragons
"Dat $tick" by Rich Chigga
"Birds Don't Sing" by TV Girl
Related:
Our 2018 Cover Runner Contest Finalists
Behind The Shoot With Our 2018 Cover Runner Contest Winner