Cut Yourself Some Slack About These Running Woes
You're way too hard on yourself, especially when it comes to these 10 things runners beat themselves up about.
Heading out the door? Read this article on the new Outside+ app available now on iOS devices for members! Download the app.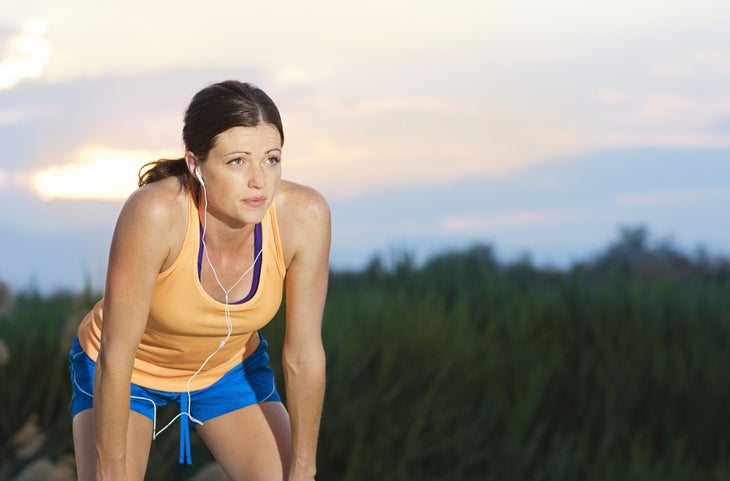 Runners are a badass bunch. We train hard, work through the pain, and give 100%. But you guys? Sometimes we can push it a little too far, beating ourselves up for bad runs or perceived failures. It's high time we stop sweating the small stuff and lighten up a little. Here are 10 situations when you should cut yourself some much-deserved slack:
1. When you think you don't look like a "runner." It can be easy to think that all runners are lean and sleek, with legs for days and abs of steel. If you look in the mirror and don't see what you think you should, that can make you feel pretty crappy.
Cut yourself some slack: Runners come in all shapes and sizes. Listen closely: If you run, you are a runner! And your body is what a runner's body looks like. Period.
2. When you don't want to race. You love running and are a regular on the track and the trails, but you have no interest in signing up for any race; you might wonder if that makes you less of a "real" runner.

Cut yourself some slack: Just like there is no one way a runner should look, there's no rule that says you have to race to be a runner. Run for fun, for stress relief, to burn off french fries—whatever gets you out the door with a smile on your face makes you a runner, no race required.
3. When you gain weight. You're following a training plan and hitting all your mileage goals. You were hoping to see some good shift on the scale, right? But instead the scale says you're up a pound or two (or ten).
Cut yourself some slack: Before you go adding an extra ten-miler to your week, take a look at the big picture. Assuming you're not overdoing it with nutrient-poor, sugary foods, the culprit may be the stress of too much training or not enough recovery, both which can throw off your body's balance. What's more—you're packing on muscle, which can have more lbs than fat. Take a day off, get a good night's sleep, and schedule in regular rest days.
4. When you put running first. You leave drinks with the girls early so you can get enough sleep to get up for your long run the next day. Then you spend half of the run feeling guilty about sneaking out.
Cut yourself some slack: Sure, it sucks to be the party pooper but as long as you don't do it every time, your friends will understand. And maybe next time you can convince the gang to trade Friday night happy hour for a Saturday morning jog and brunch!
5. When you can't spend all the money. You feel like you need all the latest and greatest gear to maximize your performance, but GPS, sneakers, Lululemon everything—it all adds up to an amount you can't afford.
Cut yourself some slack: At the risk of sounding like your grandma, you don't need all those new-fangled doodads. You can easily get away with some apparel from Target and track your run with a cheapie stopwatch and route-mapping app. Use the cash you save to treat yourself to a great pair of running shoes; those are always worth the money.
6. When you don't PR. You signed up for the race, you set a goal, you trained for months….and then you missed the time you needed to PR by 30 seconds.

Cut yourself some slack: There's no getting around it—this sucks. It's beyond frustrating to work your butt off to reach a goal, only to fall painfully short. So go ahead and wallow for a little bit, but then sign up for the next race and give yourself a do-over.
7. When you pee your pants. You're running, you're sweating, you're…peeing?

Cut yourself some slack: Look, it happens. But don't be embarrassed—it's very common and there are lots of ways to deal with incontinence. From Kegels to pelvic floor therapy, a variety of options exist to help keep your leaky bladder in check. And hey, if you just peed to avoid the 2-minute dock to your time, more power to you!

8. When you miss a run. Sometimes, even when you have the best of intentions to make your scheduled run, you oversleep, or get stuck at work, or have to bring a forgotten lunch box to school, and you miss your chance to run that day.
Cut yourself some slack: It can feel downright infuriating when everything is in place for a perfect run and something out of your control throws a wrench into your plans. But sometimes sh*t happens, and you just have to roll with the punches. Try to take solace in the fact that you gave it your best shot and channel your frustration into an even better run tomorrow.
9. When you take should take a rest day. When you're in the middle of training for a big race, it can be hard to schedule a rest day. Even if you're tired or hurting, it's tempting to keep pushing.
Cut yourself some slack: A day off is a crucial part of any running routine. If you're feeling run down, it will give you time to recover and come back fresh. Or if you're killing it during every workout and think you don't need a break, take an active recovery day and do some light yoga; your runs will only get better.
10. When you have to stop in the middle of a run. You're out running, moving right along, and then you get a cramp. Or feel really tired. Or have a stomach ache. Or worse…So you stop to deal with the issue, lose momentum, and give up on the run.
Cut yourself some slack: It's definitely frustrating to lose steam on a great run, but when your bodily functions are sending up smoke signals, you gotta put the fire out. Call a time out and try again if you feel better, but if not, pop an antacid and go again tomorrow.