Shaz Kahng Delivers A New Kind Of Female Hero In "The Closer"
Shaz Kahng discusses how her experiences as one of the first female sports industry executives influenced her new book The Closer.
Heading out the door? Read this article on the new Outside+ app available now on iOS devices for members! Download the app.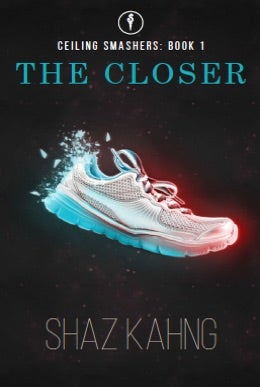 Shaz Kahng Remains The Sports Industry Professional To Keep An Eye On
Shaz Kahng is a name you might not recognize but should probably know. All right, you may be thinking, so who is she? If you didn't know her name before clicking on this article, you're in for a treat: Shaz is a business professional who conquers every task she takes on. She's an author, a mother of twins—and, oh yeah, she was also one of Nike's first-ever female executives. She also made a different athletic apparel company profitable for the first time in its history after becoming its president and CEO. Not too shabby.
Shaz's latest project is her debut novel The Closer, a fictional work based loosely on her own experiences as a female executive working in the sports world. The book moves at a quick pace, choosing efficient and effective storytelling over a slower, more contemplative tone. It's the kind of narrative voice one might expect a business professional to have, and it's a fitting match for main character Vivien Lee's own approach to decision-making. Just as important is the type of character Vivien is—because we really don't see many female characters like her. It's not until you read Vivien's story that you begin to feel inspired by the type of female role model she is: a strong businesswoman who side steps any "stereotypes" placed on women in positions of power.

Meet Vivien Lee
Before becoming the first female president of an athletic apparel company, Vivien advised CEOs on how to make their companies run smoothly and profitably—and she was so good at it, she became known around the office as "The Closer" (or "T.C." for short). She's stubborn, persistent and ambitious; she's also creative, thoughtful and innovative. The first thing outsiders notice about Vivien is that she's an Asian-American woman in a role often held by white men. Those that know her understand that she thrives within that role because she gets results.
The experiences Vivien encounters as a woman working in a position of power within a male-dominated industry are heavily informed by Shaz's own experiences. Vivien is tasked not just with fixing the blunders of her predecessor to make the business profitable; she's also racing a clock to meet the extraordinary expectations of her bosses. (In her own career, Shaz faced similar challenges and responded by tweaking lucy's business model to make it profitable for the first time in its history and more than 18 months before her deadline.) These details alone present Vivien with a tough mountain to climb—along with daily struggles. The male coworkers rooting for Vivien's failure make snide comments, undercut her in front of rivals at industry functions and set traps into which she naively falls in her early days at the sports apparel company that readers come to know as Smart Sports. Smart Sports' two CEOs want Vivien to succeed, as do a handful of her friendlier colleagues, her fiancé and a close-knit group of professionally driven women called the Ceiling Smashers. With their support and the tactical advice of the Ceiling Smashers, Vivien navigates day-to-day life at Smart Sports and begins her climb to the top of that mountain.

One Of The Sports Industry's First Female Execs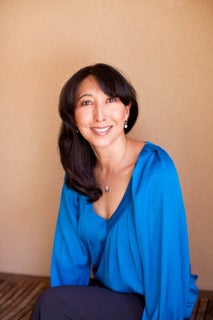 Shaz identifies resilience as one of the key qualities for success—both for herself and for Vivien. In a recent interview with Women's Running, Shaz recalled an experience from her early consulting days in the 1990s that she includes in The Closer, when a "Gentlemen Only" sign banned her from a bar where her clients and colleagues were meeting. Shaz was the only woman there.
"I just couldn't believe it," Shaz said. "So I did the same thing that Vivien does in the book: I went outside, and the CEO actually did come out and sit with me. I was really upset. I thought, This can't be happening at this time in history. But it did. But when [the CEO] came outside, I was like, 'Hey, I have a chance to talk to him about his business–this is a great opportunity.' So I think for women who are in difficult situations, if you're able to turn it to your advantage…even if you're feeling shaken up about something, put that aside and say, 'Wait a minute—how can I make this an opportunity to learn something or get something positive out of it?' Having that resilience to recognize when you need to change your attitude is really important."
Vivien's resilience is strong and steady as her rivals storm around Smart Sports. The pranks that some of her colleagues pull—most memorably those by the resident charlatan Duncan Doric and his bro-in-arms Johnny O—are almost as appalling as the blunt politics behind their power plays and clear preferences for maintaining personal relationships over achieving demonstrable results. Never has The Godfather quote "It's not personal, it's strictly business" sounded more ridiculous.

Female Stereotypes: Yeah, They're Still Going Strong
While all of this is going on, Vivien is also dealing with some inevitable fallout from moving cross country from her former consulting job in Manhattan to her position with Smart Sports in Portland, Ore. Her fiancé's still working in New York, as are all of her Ceiling Smashers friends. Her father's back east as well, and though her friends and family are available via phone and email, Vivien's support system looks and feels different. When personal tragedies befall Vivien after her first year at Smart Sports, she finds that the qualities most important to success in business are the same that help her rebuild her life outside of work. In the moments when a reader might expect Vivien to break down, she shows strength. Shaz's creation of Vivien as a strong character capable of weathering brutal situations speaks volumes—not just about the person she's loosely based on, but also about the deeply ingrained stereotypes that persist today, both in fictional constructs of female characters and real women.
"I wanted to show women in a different dimension," Shaz explained. "I had a lot of literary agents who asked for the manuscript, and then they said, 'Can you change the main character to a man?' I was like, 'No–that's missing the whole point.' They said, 'Well, can you make her desperate to get married? Can you make her obsessed with shoes?' I said, 'Well, I think all those themes have been written about already.' The whole purpose of this book was to offer something different. Some of the agents said, 'People like reading the same types of characters. They may not be ready for something this different.' My instinct was that this is something women are starved for. They're looking for characters they can look up to." Amen!

A New Kind Of Hero
Vivien is not a strict professional with a heart of stone; she's not an emotional worrywart; she doesn't spend her days daydreaming of a picture-perfect family; and she doesn't have nine cats or a "shaky grip" on reality. "In every fictional account I was reading with a smart, talented female leader, she was either evil or diabolical, or she didn't like other women, or she was very neurotic in her personal life," Shaz said. "I've been surprised by how few strong, positive female role models are portrayed in fiction. I just thought, I know so many women who are talented: they have great leadership skills, people love working with them and they're really interesting people. How come nobody's writing about these women?"
As Vivien proves her talents with prioritizing and compartmentalizing, Shaz shows some of the skills that helped her in business through the way she writes. "To be successful at business, you have to be focused, you have to be decisive, you have to be relentless," Shaz said. Risk-taking and collaboration are two more qualities important to Shaz, each of which she demonstrates through her portrayal of Vivien. While Vivien takes personal approaches to encourage collaboration between her apparel designers, Shaz welcomed input from her editors as she shaped her story. Though writing The Closer took Shaz just 10 months, the editing process took more than two years, during which time Shaz was working full-time and raising her twin daughters.
Given Shaz's background in turning business profits at record speeds, it's not surprising to learn that she prefers to work quickly. This underlying sense of efficiency is evident from the first page of The Closer, as readers are thrown into Vivien's world and given basic details about her and the significant people in her life. Shaz writes with a lot of forward movement, providing just enough detail as any given scene requires. She develops her characters much in the way humans develop their understanding of the people with whom they interact: with time and patience, but it's worth the investment. There's no extra fluff—just the essentials to keep the product marching forward. It's another way in which Vivien and her approach to problem-solving are mirrored by the author herself.

What The Future Holds
There's a beautiful moment at the end of the book in which Vivien is confronted by the decisions she's made and realizes that, without specifically meaning to, she set a positive example for young women she didn't realize were paying attention to her. "I really want people to take away the message of hope, and that it is possible to succeed with honor," Shaz said. "You should not compromise your morals or your integrity to achieve something. It's difficult to do that, and it does take courage.
"Early in my career, one of my colleagues said, 'You know, you're a really good person. That might hurt you in being able to succeed.' One of the things that was important to me [for this book] was showing a character who, no matter what, even though it might have been more convenient to take a different path, she really maintains her integrity. You don't want somebody who's going to abandon their values to accomplish a certain goal in business."
She might never have envisioned gaining fame for her business prowess, but as one of the first female executives in the sports industry, Shaz has attracted attention in the business world for years. Her captive audience now includes her 6-year-old daughters, who will look to her as a direct role model in the years ahead. For them—and for all of her young female admirers—Shaz is cautiously optimistic about what the future holds. "I really hope my daughters don't have to deal with some of the same challenges; but it's also unrealistic to expect that everything's going to be different," Shaz said. "But when it comes to opportunities for women, there's more of a variety and there are a lot more female entrepreneurs today. Hopefully we'll see even more in the next few years."
To learn more about Shaz Kahng and The Closer, visit the Ceiling Smashers website.
Related:
New Book Reminds Us That Every Body Is A Runner's Body
Ultrarunner Devon Yanko Talks About Abuse In "Women Who Fly" Series
Stop Not Doing Things Because You're Afraid Of One Possible Outcome