Project 1:59—Breaking The 2-Hour Half Marathon
Are you in?
Heading out the door? Read this article on the new Outside+ app available now on iOS devices for members! Download the app.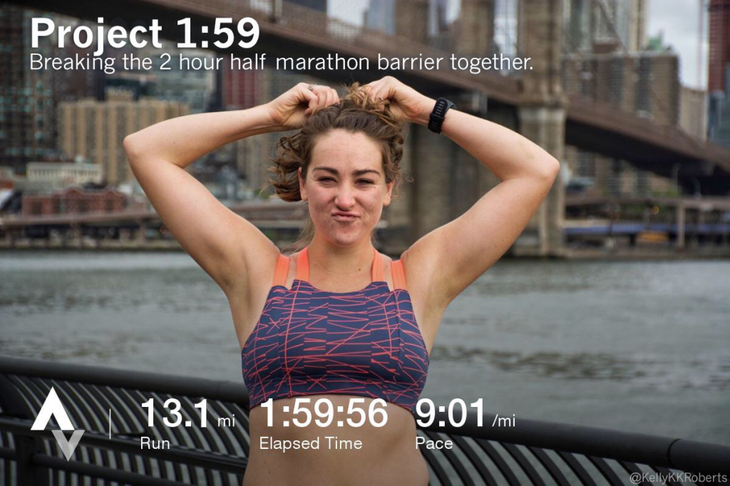 Why do you run? What does it mean to you when you decide to chase after a goal that scares the absolute crap out of you? Because even though most of us run to stay sane, it's still a choice. Yes, we run because we can but more importantly, we run because every single aspect of our lives is made better because we push ourselves on the roads, trails, and track.
From day one, when the simple idea of becoming a runner feels impossible to eventually setting goals like running a half marathon, or getting real crazy and running a marathon, running gives us the life-changing gift that is: What if?
What if I could run a 5K?
What if I could run with other people?
What if I could call myself a runner and actually believe it?
What if I could run a 10-minute mile?
What if I could run a 9-minute mile?
What if I could run a 9-minute mile and hold that pace for 13.1 miles?
It's hard to fight the urge to see what you're capable of when you're a runner. But the time goals we set for ourselves, however silly they may feel, aren't arbitrary; they're milestones that inspire us to dream big, step outside of our comfort zones and believe in ourselves.
Related: Strava Shares Stats Of Boston Marathon Runners
I'll never forget how quickly I set my sights on breaking two hours. I think I was curled up in the fetal position of our hotel room only an hour after surviving my first half when I asked my best friend if she thought I could break two hours. I'm incapable of describing the wave of confidence I felt when she smiled and told me that it was only a matter of time. Knowing that someone I loved and looked up to believed in me, even though I didn't know if  I could ever run a half marathon again, it made me want to try. And I sure as hell wanted to finish stronger.
Breaking two hours in the half marathon is a goal that hundreds of thousands of runners aspire towards. When we looked at the Strava data, only 31 percent of women and 67 percent of men had broken two hours in the half. It's a goal that requires hard work, dedication, and perseverance because as so many of us know, the harder you try, the harder it is to grin and bear it when you fail.
My journey to sub-two was ANYTHING but easy. I ignorantly thought it would happen the second time I toed the line of a half marathon. I didn't know how to pace myself or what a negative split was. I thought the entire point of running a race was to take off as fast as you could and then hold on for dear life. So that's what I did.
And surprisingly enough, despite the fact that I honestly thought I might die at mile 10 and had to stop to use the restroom/question my life choices at mile 11, I actually came really close. I ended up crossing the finish line in 2 hours, 37 seconds. A time that looking back, I have no idea how I pulled off because despite the fact that I was only 38 seconds away from that elusive sub-two, I wouldn't come close to it for another few thousand miles.
Related: A Half Marathon Training Plan That Works For Every Runner
Every time I toed the line, convinced that I'd finally do it, the mental block I'd built between myself and what I thought I was capable of got bigger, stronger and harder to break through.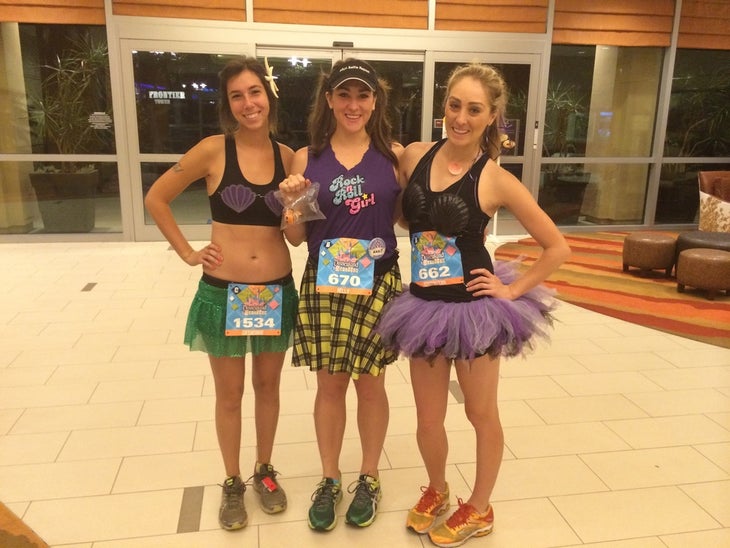 It's hard to put yourself out there and tell your family and friends about your goals. It's so much easier to keep it to yourself and hope that it just magically happens. But that's one of the greatest parts about running; it forces you to own your strength, your goals, your ambitions and your failures. Because running isn't just about race day and finish lines. It's about every single step you take towards those goals. Because if there's one thing you can expect, it's that self doubt is going to put up one hell of a fight. Sometimes it's not about how badly you want it. It's about leaning into the discomfort and trusting that as long as you give your personal best, there's no way you can fail.
But that doesn't mean that falling short of a goal or falling flat on your face doesn't hurt. The more you want it, the more it stings. But there will always be another chance to try again.
The day I finally broke two hours in the half, I realized what was holding me back. I was trying to do it alone. But with the help of my sister and my best friend, the same one who introduced me to running, everything clicked. I didn't have to try to be a serious runner human who was trying to break two in the half, I was just having the time of my life. I didn't have to think about trusting my training, I was present, grateful, and running with more joy than I ever thought possible.
And even though we didn't finish together, knowing that they believed in me and were right behind me helped me push when the doubts kicked in. Because breaking two, regardless of how much fun you have, hurts like hell. There's no avoiding it. But having a support system like a badass lady gang is a game changer. It's invaluable to know that you have a group of women and men who want to see you succeed. And looking back on my journey to break two, my only regret is that I ran alone for so long.
That's why Strava and I launched Project 1:59, a virtual club that's bringing together runners from all over the world who are working to break two in the half marathon. Why? Because we're stronger together.
Can you break two alone? YES. Will it be infinitely more fun and enjoyable if you do it with your badass lady gang or virtual friends in Project 1:59? ABSOLUTELY.
Project 1:59 isn't just a place where you can talk hopes, fears, tips, tricks, and all that comes with your terrifying goal to break 2 hours in the half marathon. We're kicking Project 1:59 off by pacing a group of runners to their first sub-two at the world's largest half marathon: the Airbnb Brooklyn Half!
So whether you've already broken through that sub-two barrier or if you're working towards it yourself, join the club on Strava, share your story, and let us know when and where you're going to try! You never know who may show up to help you make that sub-two a reality…
Just remember, anything is possible if you're willing to work for it. YOU CAN DO HARD THINGS. When everything hurts and you feel like dying, slap a smile on your face and remember that there are hundreds of thousands of runners running towards that finish line right beside you.
No regrets, no excuses.
Until next time, #RunSelfieRepeat.