Boston Reporter Offers Chilling Review Of HBO's 'The Patriots' Day Bombing'
She was there after the bombs went off, reporting on the ground in Boston, and narrowly missing an encounter with the brothers.
Heading out the door? Read this article on the new Outside+ app available now on iOS devices for members! Download the app.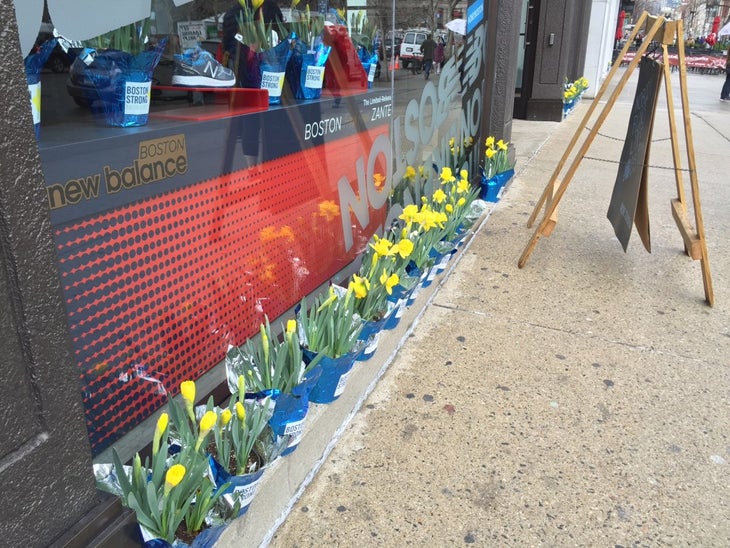 Check out author Nadia Neophytou's YouTube channel, where she interviews runners on the run regularly.
Walking into the screening of Marathon: The Patriots Day Bombing at the Savannah Film Festival (SavFF), I knew I'd have a bias towards the story. I knew I'd be super emotional watching the documentary, produced for HBO and directed by Ricki Stein and Annie Sundberg. I knew this might get in the way of trying to have a somewhat objective perspective of it as a documentary, and I could feel myself tear up even just as the lights lowered and the word 'MARATHON' came on the screen.
Since becoming a runner, I'd always thought my first time visiting Boston would be to cheer on friends running, or—dreaming bigger—to myself run the hallowed race. But my first time in Boston was not at all a good one. I went there to cover the bombs that went off at the finish line of the 2013 race. I was covering the story for Eyewitness News back home in South Africa, reporting on the three people who were killed, more than 200 injured and the police officer who died too. Being there during the aftermath and manhunt was one of the most intense experiences of my career.
My Canadian colleague and friend MJ and I had teamed up, driving there together and sharing a room. Walking on Boylston Street felt like walking through a movie set that had just cut for a break, with plates and glasses left shattered at sidewalk cafes and bars, and messages of support for runners shredded from some windows.
During the manhunt for the two suspects, the day after, the car MJ had rented was running out of gas and we struggled to find a gas station for a while, until we stumbled upon two right across from each other. We pulled into the Shell, but we could have easily gone to the other one. We were just so relieved to have found fuel before breaking down, unaware that half an hour later, the brothers would car-jack a guy at the same gas station.
Related: HBO Releases Boston Marathon Documentary
I thought about some of these moments while watching the opening of Marathon. Produced together with the Boston Globe newspaper, the documentary pieces together the events of the day, using surveillance footage, news clips, home movies and interviews, to bring it all together, with a sharp focus on three families and how their lives were impacted that day.
Like Tower, another excellent documentary that I saw at SavFF, this film concentrates on the victims' families whose stories weren't really as prominent in the press at large, beyond the Globe. Newlyweds Jessica Kensky and Patrick Downes, who had gone to support the annual Boston tradition, mother and daughter Celeste and Sydney Corcoran, and then Norden brothers Paul and JP, who were all heinously injured that day. It follows their recovery over three years, as it looks back on the event, how it happened, and touches on the why, by briefly looking at the Tsarnaev brothers. Dszhokhar, who was sentenced to death, is still awaiting his execution, which could take years to happen.
It's hard to watch the actual moment the bomb goes off. But it's harder to watch Celeste Corcoran watch it, even though she has—many times. There are other difficult-to-watch moments, like witnessing someone as bubbly and vivacious as Jessica Kensky fight not just to save her second leg from being amputated, but also to save her personality from darkening too.
The documentary stays with these families, as we really learn about the little victories and terrible setbacks they've faced while trying to make peace with such an event. As runners, we rely on the people who cheer for us and support us from afar, but especially those who come out to raise a voice or ring a cowbell in person. These are the people who suffered the most as a result of the bombings. They didn't have a particularly special relationship to running, but one of the people featured in the doc does end up developing one, and it's truly moving to see.
As such, I found Marathon to be a valuable part of the greater healing process. I know I still tear up at the sight of the word marathon because it means so much to me in the context of someone who has a deeply personal love of running, but also because it represents a time when a terror act intersected with this revered space, and all that it has come to mean. It's a kind of impact I can't quite explain, but watching a film like this, to see those who really have reason to be upset and saddened and angry, work through all these feelings, extends the healing to those of us who weren't at all physically impacted. I am deeply moved by their strength, and I know those who watch it will be too. Boston's strength – shared with the world.
 Marathon: The Patriots Day Bombing is now available on demand.