Army Veteran Is A Warrior Games Champ After Overcoming PTSD
Her story is so amazing!
Heading out the door? Read this article on the new Outside+ app available now on iOS devices for members! Download the app.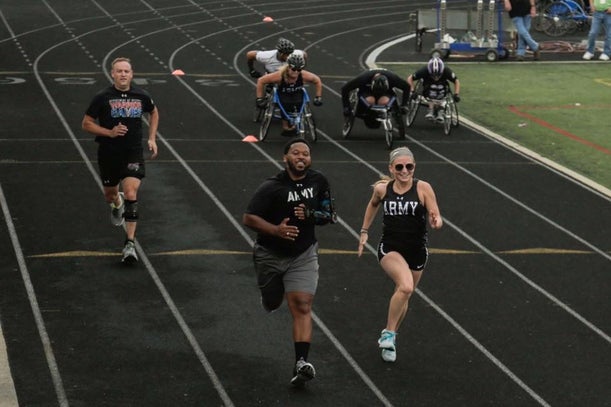 All photos courtesy Megan Palko Grudzinski
Although she won two gold medals in track, Megan Palko Grudzinski regretted not being able to improve upon her existing records at the Warrior Games for wounded veteran athletes this summer. She ended up doing something just as significant, if not more so.
Palko Grudzinski, an Army veteran diagnosed with PTSD after a tour of duty in Afghanistan, followed up the Games with another track meet in her home state of Ohio in which she saved a competitor who went into cardiac arrest.
"I finished and was talking to someone when the gentleman collapsed," said Palko Grudzinski, who also ran the 1,500 in the meet as the only female competitor. "It was the first time I did CPR."
But she was well trained—with experience at a trauma hospital in Afghanistan and as a current nursing student at Case Western Reserve University.
"I was nervous as heck," she recalled. Afterward, a doctor praised her for doing a compression as soon as possible. She ended up speaking with the fellow runner she rescued. He had undergone a quadruple bypass.
"He called me," she said. "He was in perfect health. It was just genetic. He left a beautiful voicemail message saying if it were not for me, he'd be dead. Every time I listen, I cry. I called him and talked. He wants to go back next year for a rematch."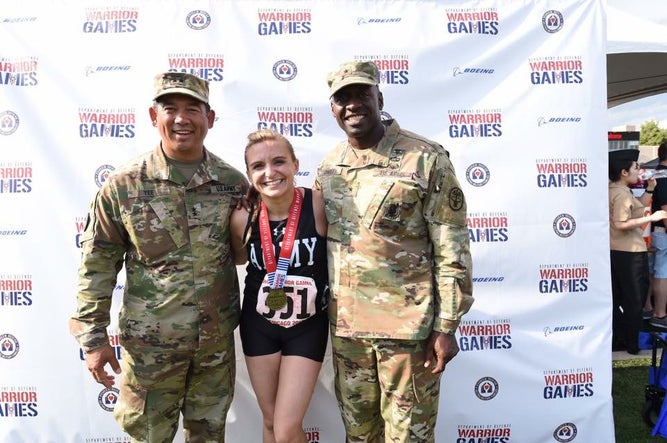 Earlier this year, in July, Palko Grudzinski dominated at the Warrior Games in Chicago. She won both the 800—"by quite a bit," she recalled—and the 1,500.
"It was not my fastest time," she said of the 1,500. But on a sweltering day, she won that event convincingly, too, by almost 300 meters.
"With the weather and the heat, I was really pleased," she said.
Last year, she set Games records in the 400, 800 and 1,500. (She also swims and bikes, as Games athletes must be multi-sport.) A technical issue prevented her from defending her record in the 400. In the other two events, "no way was I breaking records this year, it was so viciously hot," she said.
"Megan spent the entire off-season gaining strength and skills in preparation for the 2017 games," her coach, Tim Edwards, wrote in an email. (Edwards is also the coach of the Cleveland State University men's triathlon team.) "We analyzed her 2016 performances and created a plan to be better and faster for '17. Her weaknesses were bike handling skills, running starts from the blocks and proficiency for her swim strokes.
Related: Retired Veteran Overcomes Depression And Finishes A Spartan Race
"Her school program was demanding so she was a little behind in her speed work after school ended but we worked hard to get her threshold higher and her speed as well."
Palko Grudzinski almost did not make it to the Games. She is going through a divorce from her husband, and in March, her grandfather died.
"When I ran, I had his name on my arm so he would be with me when I ran," she said.
He was a veteran too, just like his granddaughter, who enlisted one month after 9/11.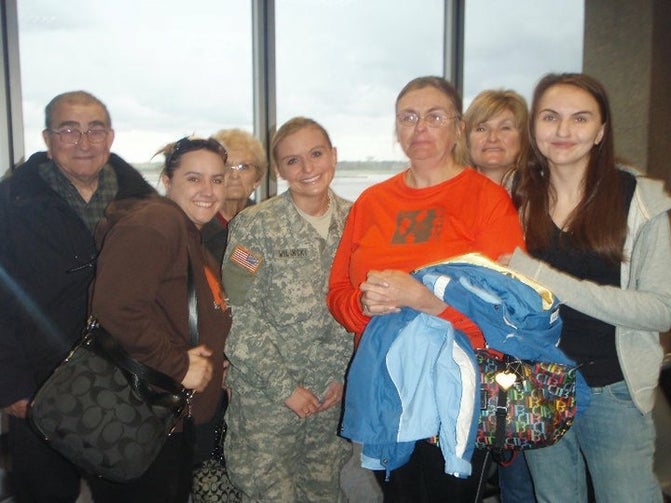 "I was thinking about it," she said. "I wanted to do something."
Palko Grudzinski served as a chemical specialist for 11 years, including during Hurricane Katrina in 2005. She was also deployed in Afghanistan from 2010 to 2011 and joined an informal running group there. A physician at the trauma hospital where she volunteered introduced her to the group.
Related: How One Veteran Found Her Love For Running While Deployed
"They did races there," she recalled. "I would run almost every day when I was there."
She used running as a time for herself after doing IVs for gunshot victims. She learned on the job, having no medical training at the time.
"I loved being able to help people," she said.
But she was also witnessing the horrors of war. When she returned, she was diagnosed with PTSD.
"I went to a place where you come back with all these horrible injuries," Palko Grudzinski said. "People lose limbs, or they died."
Referring to herself, she said, "You come back, you have everything. As a female in charge of men, you have to be tougher than men, do more to look the same, not show weakness."
But when she went to sleep, "I had nightmares every night," she said. "It was a really horrible feeling. Why, why did this happen to me, that I should be feeling this way? I have my limbs. It's nothing compared with those who don't have legs or arms.
"My mother took me on vacation. She was looking at me with a scared look. I had just been screaming. I came to a point where I thought people would be better off without me. I was at the bottom of this well. I thought it was the answer."
But instead, Palko Grudzinski said, "I reached out for help. It's the hardest thing I've ever done."
Therapy has helped her take "one little step at a time," she said. And "getting off meds and working out, especially running, it's a rock to me," she said.
She gained a running partner—Harley, a three-and-a-half-year-old Labrador mix—through Wags for Warriors, a local organization that matches veterans with a service dog for free.
"A lot of times, I get hyper-vigilant when people get close to me," Palko Grudzinski said. "I get startled very easily from things in Afghanistan. She blocks people—not maliciously. I train her with treats. She wakes me up from nightmares, she gets on my chest and licks my face. When I first came home [from the war], I did not want to leave the house."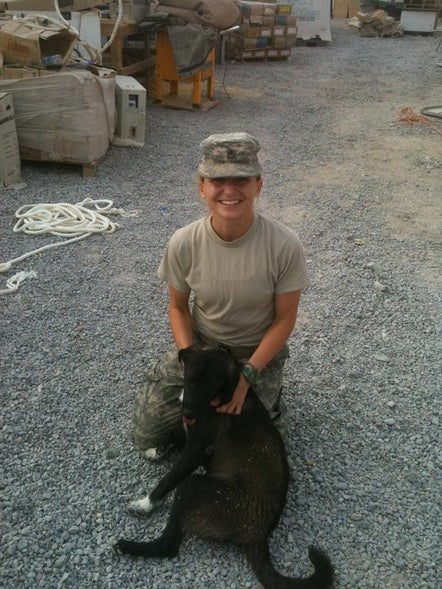 Eventually, Palko Grudzinski was leaving the house for runs with Harley. Then she qualified as one of the 40 athletes on the Army team for the Warrior Games.
"All these other veterans have different injuries, and no one judges you," she said. "I love it."
She discussed the perceived "stigma of mental illness" and said, "Other veterans are doing competitions and running. I don't feel different. When I'm running, I don't feel I'm different than anyone else."
She hopes to compete internationally next year, after graduating from her self-developed psychiatric nurse program in May. She wants to represent the US at the Invictus Games, created by Prince Harry two years ago as a worldwide version of the Warrior Games.
Whether she is able to qualify or not in 2018, she has already achieved much this year—including not only excelling on the track herself, but also saving her competitor's life.
"If not for the Warrior Games, running, and the divorce, which pushed me to keep doing it all, it put me in position," Palko Grudzinski said. "I was able to be there so someone else can run another day."