Why Alysia Montano Is The Next Snapchat Queen
Running fans have access to their favorite athletes on any social platform—and Alysia Montano is the queen of making that possible on Snap.
Heading out the door? Read this article on the new Outside+ app available now on iOS devices for members! Download the app.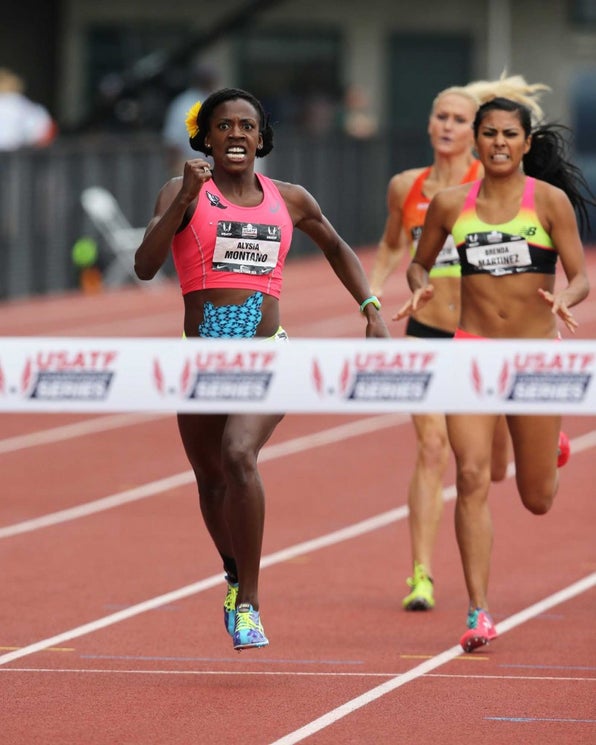 Alysia Montaño, as stated by her own competition Phoebe Wright, is on top of the 800-meter game when it comes to making another Olympic team. She's got badass speed on the track and some sass and class off of it, as seen frequently on Snapchat, arguably the top social media platform to promote brands and show lives and behind-the-scenes information these days. Everyone knows how addicting a great story on Snap is, and Montaño's never-ending tale (alysiamontano) is no different, especially since it stars her daughter, Linnéa, 95 percent of the time.
"I was so late to Snapchat, and when I finally downloaded it and started playing with it, I thought, Where the heck have I been? This is perfect for me. Snapchat appeals to me because it's like having a reality show," shares Montaño, who updates her 24-hour story several times a day. "Everything is relatively instant, and I love how fluid the story of the day goes together without much thought than capturing your life and your thought of that moment."
Not only does her entertaining reel offer secret peeks and glimpses into the life of an elite athlete, but it also, and perhaps more importantly, shows eager track fans that she's just a normal person with a day-to-day life that happens around her job of running. She's also hilarious, made obvious by her stellar use of Snap's changing filters that make everyone roll with laughter.
"Naturally I gravitated toward Snap because I want people to see what my day to day looks like. One photo doesn't always do it, and 140 characters sometimes isn't always enough, so basically what I'm saying is Snapchat is where it's at for me. I feel that my followers can get a better feel of what my day to day looks like. Naturally Linnéa is the star of the show; she's 22 months now and the most fiery, energetic and brilliant little person."
Related: The Positive Effect Social Media Can Have On Your Running
Montaño says she does feel she owes it to her fans to let them in a little bit, even when she's wanting to shut down and tune out. Snapchat is perfect for that when comments that run rampant on Facebook can become too much, or tweets about your upcoming race and training become too much to deal with. "Also it's impossible to get caught up in comments and other things [on Snapchat], and it's a chance to just live, share and basically put it out there as a means of saying, "Enjoy, but Imma do my thang."
And in case you've missed the hype around her additional Snap account, Ladies Of Track is another platform where fan girls can travel with their favorite runners to the gym, track, dinner and anywhere else the stars of the story want to take you.
"Queen Harrison started the snap group and approached me and a few other athletes asking if we were interested with merging all of our lives so people can see just how different we all are yet similar in pursuit. The athletes involved are myself, Queen Harrison, Sanya Richards, Emma Coburn, Brittany Reese and Shannon Rowbury."
Related: Professional Mother Runners of the U.S. Olympic Trials
Whether it's on Ladies Of Track or her personal account, however, Montaño seems to be a master of her self-created art form, stringing funny, serious, real bits of her life together to form one big FOMO-inducing story that makes any runner want to knock out some sprints, hang out with Linnéa or just have their own photographer follow them around to record when they do something totally kickass. For Montaño, that secret person (don't lie—we've all wondered who the heck gets the photos of runners on Instagram while they are running against a perfectly timed sunset) is her husband and manager, Louis.
"In terms of filming, my family comes out to support me often, and I hand the phone to my husband, Louis, to get me doing an exercise or an interval, or someone who I recruited to hang out with me and help me train for the day. I don't have any concrete or constant training partners, I generally pull people from the team and ask if they can help me or a buddy who used to run more competitively and ask them if they can 'snap my chat,' a phrase I've coined and am infamous for using," explains Montaño.
Of course, now is an opportune time to share your latest and greatest accomplishments, as the Olympic Trials are just around the corner, and Montaño is in the spotlight as a favorite to win the 800 meters, securing another spot on an Olympic team. Super fans of runners want to know what the life of an elite "really" looks like, and due to Snapchat, we are constantly learning that it's really no different than the rest of us. They just run a little bit faster. And even Linnéa, Montaño's daughter, know what's up with it comes to mommy's running life.
"It's so funny because when I think about getting out my phone to capture a moment of Linnéa, I pull up Snapchat. I love how it makes a little videos merged together that I can save for later. She is so involved in our day to day, we talk to her about everything and explain everything we are doing with her. So I find it fascinating when she just picks up something that we do in our house, like dancing or singing, and even when I come home and she says, 'Mama, you're running? Oh you're doing drills?' I can't get enough! And she is a part of my life, a huge part, so naturally she is gonna be a starring role in the Snap movies."
The big question—you know, the big one after, is Alysia going to make the team?—now is, who is going to Snap her crossing that finish line in Eugene?
Don't forget to also follow @WomensRunning on Snapchat, @womensrunningmagazine on Instagram and @WomensRunning on Twitter during the Olympic Trials!