Alexi Pappas Is Ready For Chicago
Alexi Pappas will race her first 26.2 at the Chicago Marathon this October—and she's feeling ready for the challenge.
Heading out the door? Read this article on the new Outside+ app available now on iOS devices for members! Download the app.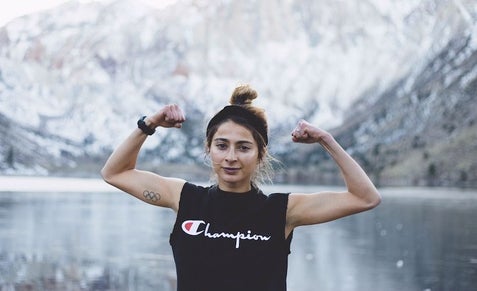 Alexi Pappas On Her Marathon Training
Meet Alexi Pappas.
She has something to share with you.
She's ready, oh yes, she's ready
For her marathon debut.
Seems fitting to use a little poetry to introduce elite distance runner Alexi Pappas, who is a successful filmmaker, poet and actress when she's not chasing her next running goal.
These days, that goal is to run her first 26.2-mile race. "I think it's a natural progression for a distance runner to want to try a marathon," says the 28-year-old who competed in the 10,000 meters for Greece at the 2016 Rio Olympics. "Some people try it earlier, but for me, it was almost like marrying my husband—I think I could have done it a lot sooner, but I'm okay doing it now."
Indeed, her life has been marked by big commitments lately. In addition to recently tying the knot with her longtime boyfriend, Pappas has committed to running the Bank of America Chicago Marathon on October 7. "Chicago is a city that I first encountered through running," she says. "I feel happy when I'm running there."
In 2014, Pappas ran half of the Chicago Marathon as a pacer for women chasing the Olympic Trials "A" standard. Energized by that experience, Pappas returned and won the Bank of America Shamrock Shuffle 8K in 2015 and 2016. Her coach, Andrew Kastor, and his wife, long distance legend Deena Kastor, also have strong ties to Chicago. Deena Kastor won the race in 2005 and broke the U.S. women's masters record there in 2015.
"The race organizers do a fantastic job with their elite athletes, taking really great care of them from the moment they land in Chicago to the moment they leave," Andrew Kastor says.
Although Pappas will run with the professional women's field, she feels a special bond with other marathon beginners. "You can go to Chicago and have it be your first marathon," she says. "I like that I am joining others and that it will also be their first."
A Runner, Role Model And Writer
Known for her unpretentious attitude and quirky and inspirational social media posts, Pappas has become an admired figure in the running world, especially among young women.
On social media, some elite distance runners share tick-tock accounts of their workouts, detailing reps, miles and pace. Pappas deliberately takes a more lyrical approach. In one recent Instagram post, she wrote:
"if an oyster can turn sand into pearls
i can turn myself into anything
2 mile repeats at 9,000 ft today
this is my grind grin."
Her posts are light-hearted and vague on training specifics because she knows young women—facing their own struggles as athletes and teenagers—are watching her. "I know there are a lot of young athletes who might imitate (my runs) in a way that is not as productive," she says. Her fans imitate her in other ways. Fascinated with her signature top-of-the-head hair bun, girls have sent Pappas photos to show her that they wear their hair the same way.
A few years ago, she wrote and shared a particularly powerful poem on Twitter:
"run like a bravey,
sleep like a baby,
dream like a crazy,
replace cant with maybe
through sunny & shady."
Girls inspired by Pappas began calling themselves "bravies" and the name stuck. When Pappas addresses the young women who look to her for guidance, she affectionately calls them "bravies." Every day, she receives messages from girls who feel insecure about their bodies or immense pressure to perform well in a race.
"My bravies are determined and can be quite critical of themselves," she says. Pappas responds with uplifting poems, reminding girls to be kind to themselves. She posts the poetic messages on social media for all her fans to read. "Poetry is memorable, and it is playful," she says. "Some of the anxieties these young bravies have, it's intense stuff."
Her "bravies" can also see aspects of themselves in her films. In the movie Tracktown, she plays a character named Plumb Marigold, an Olympic hopeful who discovers life outside of running when she is forced to take a day off. The 2016 film, which Pappas also helped write and produce with her now-husband Jeremy Teicher, received praise from critics for its authentic portrayal of the rigors of elite running and the isolation that can come with it.
Since the success of Tracktown, Pappas has enjoyed new opportunities. Earlier this year, she served as an artist-in-residence at the Winter Olympics in PyeongChang. There she created and starred in a series of short films called Olympic Dreams, which she describes as "Lost in Translation set in an Olympic Village."
Pappas is also working on a memoir about navigating life after losing her mother as a child. "For me, I think it's kept me healthy to have something at the end of practice to go and do," she says of her writing and filmmaking.
Full Speed Ahead
Pappas loves her creative work, but running remains her top job. "My schedule is centered around running," she says. "My naps take priority over my film meetings. My training takes priority over writing, but there is always time to fit it in." The qualities that make Pappas a great artist—extraordinary talent, passion for her craft and attention to detail—also make her an exceptional runner.
"Sometimes it is hard to hold her back in training as she wants to attack workouts," Andrew Kastor says. "Alexi is also very methodical with her approach to training. She makes sure that she is doing her small exercises right before a training run, has a recovery smoothie for after a workout and is getting her naps and regular massages."
Pappas started working with Andrew Kastor and the Mammoth Track Club last year, after deciding she was ready for what she calls "marathon school." "I thought about what it would be like to run a marathon with 10K training after Rio, but I realize it's a different sport," she says. "I'm enjoying this new school I'm in. I'm in year one."
In her freshman year of "marathon school," she's adjusted to training at 9,000 feet in Mammoth Lakes, Calif. She has also learned the importance of going easy on her recovery days to avoid injury.
Her goal for Chicago? Leave it to the poet in Pappas to give a whimsical answer: "My goal training-wise is to toe the line and be slightly undercooked, like a good pasta."
Related:
Alexi Pappas Gives Beautiful Insight Into A Competitive Runner's Spirit
A Poem Shares The Positive Side Of Getting Lost On The Run